Chip Ellis qualified the Junior Pippin/PiranaZ Buell number one in Pro Stock Motorcycle for Labor Day's 61st annual Chevrolet Performance U.S. Nationals at Lucas Oil Raceway near Indianapolis, Indiana—his third number one qualifier of the season and 16th of his career.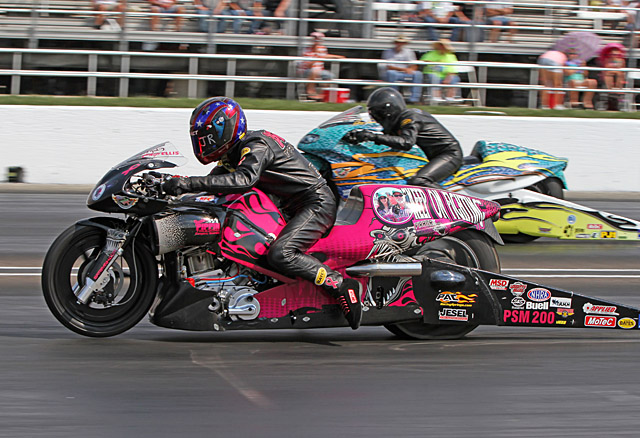 After leading qualifying Saturday, Ellis actually padded his advantage over second place Andrew Hines in Sunday morning's session with a 6.855 when few others improved. And although Ellis didn't improve his ET in the heat of Sunday's final afternoon session, he did set high MPH of the event so far with a 196.22.
"We hit the chassis pretty hard that pass," said engine builder/tuner Lon Moyer. "It actually hooked then unloaded the tire. It kinda gave us some wheel speed down low and made for the big speed up at the top and gave us a little more run at the end of the track.
"We learned a lot from that run and can use the data on raceday. It's an accurate reading of what it's gonna be like tomorrow.
"And we're kind of a team that's still collecting a lot of data. A lot of these guys out here have a lot more laps on their stuff at every racetrack, but we're definitely in high learning mode every race. We need a lot of laps so we can figure out what to do come Sunday when the track changes—like yesterday. It changed a lot from when we left the trailer to when we finally ended up running.
"So hopefully, on Monday, we'll make some good decisions when we leave this trailer."
Ellis and the team face 16th qualifier Angie Smith in round 1 of eliminations. "We know we have the horsepower and today was a good tune-up," said Ellis. "These will be the conditions we race in tomorrow, so we know where we should be first round tomorrow."
The team has extra incentive to bring home a Wally as bike owner Junior Pippin is on the receiving end of massive doses of chemotherapy and radiation to combat recently discovered inoperable, stage 4 cancer.
Junior Pippin and Chip Ellis would like to thank PiranaZ http://www.piranaz.net , Junior Pippin Trucking, Paul Bost Trucking, B&R Automotive, Lisa Pippin, Lon Moyer, Dave Bryant and Brad Moore.