Star Racing/PSE Pro Stock Motorcycle rider Cory Reed appears to be on a mission to achieve a milestone at every event he attends and this weekend at the 19th annual K&N Filters Route 66 NHRA Nationals was no different. Reed defeated LE Tonglet in the first round before bowing out to teammate Angelle Sampey in the second round.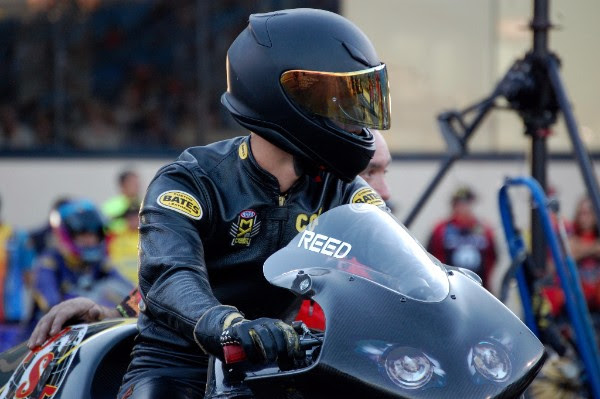 Reed came into raceday in the bottom half of the field but that never lessened his confidence in his chances in winning his first round matchup against fellow young racer LE Tonglet. Reed and Tonglet launched and it was apparent that Reed held the starting line advantage. It was his reaction time advantage that locked his first round win when he ran a 6.887, 192.44 over Tonglet's faster but losing 6.867, 195.39.
"I had a lot of faith in the bike at that point because I knew I had more in it than what I put up there during qualifying because of little mistakes I made so I knew we would be good for first round," Reed said.
An all Star Racing/Precision Service Equipment marquee matchup in the second round was not what the team was looking for but at least that guaranteed one member of the team moving onto the semifinals. Reed and Sampey both were ready to give it their all when Sampey went .015-seconds on the reaction timer and Reed one-upped her with a .006-second reaction time. Reed clocked in with a 6.889, 192.88 but it was just shy of being quick enough to edge out his teammate's 6.869, 193.88.
"That was the coolest race I've ever been in," Reed smiled. "I treed her too! I could tell I was ahead at first so I just tucked in and told myself not to move a lot on the bike and I could see her creep up next to me. It felt like we were dead even and then she ended up in front and taking the win. At the end, it was really cool when I looked at her and she looked at me and she threw up her hands like she didn't know who won. It was so close."
CORY REED, PSE/STAR RACING BUELL
Qualified: No. 11
ELIMINATIONS
First Round: REED (6.887-second, 192.44 mph) def. LE Tonglet (6.867, 195.39)
Second Round: Angelle Sampey (6.869, 193.88) def. REED (6.889, 192.88)
QUALIFYING
FRIDAY: 6.942, 195.08 (Session 1); 6.920, 193.40 (Session 2)
SATURDAY: 6.908, 193.24 (Session 3); 6.961, 190.89 (Session 4)