Angelle Sampey reached her second final round of the 2016 season this weekend at the 19th annual K&N Filters Route 66 NHRA Nationals. She took out Jim Underdahl, teammate Cory Reed, and Eddie Krawiec before she came up short against Andrew Hines in the finals.
First round, Sampey had lane choice over Jim Underdahl. Angelle was telepathic on the tree with a .002 reaction time and cruised to a quick 6.868-second pass at 192.63 taking the win over Underdahl's 6.963, 192.00.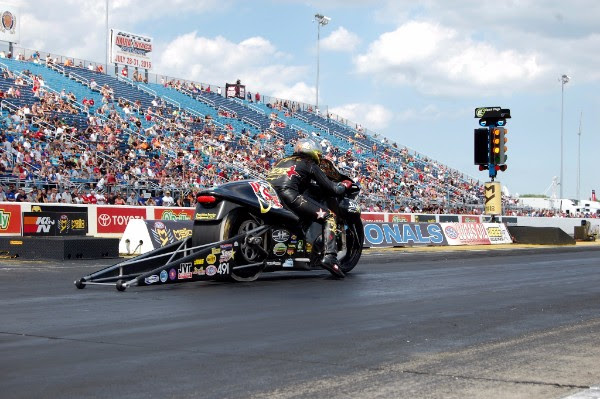 Her stout first round elapsed time gave her lane choice over her teammate Cory Reed in the second round. In the battle of the ages, the Star Racing/PSE Buell's gave the fans a show with an extremely close race; the finish line was so close that both riders weren't sure who won at the top end. Sampey took the win with a 6.869, 193.88 and Reed wasn't far behind with a 6.889, 192.88.



"Racing Cory in the second round felt like I had been racing him for years," Sampey said. "It was so smooth. We all sat down before the round and said what was going to happen like who was going to start first and who was going to stage first so we had a plan. It was a mirror image of Antron and I. We always raced our best against each other and Cory and I were the same. He had a .006 and I had a .015 and we went straight down the boulevard. We were trying to kill each other on that starting line and when it was over, neither of us knew who won the race until a safety safari guy told us at the end that I had won."
Sampey had lane choice once again heading into the semifinal round against Eddie Krawiec. She was quick on the tree with a .025-second reaction time and looked up to see her win light shining as she went down the track due to Krawiec going -.002 red at the hit. Sampey would advance to the finals with a slowed 7.022, 191.05.
With championship determination on her side, Sampey clocked in with a 6.893, 193.40 in the final round but wasn't able to outrun Andrew Hines' 6.858, 194.91.
"I was happy at the end of the track even though I lost because I still feel accomplished and am proud of the job we had done this weekend," she added. "I'm blessed with a great team, teammate, sponsor, family, fans, and motorcycle. I couldn't ask for anything more than I have right now."
ANGELLE SAMPEY, PSE/STAR RACING BUELL
Qualified: No. 3
ELIMINATIONS
First Round: SAMPEY (6.868-second, 192.63 mph) def. Jim Underdahl (6.963, 192.00)
Second Round: SAMPEY (6.869, 193.88) def. Cory Reed (6.889, 192.88)
Semifinals: SAMPEY (7.022, 191.05) def. Eddie Krawiec (6.856, 184.14)
Finals: Andrew Hines (6.858, 194.91) def. SAMPEY (6.893, 193.40)
QUALIFYING
FRIDAY: 7.023, 192.55 (Session 1); 7.001, 193.13 (Session 2)
SATURDAY: 6.853, 195.59 (Session 3); 6.889, 191.81 (Session 4)