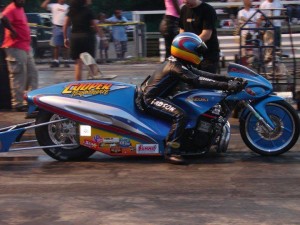 Richard Gadson was always way ahead of his time in motorcycle drag racing. That tends to happen when you are competing before your 16th birthday and your uncle is Rickey Gadson, one of the most successful drag bike racers ever.
Recently Gadson obtained the opportunity he's been waiting for; a chance to make motorcycle drag racing a career.
Jerry Cooper of Warner Robins, Ga. based, Cooper Performance has been building not only drag bike engines, but Superbike and Legends motors since 1990. He has been on the podium at Daytona and has worked with NASCAR greats like Joey Logano and David Ragan.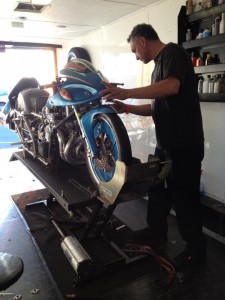 "Coop" has experienced tremendous success but he knows he can't do it forever and he can't continue to do it all alone.  That's where an eager and hungry Gadson comes in.
"I feel like I can be a good teacher to him. He wants to learn and I have a lot of knowledge to share," Cooper said.  "Rickey and I raced together in the early 90s and we have been friends for a long time. Things just have a way of working out."
Cooper and Gadson first joined forces on a Pro Mod team and have found success as a rider-tuner unit.  It was an unexpected text message to Gadson that took their business relationship to the next level.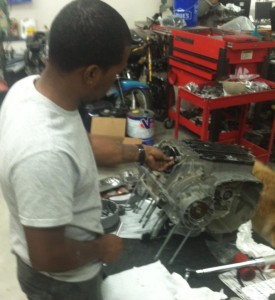 "Coop thought I learned a lot and he asked me if I ever thought about owning a bike shop. At first I was a bit intimidated, but I thought about it and it escalated," Gadson said.  "I'm the kind of person that quits jobs if they tell me I can't go to a race. That's how much I love the sport. It's irresponsible. I don't take no for answer."
Gadson's knew this place of employment certainly will not discourage him from traveling to dragbike races all across the country.
"The only time I let somebody tell me I could not go to a race is when I got bad grades on my report card and my mom wouldn't let me.  That only happened once," Gadson said.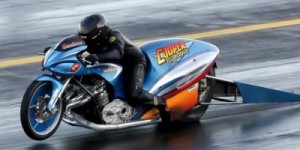 Gadson realizes the tremendous opportunity he has in front of him.
"There's nobody else who is going to take the time to teach me all of this. It's a great opportunity for me," Gadson said.
Richard has been racing before he even had a driver's license. He has long known how to cut a light and get down the track quickly. Gadson recognizes learning the mechanics and the technical side of the sport will make him an even better competitor.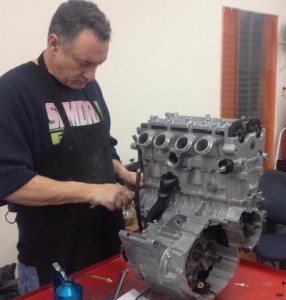 "Coop gives me a much better understanding.  If I go down the racetrack and something doesn't feel right, I know what's going on," Gadson said.  "A lot of people don't know I can work on bikes and can tune them. I'm proud of that. Over the past few years I have learned a lot from my good friend Johnnie "Airtime" Locklear. He hung up his riding boots to focus on tuning and he has really taught me a lot of valuable information. With that foundation, I'm sure the sky is the limit after Coop gets through with me."
Even though he didn't have much of an alternative when he heard Richard was moving to Ga. at the last minute, uncle Rickey gave his full support.
"It was an impulsive move. I told my uncle when I was on the way down," Gadson said.  "My uncle has been with me through everything; all my endeavors, all of my fly-by-night ideas and he has been extremely supportive. He told me, "If this is what makes you happy and that is what you want to do, go ahead and go after it. I can't think of anything else that is better for you.""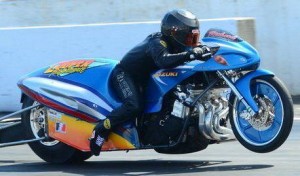 Gadson also understands that full-time factory sponsorship, like his uncle Rickey enjoyed for so many years, is a thing of the past.
"We had all four of the big factory rigs at the Prostar races at one time," Gadson said.  "Nobody besides motocross really has factory backing anymore. The only other way to make a living at this sport is to build your own stuff and have a competitive program."
Gadson already has an idea to enhance Cooper's business in 2014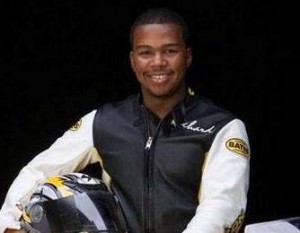 "We want to take Cooper Performance to the next level. We are building a brand new Pro Mod Bike" Gadson said.  "We are thinking about a Real Street ZX-14 too because you can win all the Pro Mod races in the world but you need a fast street bike out there that is noticeable to really get the business."
Copper Performance should be getting a lot busier with Gadson on board.
Check out the Cooper Performance website –