Evolution in motorcycle drag racing, is a good thing, it shows progress. It bodes well for the sport as a whole, it's necessary. Evolution speaks to the future and the future of any good business is new business, not just catering to the customers you have.
The evolution on topic here is a look at the new class in motorcycle drag racing brought to you by the folks who run the Manufacturers' Cup series of motorcycle drag racing or MANCUP as it's now affectionately referred to. Pro Open began on April 11th, 2014 when MANCUP racing returned to South GeorgiaMotorsportsPark in Adel, Georgia this spring.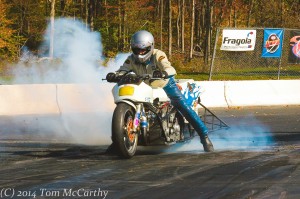 Pro Open or "Professional Open" class racing in motorcycle drag racing is a new class that embraces ingenuity, in unlimited form. If you can stuff a motor, any motor, into a chassis with two wheels in place, you can run it in Pro Open class racing. Any motor, any combination, any wheel base, any fuel, if you can build it, just show up. There are no special rules aside from the usual safety requirements. Parachutes are not required, a T/F bike license is not required, just bring your unique drag bike. Any license by any sanction will be accepted.
This class is wide open to retired Funny Bikes, old Pro Mod bikes and older Pro Comp machines that may not keep pace with the latest combinations, but still have life in them. There are many Harley Davidson type AHDRA rule based P/F bikes parked since the demise of that sanction. They now have a new home if they want it. Any of them can kick some serious butt in Pro Open class racing. They can set the performance mark solid in the six-second elapsed time zone at speeds over 200 miles-per-hour. Thundering performance from any combination is welcome here.
Pro Open is an "All Run" class with traditional qualifying and ladders but no bump spot. Entrants to the class will attend whatever pro qualifying sessions are enacted during a race event resulting in a solid qualifying order. However, entries into the class are accepted on race day. The reason for this is to allow any professional class race team that has not qualified for a fixed field to make a lateral move over into P/O rather than pack up and go home on a Sunday if a team were to DNQ in their chosen class. All a team needs to do is purchase a $75 Tech Card and the late entry into P/O will simply fall to the bottom of the competition ladder on Sunday.
Cooper Performance, of Warner Robbins, GA, has stepped up as the title sponsor for the new Pro Open class. Jerry Cooper, a veteran in the motorcycle drag racing sport is very excited to be involved, ""We are hoping that a lot of the old Funny Bikes, Pro Comp bikes and the like will come out and race once again. It is good that we are to one organization again and grow the numbers of bikes racing as we did in the past. Cooper Performance is just trying to do a small part in hopes we can help achieve this."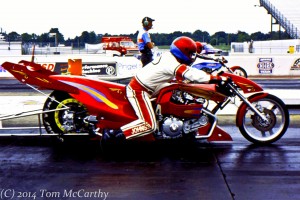 A win in P/O is worth $500 with eight or fewer entries in the class. But with nine or more bikes entered, the winners purse jumps up to $750 for a class win. There will be championship points accumulated for the season and the first #1 plate for the class will be awarded at season's end.
It must be kept in mind here that this class has never been run in modern times so who or how many machines will show up is anyone's guess. So in having an open mind and in keeping things as simple as possible, here's a class any professional team can enter, have fun racing in and get the old pro-bikes out of moth-balls. Funny Bikes, Pro Mods, Pro Comp, Pro Fuel bikes or experimental automotive powered bikes can all mix it up.
Discussions on formation of the class were kicked around during the summer of 2012, by the Manufacturers' Cup staff. While several members of the MFG's group were involved, Jay Regan likely first coined the phrase, "Professional Open" in relation to the initial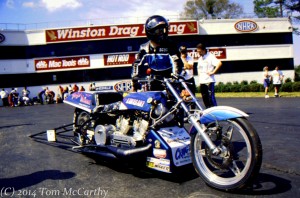 class naming. Jay commented "We wanted to come up with a class that would get the old bikes back out into competition, so many are just parked in garages gathering dust." He's right about that, the Harley P/F bikes that once thundered down AHDRA race tracks can bring the thunder once again.
If Ronnie Johnson were to haul the "Venom" bike, a nitromethane injected 1700cc Suzuki out of it's dormant sleep or if Scott Kahely's double engine two-stroke were to show up, or a double engine nitro Harley, they all have a welcome class at MANCUP races.
While some will grumble the class purse is low, keep in mind so is the entry fee. At select racing events on the current NHRA Harley Davidson DRS tour slated for 2014, some entry fees are more than 3x the Pro Open class entry fee at a MANCUP race. A number one plate is a number one plate: who will win the first #1 plate in Pro Open? We'll find out in November, 2014.