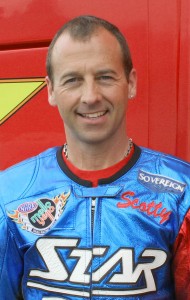 Sovereign-Star Racing Pro Stock Motorcycle drivers No. 3 Michael Ray and No. 6 Scotty Pollacheck will begin the NHRA Mello Yello Series Countdown to the Championship this weekend Sept. 13-15 at the Carlyle Tools NHRA Carolina Nationals at zMAX Dragway in Charlotte, N.C.
"Last time we were there (for the Four-Wide Nationals) I went my best ET ever, so that seems like a really good track for us. I think we're going to have a lot of success there. We have a really fast motorcycle, so all I have to do is stay focused and I think we'll be very competitive," Pollacheck said.
The Carolina Nationals marks the first of six races, beginning with four back-to-back weekends, where the top 10 competitors from each of the classes compete for the 2013 Mello Yello Series Championship.
"These 24 rounds of competition are exactly what we've been waiting for all year. I'm focused; I'm ready. This is the best opportunity I think I've ever had to win a Championship. I'm ready to enjoy every second of this ride. I'm 100 percent committed to Sovereign-Star Racing bringing home a Championship trophy this year, regardless of whether it's on a No. 7 or No. 8 bike," Ray said.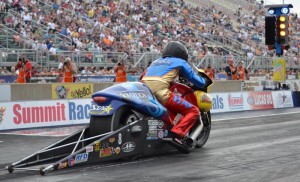 The Sovereign-Star Racing teammates have remained in the top six competitors of the Pro Stock Motorcycle points standings for the last seven races. Following their performances at Indy, Ray entered the Countdown at the No. 3 position and Pollacheck at No. 6.
"Last year, we were in a steeper learning curve and had a lot of reliability issues while we were learning, and we still ran pretty good anyway. This year, we're making more horsepower, we're more reliable, and we have more confidence on how to use that power. The other teams are running well too, but these four races in a row coming up will be the survival of the fittest," Star Racing owner George Bryce said.
So far during the 2013 NHRA season, the S&S Cycle-powered Sovereign-Star Racing Buell motorcycles have claimed two NHRA national event wins, five final round appearances, two No. 1 qualifying positions, two low ETs of the event, and a new track speed record.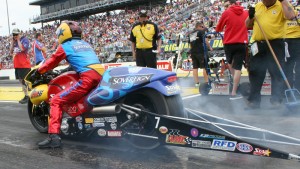 Pollacheck, who drove for the Sovereign-Star Racing team during their 2012 return to the racing scene, has seen exponential improvements in their S&S-powered engine programs throughout the past two years.
"You can definitely tell that the guys in the Star Racing shop are always making progress. Last year we were making progress for sure, but that was different because we had a mile to go to get to the guys at the front as far as performance. This year, we started out a lot closer to the front of the pack than last year," Pollacheck said.
Following the NHRA rules change for the 2013 season, five different Pro Stock Motorcycle racers from four separate teams have claimed national event wins during one of the most competitive seasons ever for the class.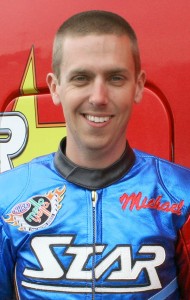 "We've definitely seen an increase in the popularity, media coverage, fan response and close competition because of our new NHRA rules on parity for the Pro Stock Motorcycle category. Thank you to NHRA for getting it right!" Bryce said.
This level playing field has produced some very tight qualifying fields and close races for Pro Stock Motorcycle this season, which will continue during the six-race Countdown to the Championship.
"The Countdown is going to be tough. It will all come down to whoever can be the best driver on Sunday. It's all about that person with that helmet on. All the bikes are going to be fast, so it's going to come down to who can stay focused and be the most competitive in the Countdown," Ray said.
The Sovereign-Star Racing teammates will compete Sept. 13-15 at the Carlyle Tools NHRA Carolina Nationals Presented by NAPA Auto Parts at zMAX Dragway in Concord, N.C., near Charlotte. Television coverage on ESPN2 begins with qualifying from 3:30-5 a.m. (EST) Sunday, Sept. 15 and final eliminations from 8:30-11:30 p.m. (EST) on Sunday, Sept. 15
The 2013 Sovereign-Star Racing Team is a partnership between Georgia-based Star Racing and the Hungarian-based Sovereign Racing Team, the 2011 UEM European Pro Stock Bike Championship Team, owned by sugar distributor Jenõ Rujp.
The Sovereign-Star Racing Team would like to thank the following sponsors: Sovereign, Star Racing, Americus Motorsports Complex, S&S Cycle, Daytona Sensors, Worldwide Bearings, CP Pistons, Cometic Gaskets, Quality Tire, and Uncle Hal Gottspeed Racing.
Star Racing Fast Facts:
·         Based in Americus, Georgia
·         Six-time NHRA Pro Stock Motorcycle Championships
·         80 NHRA national event wins with 10 different riders
·         Owned by George & Jackie Bryce
Sovereign Racing Team Fast Facts:
·         Based in Budapest, Hungary
·         2011 European Motorcycle Union (UEM) Championship Team with rider Jesper Thiel
·         Owned by Jeno Rujp
Scotty Pollacheck Fast Facts:
·         From: Medford, Oregon
·         Job: Owns "Quality Tire" store
·         Years in drag racing: 27
Michael Ray Fast Facts:
·         From: New Braunfels, Texas
·         Job: Harley-Davidson Motorcycle Salesman
·         Years in drag racing: 11