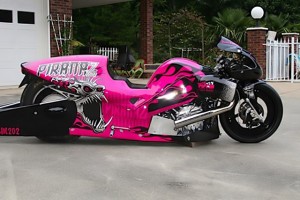 NHRA Mello Yello Pro Stock Motorcycle racer Junior Pippin has stepped back from racing the last couple years while supporting his wife Lisa in her battle with breast cancer. But at this weekend's NHRA Carolina Nationals at zMax Dragway, Pippin is back and sporting the universal color of breast cancer fundraising—pink.
"I think that bike looks pretty damn good in pink," said Pippin. He was talking from the cab of his similarly painted dump truck, one of a fleet of 36 the Conyers, Georgia native owns and operates. "Mark Whisnant of PiranaZ has come up with a design here that is really gonna get some attention, I'm tellin' you. He's also made some new black and pink PiranaZ shirts, and proceeds from the pink shirts sales will be donated to find a cure for this hideous disease."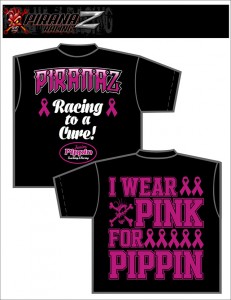 "PiranaZ is honored to be a part of this project with Junior and Lisa," said Whisnant. "When Junior contacted us about a return to the NHRA PSM class, we couldn't wait to be a part it. Junior is passionate about bringing awareness of this horrible disease that affects so many of our family members and people within the racing community. PiranaZ jumped at the chance to help Junior with this effort. Hopefully together we can spark awareness and raise some money to help this cause."
You can order the new PiranaZ shirts and help support breast cancer research here: http://www.piranaz.net/store/mens/pippin-charity/
Although Pippin's been out of action, his S&S powered Buell has seen some recent testing, with Junior riding and ADRL champ Eric McKinney also in the seat. "That boy's a helluva rider," 60 year-old Pippin said about McKinney. "But hey, I tell you, this old boy's ready too. I'm down to riding weight and passed the physical. Been doing a lot of working out and changing my diet. But that first time I threw the clutch on that thing? I'm hear to tell you it got my attention NOW!"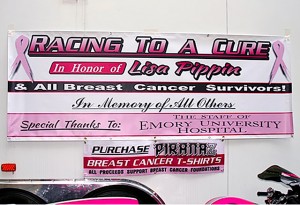 And Pippin hopes to get the attention of the NHRA's philanthropic fans with his Buell's eye-catching wrap and the PiranaZ shirts they can buy to support breast cancer research. But just because he hasn't been racing doesn't mean he hasn't been watching, and he knows that Pro Stock Motorcycle is more competitive in 2013 than ever.
"Now there is some integrity back in the class and it's tougher to make the field than ever," said Pippin. "I don't know exactly how well we'll do, but I've got two motors ready to go right now and this old man's ready to squeeze everything we can out of them. I've got David Bost tuning. His family has been in the trucking business ten years longer than mine— Paul Bost Trucking in Rockwell, North Carolina—and he's kind enough to take time away from his business to support this cause.
"I tell you I've watched Lisa go through hell this last year and a half. I've seen what these women go through and when you walk the walk, it's terrifying. Now it's time for me to do what I can do with what I have to work with to do something about it. We're gonna try to run the whole season next year if we can get some help. We gotta get this show back on the road. At my age, I don't know how many more chances I'll have to do this, but by golly here we go!"
Junior Pippin would like to thank PiranaZ http://www.piranaz.net , S&S Cycle http://www.sscycle.com/ , Junior Pippin Trucking and Paul Bost Trucking.
to order the new PiranaZ shirts and help support breast cancer research: http://www.piranaz.net/store/mens/pippin-charity/
contact Junior Pippin: jr.pippin@hotmail.com
for media inquiries: Tim Hailey timhailey@earthlink.net
for more about the NHRA http://www.nhra.com/
This report was prepared by Tim Hailey. Photos are for editorial use only. Enjoy everything there is to read, see and watch about motorcycle drag racing and more at http://www.eatmyink.com