Chris Matheson and his Nitro Voodoo Top Fuel Motorcycle Team won the IHRA 400 Thunder East Coast Nationals. Matheson Top Qualified with a 6.59 to head the field into Eliminations.
Matheson struggled in qualifying with his set up, then closed the door to be number one for Friday's qualifying.
Race day saw much cooler conditions from the previous day's event and the field was set to race.
Matheson blasted his way into the final with a 6.6, then a 6.3 in the lead up to the final race. Muscat knocked out Porter to meet Matheson in the final round.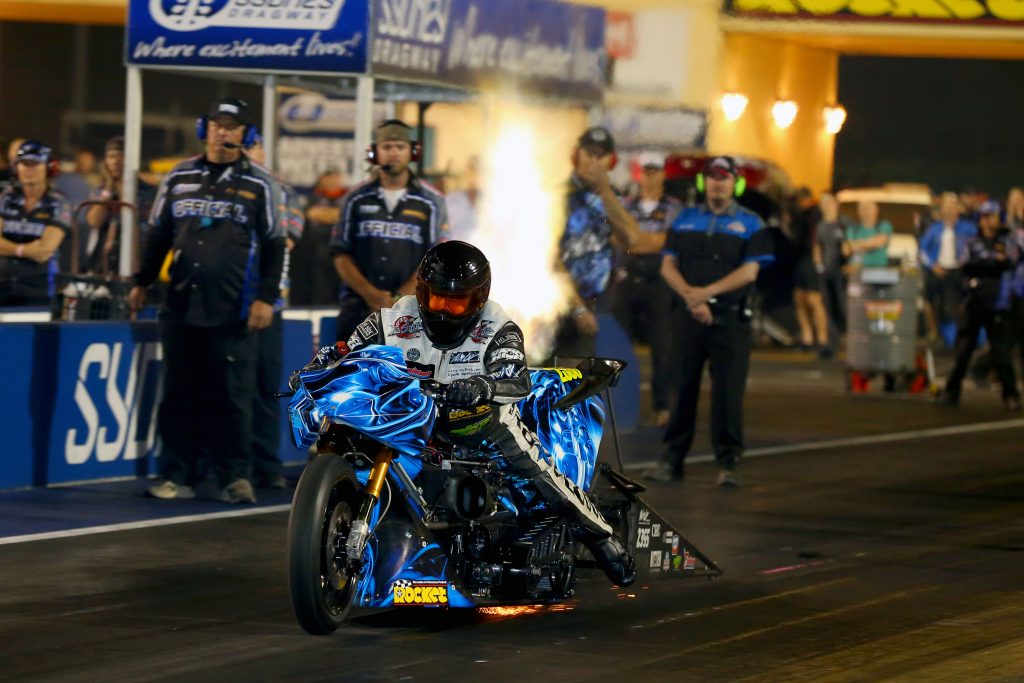 Matheson said "the track was good, the big winds virtually stopped and we were ready to run". Matheson hole shot Muscat, then was never threatened to the line running a 6.59 to take out the final.
Crew Chief Graeme Turner later said "we lost power just past half-track, due to a failure in the oil pump, however, it was enough to get a green light".
Turner went on to say "we are slowly getting a handle on the new combo, albeit slower than we want. Chris just wants more power, more speed, as every true racer does. We are looking forward to the next round to get a few more runs on the bike".
Matheson went on to say "Damian Muscat ran a good lead up to the final, only to get pipped in the final".
Matheson's win in the opening round of the East Coast Nationals sends an ominous message to his rivals. Last weekend's win is Matheson's 4th Australian Nationals.
The next IHRA 400 Thunder Round will be the New Year's Series to be held at Willowbank Raceway on Saturday 7 January 2017.
Matheson thanked his Sponsors & Supporters:
GT Radiators & Machining, Kitten Car Care Products, CRC, Rocket Industries, Performance Wholesale, WebCam, PDS Graphics, Worldwide Bearings, Hi-Side Leathers, Boninfante Friction Inc., Ballistic Racing, Aeroflow, BlackAdda with special thanks to Steve and Larry McBride.