As the defending world champion in Pro Nitrous Motorcycle, all eyes were on Chris Garner-Jones and his T.T. Jones Racing Hayabusa to see if he would continue his championship performance.
Garner-Jones and his family-based team delivered, qualifying No. 3 and racing into the final round, where Garner-Jones won in a side-by-side race with Jeff House Saturday night at the Professional Drag Racers Association (PDRA) East Coast Nationals presented by FuelTech at GALOT Motorsports Park. The two riders left the line with nearly identical reaction times, then Garner-Jones maintained his slight lead with a 4.08 at 174.41 to beat House's 4.086 at 173.78.
"I want to defend [the championship] and I want to repeat, and three-peat, four-peat, five-peat, six-peat, if I can," said Garner-Jones, who thanked his family, including brother and tuner William Garner and his late father, T.T. Jones, as well as PDRA and supporters like ProFab, FuelTech, Mickey Thompson Tires, Summit Racing, and Drag 965. "But it's drag racing – anything happens in this sport. This is a relief for sure. I We didn't run our best at all, but we still came out with a win. I feel great about that. When we do run good, we should have a much better chance at winning."
Garner-Jones struggled momentarily in the opening round with his 4.225 at 167.14, but he bounced back with a 4.044 at 176.28 in a semifinal win over Meshal Al-Saber and his 5.525.
House and his Fast By Gast Hayabusa scored a major round one win over multi-time world champion Eric McKinney, running a 4.068 to McKinney's 4.11. It was a warmup for House's semifinal matchup against another multi-time champion, Travis Davis, who ran a 4.055 to come up short to House's 4.045.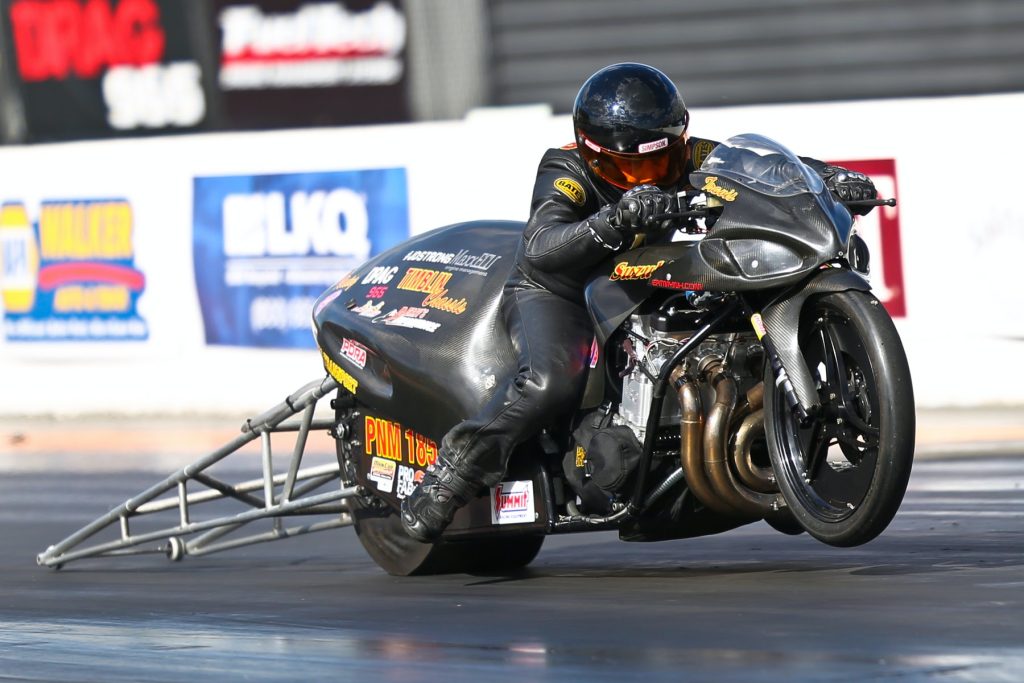 On Friday Multi-time Pro Nitrous Motorcycle world champion Travis Davis, determined to return the No. 1 to the side of his Timblin Chassis-built Suzuki, started the 2022 title pursuit with a No. 1 qualifying effort after running a 3.974 at 176.49 during the second qualifying session.
"I think there's a little more there," Davis said. "We drifted to the inside of the track and scrubbed some E.T. off. It was getting loose on me through the middle of the track. We'll make an adjustment for that where we'll go straight down the track [on Saturday]. The tuneup looks like it can handle more, so we'll take it round by round and see if we can get it done."
Kuwait's Meshal Al-Saber rode his Brad McCoy-tuned entry to a 3.975 at 173.96, earning the No. 2 spot. Defending world champion Chris Garner-Jones qualified third with his 4.026 at 175.94 aboard his T.T. Jones Racing Suzuki.
The PDRA season will continue later this month at the second annual Vortech Superchargers Doorslammer Derby presented by Stroud Safety, April 28-30 at Beech Bend Raceway Park in Bowling Green, Kentucky.
There are more videos on the Cycledrag Youtube channel (please subscribe here) and the Cycledrag.com Facebook page (Please like here) and more will be coming soon. Check back daily.