The Mickey Thompson Tires International Drag Bike League returns home to Maryland International Raceway to wrap up its 2015 season with what promises to be it's largest racer participation event of the year—the 23rd annual DME Racing Fall Nationals and Orient Express Pro Street Battle Royale. Season ending championship fights share billing with MDIR's annual $10,000-to-win Pro Street all-star race and a new twist on IDBL's Top Fuel match race series.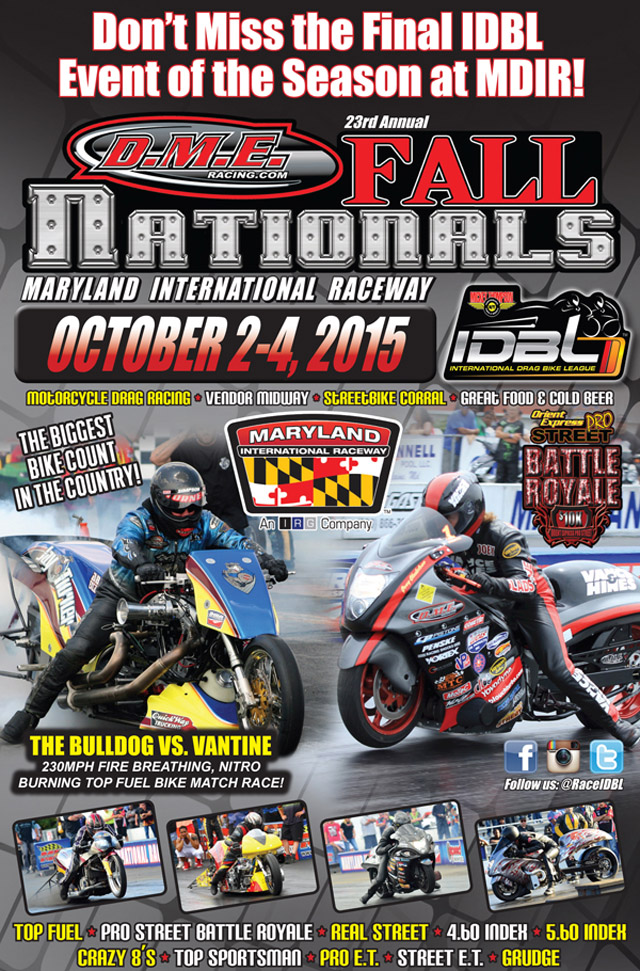 The Orient Express Pro Street Battle Royale is not only the highlight of the ultimate high-horsepower streetbike calendar, it might also be the deciding factor in this year's IDBL points race. Suzuki Hayabusas, GS1100s and GSXR1000s, and Kawasaki ZX14—all fitted with turbos, superchargers or nitrous oxide—will assault the world's best street tire-prepped quarter mile for money and glory.
Confirmed Battle Royale riders are Joey Gladstone, Terence Angela, Richard Gadson, Ehren Litten, Drew Tolliver, Curtis Ellerbe, Jason Dunigan, Ryan Hable, Darion Payne, Gabe Frederick, Tony Ficher, Joey Jobbe, Rodney Williford, Bud Yoder, Jordan Haase, Jamie Lopes, Al Mart, Super Dave Gebhardt, Michael Bayes, Andy Leslie, Jason Angela, Eric Hart II, Justin Doucet, Ryan Schnitz, Jeremy Teasley, Danny Cox, Doug Witt, Mark Paquette, Keith Correia, Rocky Tinker, Caleb Holt, Demarious Boulware, Phil Stoll, Justin Shakir, John Chant, Rudy Sanzottera, Matt Lahey, Ethan Barkley, James Hendricks, Mark Gargiulo and Luis Sierra.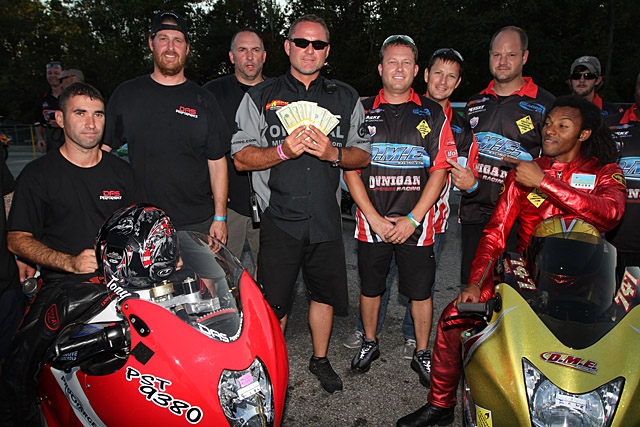 These riders hail from Delaware, Aruba, Georgia, North Carolina, Illinois, Maryland, Michigan, Wisconsin, Virginia, Missouri, Massachusetts, Pennsylvania, Netherlands Antilles, Iowa, Texas, Indiana, Ohio, South Carolina, Connecticut, Canada, and Puerto Rico in what is truly a North American championship.
The Orient Express Pro Street Battle Royale is presented by the following sponsors: Orient Express, DME Racing, Dunigan Racing, Brock's Performance, Williford Racing, APE, Penske, Mickey Thompson Tires, MTC, Wossner Pistons & Rods, CP Pistons – Carrillo, Worldwide Bearings, DAS Performance, Procharger, Eastside Performance, Grady's Graphics, HDFR, Mace Motorsports, HTP Performance, Vance & Hines, McIntosh Machine, Yoyodyne, Shinko Tires, AMS-2000, JRI Shocks, Precision Turbo, Scotts Performance Products, RCC Turbo, and The Design Studio.
No less thrilling is IDBL's Tournament of Champions to determine this year's champs in Shinko Tires Pro ET and Brock's Performance Street ET, featuring bracket racing winners stretching back to last year's finals. The Brock's Performance Street ET TOC will pit Michael "Ice Cold Killer" Herman Jr, Richard Gadson, Derrick Milbourne, Shayne Proctor, Bob Carlson, Brian Guarino and Brandon Bachmeier against each other 'til only one is left standing.
Shinko Tires Pro ET TOC features Herman, Gadson, Proctor, Clay Davies, "Fearsome" Andy Baumbach, and Dereke Crawford.
Larry "Spiderman" McBride will have to sit out this final Top Fuel match race of the year as he continues to recuperate from third degree burns following his huge finishline explosion and fire at the recent Orient Express Motorcycle U.S. Nationals at Atco Dragway.
IHRA Nitro Harley superstar Jay "Bulldog" Turner has stepped in to replace McBride and take on David Vantine and the Pollard Nitrosports bike. In spite of running "no blower and two less cylinders," you can expect Turner and his well dialed-in, thundering Harley to do their best to whip Vantine's supercharged, inline 4 cylinder import. The pressure of two warring cultures is on in this timeless battle—who will win?
Turbo vs. nitrous is another timeless battle, and when you throw in all-motor, you have the diverse class that is DME racing Real Street. Gladstone took the Atco win on DME's all-motor 'Busa over the turbo Kawasaki ZX14 of Atco hero Rickey Gadson—the first time ever that a Real Street race was won without a power-adder. Meanwhile, Anibal "Cannibal" Merced quietly took over the Real Street points lead on his NOS ZX14.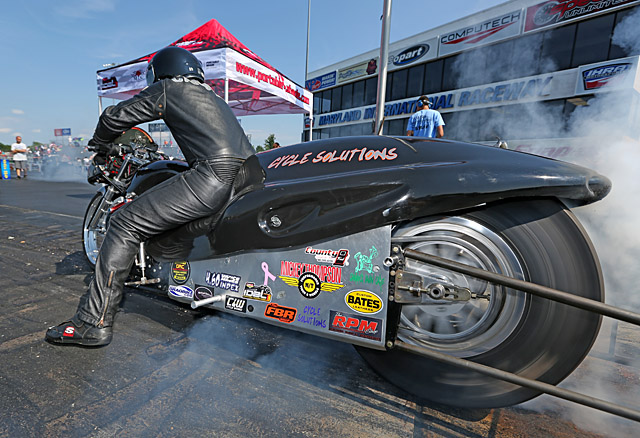 But the Real Street battle will get even thicker as multi-time champ Jeremy Teasley and his RS Motorsports team boss Roger Starrette are expected to return to MDIR with their trailer full of nitrous huffing ZX14s and lay claim to what they see as a birthright—another season title for Teasley.
Tyler Cammock holds the Vance & Hines 4.60 points lead, but Mac McAdams is close behind and Bobby Lovingood is right behind McAdams. Cammock is a quiet guy and McAdams—not so much. Will Mac try and get in Tyler's head under the MDIR staging tent?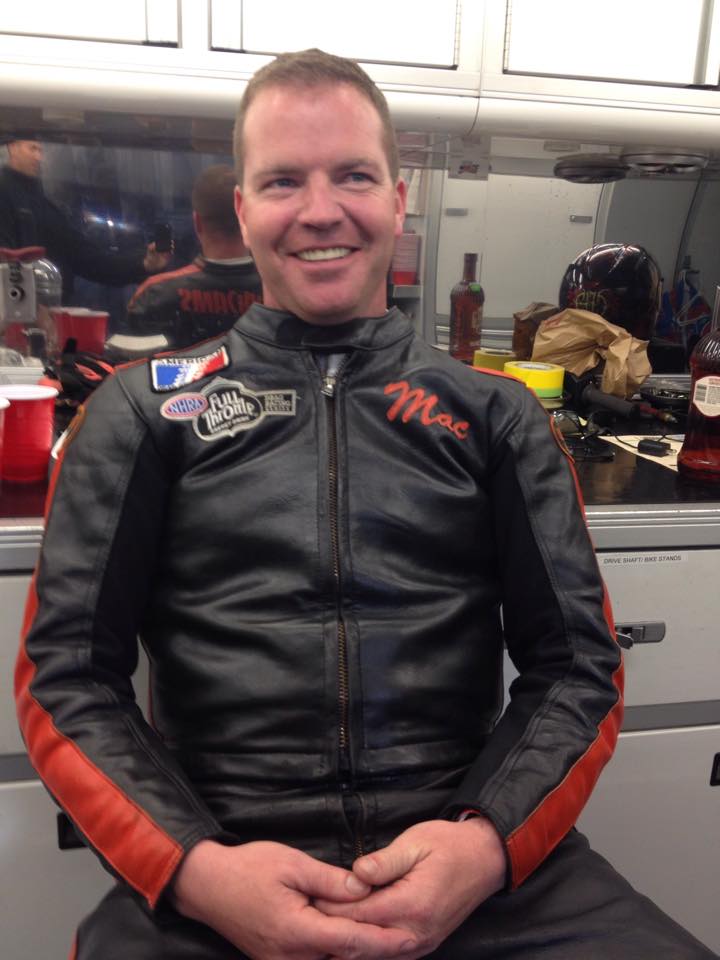 Defending FBR Shop 5.60 champion Michael Ostrowski once again carries a points lead into the final round. But second place is tied between Dustin "Tennessee" Lee and Shayne Proctor, and they would love nothing better than to see their streetbikes prevail over Ostrowski's dragbike at season's end.
Ben "Hardest Working Man in MC Drag Racing" Knight has a commanding Carpenter Racing Crazy 8s lead, but rivals Lee, Robert Parker and Spencer Claycomb are not giving up yet.
The tightest championship race of all is in Trac King Clutches Top Sportsman, where Brian Canoles and Andre Jones are tied for first, with Dave Clinedinst and Bobby Holland within striking distance.
IDBL President/Promoter Jason Miller looks forward to welcoming all racers and fans to this mega event at the world's greatest motorcycle drag racing facility. This one is the BIG one and you can't miss it.