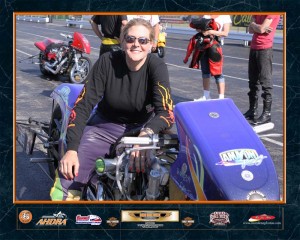 Carrie Seifert Tate a.k.a. "The AMAZON" is currently Number 2 in national points with the AHDRA Pro Drag Nitro Harley Class.  She has had two back-to-back runner up finishes.  The first at the Northeast Nitro Nationals in Atco, New Jersey, May 19th and 20th .  Then again at the Ohio Bike Week Nitro Nationals in Norwalk, Ohio, June 9th and 10th .  Both times she lined up with Steve Pier in the finals, the current Number 1 points leader.
"In Atco during the first round of qualifying I spun the tire right out of the hole in the first half second and blew my motor", says Seifert Tate.  "I knew Brutus was hurt badly because he didn't make a sound as soon as he blew.  Not even as much as a sneeze so I figured we were done.  Fortunately, Johnny and Steve Vickers, The Hawaya Team, had a back up motor in their trailer and had us ready to go by the third round of qualifying."
By the end of the day the Amazon had run a 7.49 qualifying 2nd.  She was in the show! "During the first round of eliminations on Sunday I spun the tire again and busted my chain.  I couldn't believe it!  I just couldn't seem to hook up. Fortunately this was a bye run and I was able to cross the finish line with a blazing ET of 32.369 @ 35.93 mph.  Maybe a new record for the slowest pass on a Nitro Harley. Thankfully, that motor wasn't damaged.  It was a Herculean effort, but the Hawaya Team got me ready for next round.  Those guys are machines.  Seems we were not the only ones with mechanical Gremlins.  There was a lot of scrambling going on between rounds in the pits with other teams.  We had two bye runs before going to the finals.  That's not the way I like getting there, but that's racing.", says Carrie.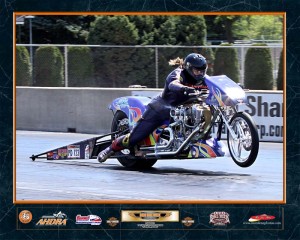 It was going to be The Amazon lining up with Steve Pier in the finals.  She treed Pier with a .106 light against his .126.  They both pulled strong all the way down the track.  When it was over Steve ran a 7.420 and The Amazon ran a 7.45.  What a drag race!  Factoring in the reaction times, Steve won by .011 of a second.  Yes, 11,000th.  That equates to about 2 inches ahead of the big blonde.  Congratulations to both riders on a great race.  "Steve is tenatious and consistant.  I bobbled a bit when I set my tire down at the eighth mile mark.  I stayed in the throttle and kept it wide open when I felt it wash, but I floated to the left just a smidge.  That's when I saw him come up beside me in my peripheral. I hunkered down as much as I could.  Man, it was so close I didn't know who'd won.", Seifert Tate said as though she was re-living the moment.  She continues, "Steve rode like a champ.  It's going to be neck-and-neck throughout the season between us."  Congratulations, Steve!
On to Norwalk for a another great weekend of racing. "There were nine Pro Drag bikes trying to qualify in the eight bike field.  After trying to get our newly rebuilt motor dialed in we finally ran a 7.51 @ 169.98.  We qualified 4th in the field", says Kerry Tate, Carrie's husband and Crew Chief.  "I've been unable to make the first three races due to my work schedule.  I knew I had to get in step with Johnny and Steve to turn Brutus around quickly for The Amazon.  There's a lot going on between rounds so it's pretty intense in the pits." Mr. Kerry, as most folks call him, was Carrie's Crew Chief on her Super Gas bike, Maximus, last year before they stepped it up to Nitro racing.
The AMAZON Racing Team had a major challenge going into the semi-finals.  They were up against the #1 qualifier, the man who built and tuned Brutus. He also taught The Amazon how to ride a Nitro Bike at The Hawaya Racing Nitro Bike School last Fall. It was going to be a race of the student against the teacher, the former Three Time National Champion, Johnny Vickers. Johnny was riding the Punisher Racing's bike owned by Dale Nilles. Dale crashed on the big end at Rockingham last month and still has his arm in a cast so Johnny was dialing the bike in for him after all the repairs. Vickers ran a 7.352 during qualifying and The Amazon had just run a 7.335 the last round.  She was able to get around Vickers with a 7.407 against his 7.640.  "Johnny Vickers is the Godfather of Pro Drag Nitro Harley racing.", says Seifert Tate.  "There is no getting around him on the track unless there's a problem with the equipment.  He comes out a couple of times a year to ride for R & D purposes and smokes everybody in the field.  J.V. holds the current all time record turning a 7.12 a few months ago on one of his school bikes. He's the King."
Here we go again to the finals Tate vs. Pier…a repeat of the race at Atco two weeks ago. The Amazon's best all weekend was a 7.335 and Steve's best was a 7.366.  This was going to be a drag race. The sound of Nitro-burning Harleys comes to life and after the burnouts they both roll up to the staging lights. Steve jumped The Amazon with a .082 reaction time to her .121 She never could run him down.  He ran a 7.332 against her 7.501.  Congratulations Steve on your great pass and win!
We appreciate our sponsors:  Hawaya Racing, Bates Leathers, Engineered Performance Tooling, Beene's Baggers, Conway Collision and Superior Interiors.  Thanks to Johnny Vickers and Steve Vickers of Hawaya Racing for building this wonderful bike and to Leanne Purvis for taking us in and taking care of us at the track.  We also want to thank Joey Sternotti for his advice, coaching and generous help at the races.  Thanks to Rose Sternotti for her continued encouragement. Hats off to the passionate Nitro Harley drag racing fans who come out and support our wonderful sport!
For more info check go to www.amazondragracing.com