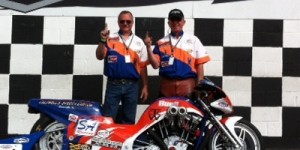 It was time for Tom Caldwell/OLD GUYS DO RULE RACING to go to the AMRA Summer Shootout in Bowling Green, KY.
Caldwell, "Again, we were fortunate to be sponsored by Trammel Creek Cycle Works in Adolphus, KY. Great friends and supporters! And as much as we looked forward to attending, everyone knows it is hot and humid there especially in June. Performing well is a challenge."
Caldwell had prepped the bike and evaluated the data gathered from the NHRA Atlanta race and winning the AMRA Hagerstown race. He was looking to improve on his performance at the AMRA Bowling Green event.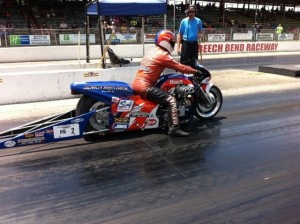 "We had a great showing of 7 bikes in Pro Gas, including the return of former champion, Andy Simon  . I ran a few T&T runs Friday evening and my best was a 8.18 @ 166 mph. By Saturday with a heavy headwind,  the humidity rolled in. The air was averaging at 3800 feet. I qualified #1 with a  8.060 at 163.77 mph, I wanted to back up the 8.06 in the 3rd qualifying round to reset my ¼ et record but the air was heavy with the humidity, the track was hot and slick so, those plans changed."
"In the 1st round of eliminations on Sunday since, I had earned the bye run so, I tried a different clutch package and it did not work as well as I thought.  But critical data was obtained for a later date.  In the second round I ran Donnie Huffman on Pee Wee Bynres GroundZro bike and won with a 8.18 @ 161 to his 8.470. I ran Billy Doherty in the final and won with a 8.163 @ 162.26 to his 8.389.  I missed resetting my et record by .0224 seconds. Next time!"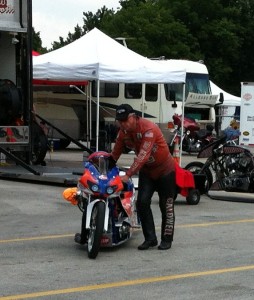 This is Caldwell's second consecutive AMRA win placing him 35 points out of 1st place in Pro Gas.
Caldwell's looking forward to AMRA Xenia, Ohio to earn more valuable championship points.
We are working hard to make 2013 another great year for OLD GUYS DO RULE RACING,  with 2 wins and one runner-up to date. 
Contact Tom at tcaldwellps9@comcast.net
Tom Caldwell/OLD GUYS DO RULE RACING
2013 Sponsors:
SOUTHERN BIKER MAGAZINE
SA RACING  
TRAMMEL CREEK CYCLE WORKS
ROBERT'S MACHINE & WELDING
S&S CYCLE
RED LINE OILS
JIM'S USA
ENERGY ONE CLUTCHES
WEST HAVEN SPEED EQUIPMENT
VP FUELS
M/T TIRES
TEAM:
DANA ECKHARDT
STEVE ALLSTAEDT
MARY LOU BREWTON
ROBERT MINGE
CRAIG COCHRAN
RAY MATLOCK
GARVIN WIAWIAOLE
JERRY CARDWELL
JANET (Sister)