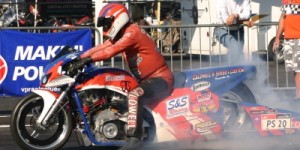 Tom Caldwell/Old Guys Do Rule Racing  with a #2 in National points, after a short season with the AMRA (American Motorcycle Racing Assoc) under his belt, Caldwell was totally ready to ROCK at the ROCK.
"Dana Eckhardt and I had a fabulous time at the infamous Rockingham Dragway. The weather couldn't have been better and we were running great.  After running a 8.10 and 8.12 ET last spring, we were sure we could squeeze a little more out of the ol' beast.   And we did, we ran a 7.967 ET at 162.45 MPH on Saturday (The national record is 7.892, very close!).
We ran in the 8.1's on Sunday to take the win against protagonist (and good friend 😉 John "OJ" Marinelli.
The 7.967 made us the 5th AHDRA Pro Stocker to join the AHDRA 7 SECOND CLUB.   Shaun Reno came by to congratulate me. Thanks Shaun that meant a lot to me.
This is especially satisfying as, I use CONVENTIONAL S&S ROCKER ARMS and not a Jessel valve train and no automatic transmission!.
There is still more there. I wanted to back it up but, the good air disappeared on Sunday.
I will say it again, SA  (Steve Allstaedt) HORSEPOWER!!!!!!!
The weekend was not without some chaos. On the 3rd qualifying run, it drove through the clutch again and then it hit and spun the tire and drove me to the right to the centerline. I wrestled it back and still managed a 8.139.
After going through the traps, I chopped the throttle and grabbed the clutch. Surprise, No clutch!
Ok, ride the motor down, till it started bucking, clip the ignition and slid to a stop and then find neutral and push it to the side of the track. The track crew was on top of the situation as I rolled to the turn off.
I get back to the pits and find the threaded end of my mainshaft had snapped off.  Man, I am glad the clutch pulley did not come flying off! That could be bad in many ways.
So, I tear it down, evaluate the situation. Craig Cochran called  a friend, Patrick Lamb (Man, I cannot thank him enough), who  picked up the my damaged mainshaft and drove it to Rockingham from Knoxville over night!
He saved the day and I dedicate the win to HIM!
It was also, great to have Craig and Angi in the pits with us. He crewed for my during the 06 and 07 season; a good friend
I had exploded my spare trans and damaged the mainshaft. I only had one mainshaft  left and it just broke.
Got up early Sunday morning, took my Dremel and lap stones and proceeded to make do with what I had. After some massaging, the gears would slide on the spines.
Start it up, put it on the stands, and see if it would shift!  IT DID!
Next, the  clutch has been giving me inconsistent 60 ft times for a couple of races. It was tormenting me and I awoke at 4 am Sunday morning with the answer (funny how the mind solves a problem), and the issue was corrected. Another save.
HogScrap Brands joined us at the "ROCK" displaying their All AMERICAN made products  my pit area. Be sure to stop by next season. Their products are truly unique and shirts are comfy soft.
I wish to express my gratitude to Robert Minge for his assistance me with the fuel cost, for the rig. THANK YOU!
I am now 1st in the points, and can't wait to get to No Problem, to hopefully win the Pro Stock Championship; which would bring my national championship total to 3. Plus, I have family there and plan to bring some GULF SEAFOOD back to ROCKY TOP! "
2012 Results to date:
8 #1 qualifier's
5 wins!
2 runner up
Not too shabby for the "Old Guys Do Rule Racing Team"
Thanks to:
HOGSCRAP BRAND
SOUTHERN BIKER MAGAZINE
TRAMMEL CREEK CYCLE WORKS
SA RACING – WHERE YOU GET WHAT YOU PAY FOR,  HORSEPOWER!
S&S CYCLE
RED LINE OILS
T&T TECHNICAL MACHING
PMFR
3D PAINTING
WEST HAVEN SPEED EQUIPMENT
VP FUELS
M/T TIRES
MSD
Team:
DANA ECKHARDT
STEVE ALLSTAEDT
ROBERT MINGE
CRAIG COCHRAN
RAY MATLOCK
GARVIN WIAWIAOLE
JERRY CARDWELL
MARY LOU BREWTON
JANET (Sister) 
DAN (Nephew)
VA. JOHN 
AND MY GAL, GAIL
Caldwell's merchandise can be found on: