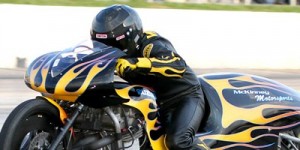 Announcing the Pro Nitrous Quarter Mile Shootout. A large group of the finest manufacturers and service providers in the Pro Modified motorcycle racing industry have banded together to see that the wildly popular nitrous dragbikes race the full quarter mile at November's Manufacturers Cup race at South Georgia Motorsports Park in Valdosta, Georgia, USA. Although bikes will be teched in according to ADRL rules, they will run well past that organization's eighth mile finishline to once again race the full distance that everyone loves. Does anyone even know how to tune for the quarter mile anymore? And who's got the nerve to keep the throttle twisted all the way through the lights?
Despite the class' low $75 entry fee, racers will be competing for a Big Dollar purse that includes big contingencies and special bonus giveaways. First place gets a whopping $4000 and is eligible for up to $3000 in contingencies! Runner-up purse is $2000 plus $1000 in contingencies. Semifinal losers get $750/$250, quarterfinal losers $250/$125. A full field is 15 bike minimum, or will run as an 8 bike field. First round losers in a full field each receive a new Mickey Thompson tire, or non-qualifiers in the event of an 8 bike field. Every entrant receives a special class T-shirt and is entered for an Xtreme Motorsports billet clutch cover to be raffled off at the end of qualifying.
Those guaranteed to race include brand new ADRL champ Eric McKinney of Hamersville, Ohio. McKinney is also the US quarter mile record holder with a 6.55 at 202 mph. But that's been years ago on the calendar and lightyears past in technical terms, what will he run now?
Canadian record holder Len Darnell of Seattle, Washington, ran 6.59 at 205 north of the border. What will he do in perfect conditions on SGMP's meticulous racing surface? Canadian Terry Schweigert of British Columbia won AMA Dragbike's last quarter mile Pro Mod race at Atlanta Dragway before winning and taking home the record at the Arabin Drag Racing League in Doha, Qatar.
Before switching to Pro Mod and winning in the MIRock Superbike Series, Bryans Road, Maryland's Dave Norris won the Outllaw Pro Street championship and finished off the record of that hair-raising no-bar class with a 6.90 at 202 mph. Veteran racer Dave Vantine of Hamilton, New York has won ADRL and AMA Dragbike Pro Mod races, as has Casey Stemper and many-time MIRock Superbike Series champ Ronnie Procoppio.
Also committed to race are Shane Eperjese, Nathan Murray, Derrick Holloway, Monte Campbell, and Charlie Prophit amongst others. Make no mistake about it, this will be a large, competitive field that will bring back the Gainesville glory days of hanging it all out to make the show. Your bike will never forgive you for missing out on being a part of this historic event!
Payout
Win: $4000
Runner-Up: $2000
Semifinalist: $750
Quarterfinalist: $250
Contingency Bonus paid by Sponsors
Win: $3000
Runner-Up: $1000
Semifinalist: $250
Quarterfinalist:$125
First round losers: Mickey Thompson tire
One lucky winner: Xtreme Motorsports billet clutch cover
The sponsors who are making it all happen are:

Mickey Thompson http://www.mickeythompsontires.com/
Lectron Fuel Systems http://www.lectronfuelsystems.com/
MTC Engineering http://www.mtceng.com/
PMFR http://www.pmfronline.com/
Robinson Industries http://www.robinsonindustriesinc.com/
Timblin Chassis http://www.timblinchassis.com/
Vantine Imaging http://www.vantineimaging.com/home.html
Ward Performance http://www.wardperformance.com/
Worldwide Bearings http://www.worldwidebearings.com/
Xtreme Motorsports http://xtreme-motorsports.com/
Falicon Crankshaft http://www.faliconcranks.com/
McKinney Motorsports
Innovative Performance
DTM Performance
Eatmyink Motorsport Media http://www.eatmyink.com/
This report was prepared by Tim Hailey. Enjoy everything there is to read, see and watch about motorcycle drag racing and more at http://www.eatmyink.com