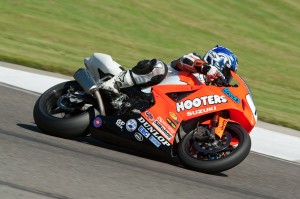 Adding to the list of great riders who have lit up hundreds of win lights and brought a dozen national championships to Brock's Performance at the highest levels of motorcycle dragracing, Tim Hunt delivered its first national roadrace title–in the Michelin/WERA National Challenge Series' A Superstock Expert class.
Riding a Hooters-sponsored GSX-R1000 equipped with a Brock's Performance CT Series™ Dual Full Titanium exhaust system, the La Vergne, Tennessee rider sealed the eight-race championship series one round early. Hunt leads Tim Bemisderfer by 30 points going into the final event of the season, the WERA Grand National Finals, which begin on October 7.
Hunt has racked up 20 regional championships since 2006, but this is his first multi-race national title, which he took with one win and six other podium appearances." When I started racing motorcycles in 2005, I never imagined that I'd win a major title like this, but it wasn't easy," Hunt said. "I won championships in midgets and sprint cars. That was just for fun. I didn't get serious until I did my first track day on a bike. Then I was hooked.
"After taking my racebike to Brock's Performance early this year to have a custom fuel map built to suit my motor and the pipe, I immediately felt the difference and experienced substantial gains on the track."
Brock's CT Series™ Dual Canister Full Titanium exhaust system provides a nicely balanced look. Beautifully crafted from exotic metals, it has the same ground clearance and cornering capability as the single-can CTs, with a pair of carbon-tipped megaphones that provide increased horsepower, incredible style and terrific sound.
Brock's Performance president and national-championship-winning dragracer, Brock Davidson, said, "It's difficult for me to put into words how proud I am of Tim and Team Hooters. Seeing the success they had immediately this season, I knew that good things were to come.
"When we set out to design the CT series exhaust, the criteria was simple: Create a class-leading system that could do it all. It would have the most ground clearance possible for drag racing, cornering clearance for national-caliber roadrace capabilities and the best look and a distinct sound.
"Then I looked toward the engineers at my manufacturing company, Nojima Japan, for blending my concepts with their roadracing expertise. Since their exhaust recently finished fourth in the Suzuka 8 Hours round of the FIM World Endurance series, they clearly have world-class knowledge. I'm very fortunate to have such valuable technical partner," said Davidson in summing up his company's latest milestone.
Expanding upon 25 years of sportbike dragracing innovation and success on the quarter-mile, Brock's Performance is proud to be involved with Tim Hunt and the Hooters roadrace team.