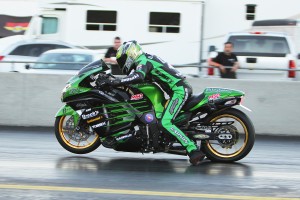 This past weekend, the stage was set for an epic season finale to the motorcycle drag racing season with great weather and a international turnout of competitors at South Georgia Motorsports Park. Brock's Performance racers came out on top at this action packed event covering the Pro Street, Real Street, Street Fighter, and Street ET Championships!
9-Time World Champion, Rickey Gadson, came to Valdosta on a mission. Gadson took his Kawasaki ZX-14R to the #1 qualifying position and then proceeded to wade through the Real Street field. Rickey had his 14R dialed in, using consistent 7.88s or 7.89s throughout eliminations including his final round victory over Ben Bozarth. With his event victory, Rickey was able to secure the Real Street Championship for his 10th championship of all time. Gadson's 2012 ZX-14R is equipped with Brock's Performance radial mount front end lowering kit, window links, and clutch mod.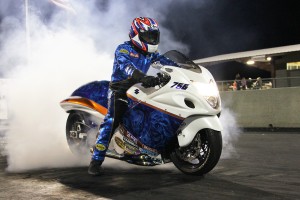 With 36 Pro Street bikes vying for a 16 bike field, getting on the ladder was an accomplishment in itself. Bud Yoder, on Ronnie Mitchell's 'Rizzo' wouldn't settle for just making it into the field, as they laid down a blistering 6.978 at 208.62 mph to qualify #1. In addition to the top spot, the RMR team also locked up the Pro Street championship using the new R Series BST carbon fiber wheels. Ryan Schnitz, on the HTP Performance machine, took their BST/TiWinder-equipped Hayabusa all the way to the winners' circle using a string of low 7 second passes. During their semi-final matchup with fellow BST-equipped rider Frankie Stotz, the team laid down an impressive 7.02 pass at over 202 mph.
In the 1/8 mile class, Pro Comp, Mark Paquette qualified #1 with a stout 4.08 at 176 mph, but saved the best for eliminations. On his way to a runner up finish, Paquette laid down an amazing 4.021 pass at over 187 mph. Paquette runs the BST Pro Mod front wheel on his bike.
When sportsmen are called to the lanes, Brock's Performance is an overwhelming favorite among the street bike crowd. So it came as no surprise to see both the Street Fighter and Street ET champions emerge equipped with Brock's Performance products. Wes Brown of Tennessee took home the Street Fighter title with a slim lead over Ben Knight. And although Brock's Performance employee, Ben Knight, was not able to bring home the Street Fighter championship, he dominated the Brock's Performance Sponsored Street ET class all weekend to win the Championship. "Street ET is one of the more difficult classes to secure a championship in, because of the numerous competitors and the amount of rounds you must win to get to the top. We typically don't see a clear contender in these classes, as it's a game of who accumulated the most points over a season. However this year we saw Ben easily lock up the championship on Saturday night. Switching to a Brock's Performance sidewinder with Brock's mapping clearly has helped him stay consistently fast," said Brandi Neithamer of Dragbike.com. Both Brown and Knight run our popular 4-2-1 stainless steel sidewinders on their championship winning bikes.
Brock's Performance would like to congratulate all the winners and champions during the 2012 season.
About BST: Based near Johannesburg, South Africa, BST engineers and manufactures the world's finest carbon fiber motorcycle components–from wheels and frames to fuel tanks and fenders–to the highest international standards. On the world stage, BST wheels have been proven at every level of FIM Grand Prix road racing competition and have won 12 national championships.
About Brock's Performance: Brock's Performance leads the way in sportbike innovation for acceleration addicts. From exhaust systems to wheels, this championship-winning company designs, builds and sells more than 3000 products that make it easier and safer for racers and street riders to reach record-breaking results through a never-ending process of research, development and track testing. For more information about BST wheels and other Brock's Performance parts, go to BrocksPerformance.com.