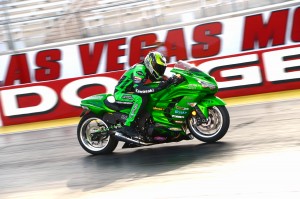 Brock's Performance is proud to announce it will be renewing it's sponsorship of the Rickey Gadson Drag Racing School for the 2013 race season. The Rickey Gadson Drag Racing School holds classes from New Jersey to Texas. Personally taught by 10 time champion drag racer Rickey Gadson, the school offers two-day beginner classes and one-day advanced classes.
Started in 2006, the Rickey Gadson Drag Racing School offers training in not just racing, but general riding techniques for the street rider.
"The partnership between Rickey Gadson's Drag Racing School and Brock's Performance is a perfect combination," said Rickey Gadson. "Brock is determined to make sure that any product with his name stamped on it, is designed for that particular bike and is always thoroughly tested before it's released. Because I've won several Championships assisted by Brock's knowledge, it was a no brainer that I prefer his products on the fastest production motorcycles in my school, the Kawasaki ZX-14R. The Brock's Performance products we use are designed specifically with the ZX-14R performance in mind. My school bikes definitely benefit from Brock's bolt-on 'go fast' goodies. Brock's Performance and Rickey Gadson are a 'Stupid Fast' winning combination."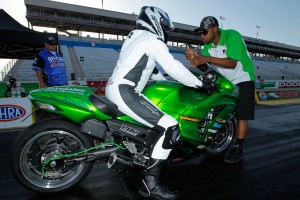 "The school is not just for people who want to race," said Rickey Gadson. "We will show you the fundamentals of handling a high horsepower motorcycle on the street. One of the main reasons that we started this school is because there is no tiered licensing of a motorcycle rider. A novice rider can go out and buy a sportbike, but may not have the skills to handle it. We want to bridge that gap."
Brock's Performance will outfit the school's fleet of ZX-14Rs with race equipment including full exhaust systems, front end lowering kits, clutch mods and rear suspension 'Window Links'.
"We have been involved with Rickey's school since the beginning," said Brock Davidson. "I have always applauded his efforts not only in getting people interested in motorcycle drag racing, but also giving riders the skills to handle modern, high-power sportbikes. I feel it's socially responsible to be involved with a school like this."
"Brock's Performance is the best choice for us for a number of reasons," stated Gadson. "First off, Brock doesn't fit one pipe onto multiple bikes. Each pipe is designed for a particular make and model of motorcycle so I know we will get the most power possible for our ZX-14Rs. Secondly, Brock offers excellent customer service and that cannot be said about a lot of companies in this industry. He takes a personal interest in making sure people are satisfied and that is the best person to partner with. We get great products and can recommend Brock's to our customers with confidence that they will be satisfied."
About Brock's Performance: Brock's Performance leads the way in sportbike innovation for acceleration addicts. From exhaust systems to wheels, this championship-winning company designs, builds and sells more than 3000 products that make it easier and safer for racers and street riders to reach record-breaking results through a never-ending process of research, development and track testing. For more information about BST wheels and other Brock's Performance parts, go to BrocksPerformance.com.
About The Rickey Gadson Drag Racing School: The Rickey Gadson Drag Racing School was founded in 2006 and has helped to shape hundreds of drag racers around the world. Rickey uses his 28 years of drag racing knowledge and proven performance on the track to train people who want to learn to race properly, safely, and be successful in motorcycle drag racing. Gadson's past students have improved their skills and posted their best personal E.T record during the school. For more information about Rickey and his school, go to RickeyGadsonDragRacingSchool.com.