In the Australian Drag Racing Championship, Benny Stevens took the Top Fuel Motorcycle victory over title leader Rob Cassar (Stevens is second in the points), while John Zahra won a solo B-Final when the record-breaking Chris Matheson was a non-starter for the finals following a scrape with the wall in his round two run.
"We have never raced in Sydney before, so we have been studying the weather and everything. In the first round we went out with a tune that we thought would work, and ended up running a 6.51 while riding through the finish line on the back wheel, so that gave us a good indication of where we were at," Stevens said.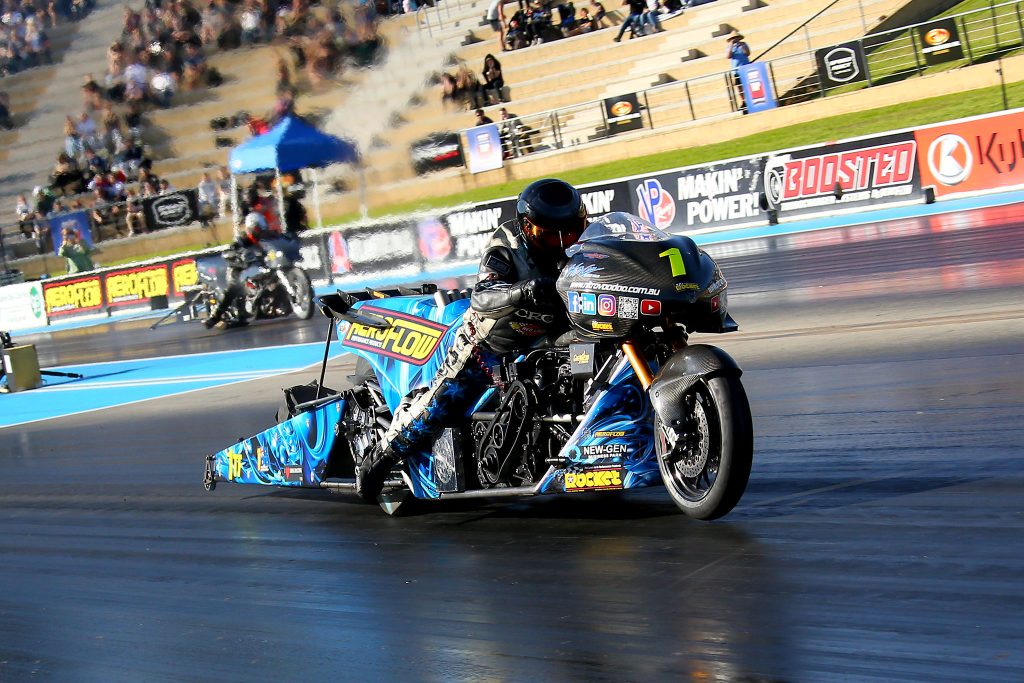 "In the next qualifying pass, we sort of left the tune the way that it was as we wanted to get a bit of consistency and back up what we did in the first pass, and we ended up running a 6.62 with the bike sliding around a bit from the half-track onwards. At the end of the day, it was another win, and we were the top qualifier, so we were happy.
"Come race day, we put the tune back to the six fifty run, and we ran a 6.52, which were happy with. We left it the same for the second round against Rob Cassar, as our focus was on being consistent. We ended up winning that second round against him with another 6.52 which we were really happy about.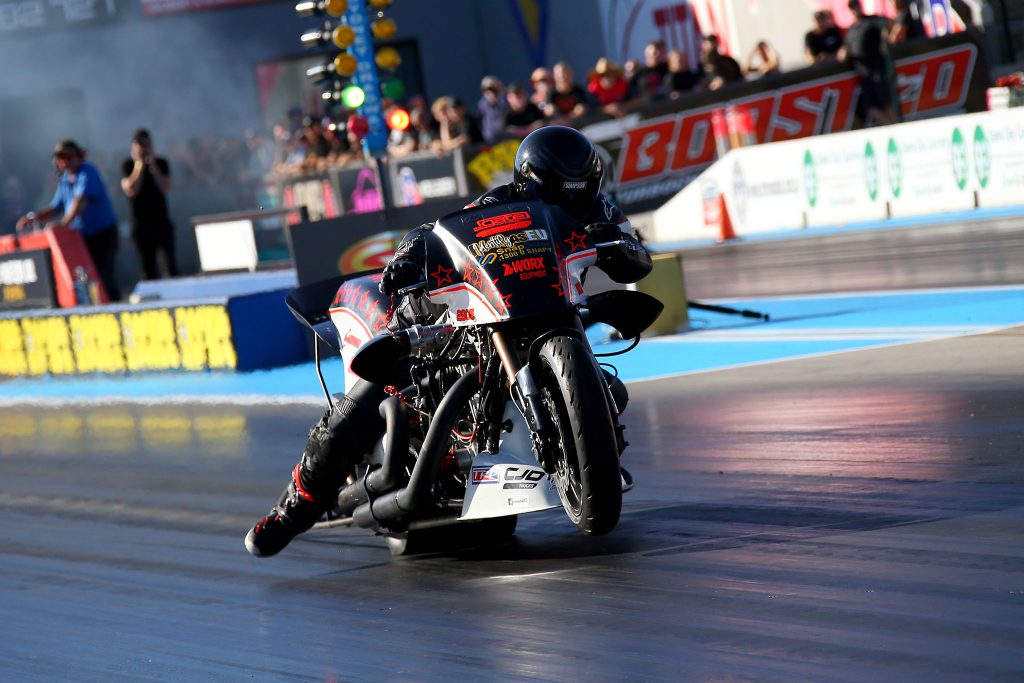 "In the final round we turned it up just a little bit, going through and adding a bit more fuel and clutch where it was needed, and we finished off with a win in the final with a 6.47. The biggest thing for us what we ran a few passes that were over 195mph to the half-track, which is a big win for us, as this is an area we have been focusing on and we can see results from that, so we are very, very happy.
"Another highlight of the weekend for us is Aaron Deery's bike. We have been focusing on that bike and it has been running awesome times even with being off the throttle early. In Q2 he went into the sand and damaged the bike a bit which saw him unfortunately out for the weekend, but it was awesome to see that bike performing so well and that he ran a PB – I am very proud of him and we will have that bike ready to go for Darwin," he concluded, while thanking his team's sponsors: Worx Equipment, AAA Demolition and Tree Services, Racecraft, Darling Downs Drilling, Bakers Creek Harvesting, West Coast Air, TRP, CJD Trucks, Red Line Synthetic Oil, Gardiner Engineering, MDR Trans, Nelg's Ali Mods, Applied Automotive Performance Engines, and The Gate Bar and Bistro.
There are more videos on the Cycledrag Youtube channel (please subscribe here) and the Cycledrag Facebook page (Please like here) and more will be coming soon. Check back daily.
To take advantage of some amazing discounts at Brock's Performance, click – http://brocksperformance.com?aff=12
USE cycledrag5 coupon code.