NHRA championship-winning drivers Ron Capps and Antron Brown, along with NHRA Vice President of Track Management and Operations Kasey Coler, recently visited Washington, DC on Wednesday, April 26 as representatives for the National Motorsports Coalition (NMC) to share with members of the Congressional Motorsports Caucus and other lawmakers in Congress.
Coler and the pair of three-time NHRA world champions were among representatives from major United States sanctioning bodies and racetracks, including NASCAR, IndyCar, SCCA, USAC and IMSA. Representing the NMC, they shared an overview of the contributions and impacts the motorsports industry has on the American economy. This also marked the first time since 2019 that the NMC had the opportunity to make an in-person visit with lawmakers and their staff, and it was an impactful trip for each NHRA representative.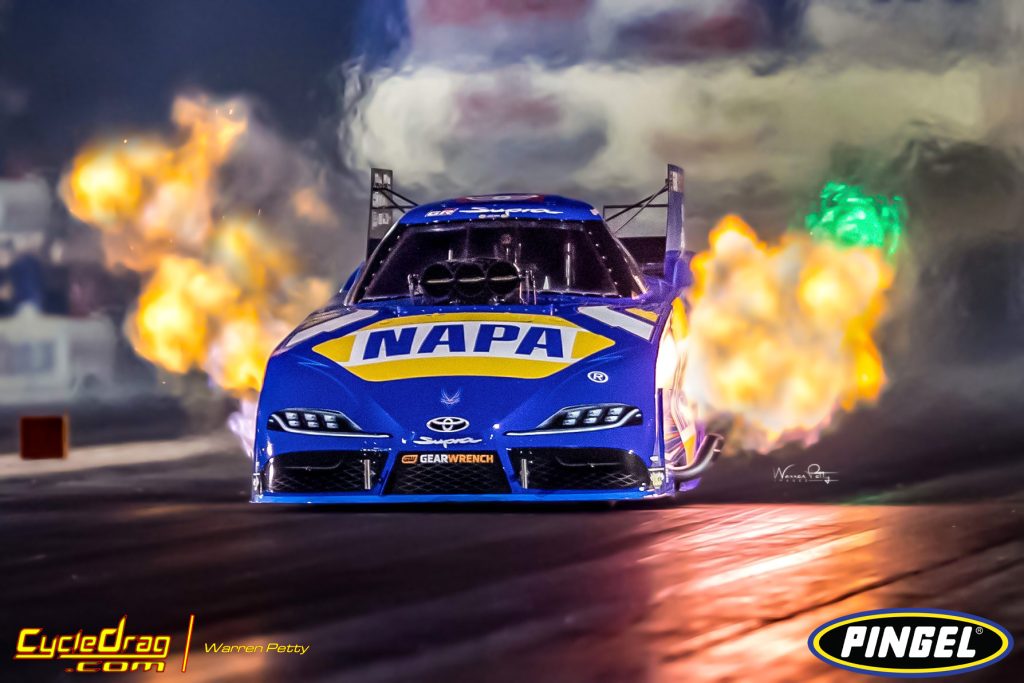 "It was really good to visit all the representatives and going there for a just cause," Brown said. "Going there and talking to them, it was really good to spread the message about not only the revenue we bring to these counties and states, but also how we take people off the streets and put them on the racetrack, and that's what drag racing is all about. We were able to really talk about our sport and see how much love and excitement our sport brings to the people on Capitol Hill. It was a really, really great honor to be there spreading the word, and seeing all the support."
Earlier in 2023, the Congressional Motorsports Caucus (CMC) was formally approved as a Congressional Member Organization of the House of Representatives during the 118th session of Congress. The CMC, co‐chaired by Representative Bill Posey (FL‐08) and Representative Mike Thompson (CA‐4), is as an informal, bipartisan group of Members of Congress dedicated to celebrating motorsports and understanding their impact on American culture and the economy.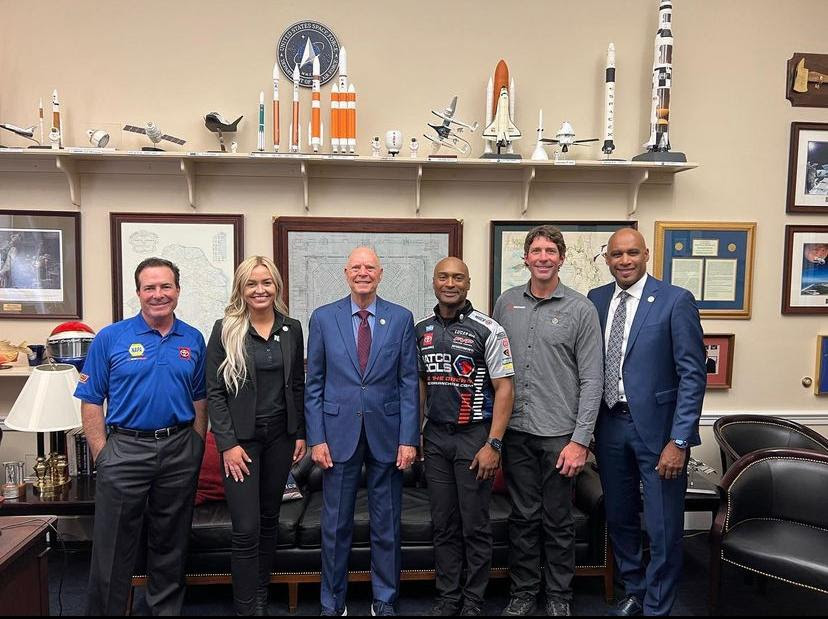 "For me, it was educational," Capps said. "Being a team owner the last couple years, I've tried to learn about some of the things going on outside of our sport and that was a great example. Meeting up with the board members and seeing how much of a joint effort it was to try and educate people that represent where are racetracks are, that was really cool. I learned a ton and I had a blast, and it was neat to meet with a lot of these elected officials who are big drag racing fans. To walk out of their offices and hear about how much they want to help, it was huge."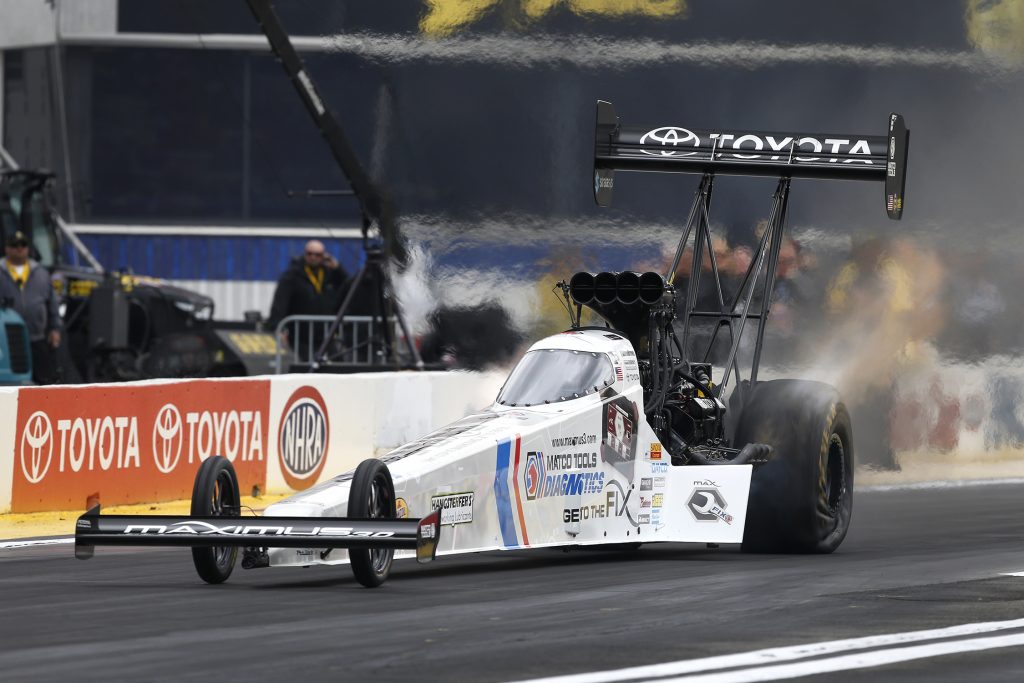 The National Motorsports Coalition's return to Washington culminated with a reception with support from the Congressional Motorsports Caucus. More than 200 guests, including Members of Congress and their staff, were able to visit with motorsports industry executives and drivers attending with the NMC, including the trio of NHRA representatives.
"It was a great opportunity to go to Capitol Hill, meet with public officials and really showcase the importance of motorsports in our economy," Coler said. "It was exciting to see NHRA have such a strong presence during this visit, and Ron and Antron have always been terrific ambassadors for NHRA drag racing and motorsports overall. To see how much these elected officials valued motorsports and racetracks across the country was also important to see as we continue to strive to bring added awareness to our sport and its positive effect on the economy."
An important issue that Members of Congress and motorsports industry leaders addressed was the Motorsports Fairness and Permanency Act. Congresswoman Claudia Tenney (NY-24) introduced the bipartisan Motorsports Fairness and Permanency Act on April 18, which would make permanent the seven-year cost recovery period for investments in motorsports entertainment complexes. This would allow companies to continue making long-term investments in racing facilities with the certainty their investments would have fair and equitable treatment. The legislation was introduced with Reps. Mike Thompson (D-CA), Bill Posey (R-FL), Terri A. Sewell (D-AL), Rudy Yakym III (R-IN), Debbie Wasserman Schultz (D-FL) and Drew Ferguson (R-GA).
"The motorsports industry is an economic driver in my district and in districts across our country. Motorsports create good-paying jobs, provide lifelong memories, and are a key part of our culture. The drivers, executives, and motorsports employees are genuinely nice and courteous people. It's always a pleasure to be with them. I am proud to be a co-chair of the Congressional Motorsports Caucus and it was great to welcome the motorsports community to Capitol Hill," said Congressman Mike Thompson.
There are more videos on the Cycledrag Youtube channel (please subscribe here) and the Cycledrag Facebook page (Please like here) and more will be coming soon. Check back daily.
To take advantage of some amazing discounts at Brock's Performance, click – http://brocksperformance.com?aff=12
USE cycledrag5 coupon code.