Australia's leading Top Fuel Motorcycle racer Chris "Nitro Voodoo" Matheson realized a dream on Cinco de Mayo as he became the first Australian motorcycle drag racer to reach the five-second zone at this weekend's Nitro Champs at Sydney Dragway – the penultimate round of the Burson Auto Parts Australian Top Fuel Championship and Australian Drag Racing Championship chase.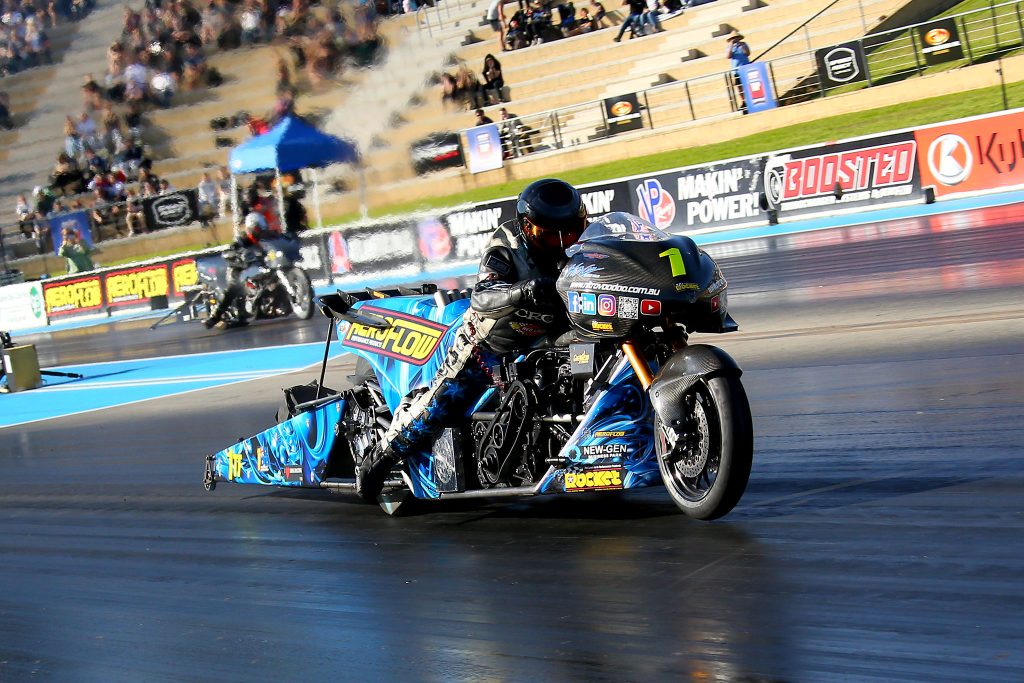 Matheson has been locked on achieving this goal and has been painfully close on numerous occasions, just missing the mark last season with a 6.00 record-setting run.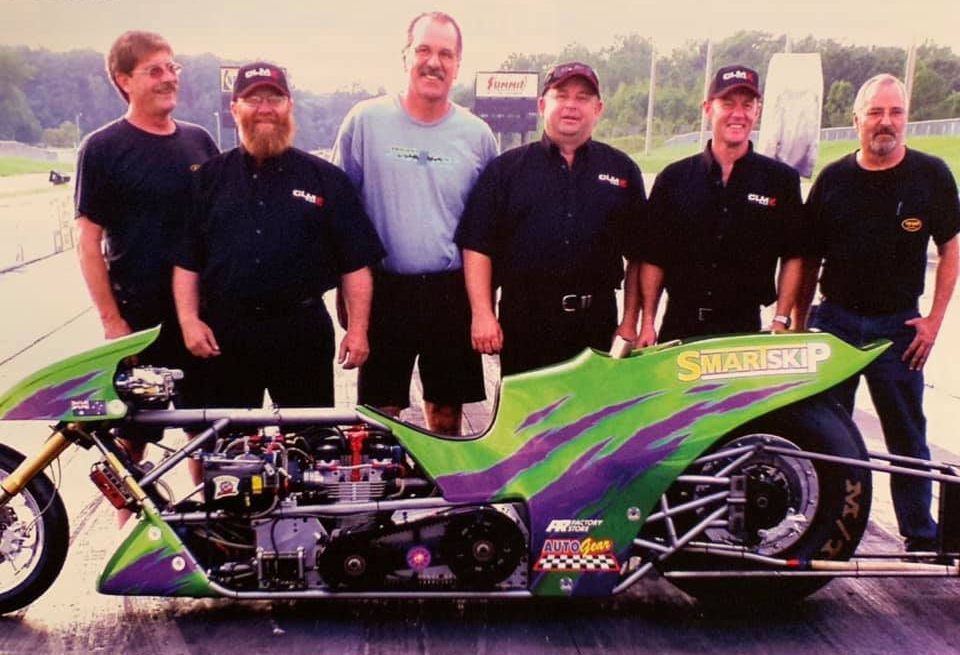 Matheson's bike started out as Jimmy "The Hulk" Brantley's former motorcycle before undergoing a total makeover after an unfortunate top end crash. Matheson quickly discovered that the tracks in Australia were not as motorcycle friendly as some of the record-setting venues in the states. Many of the drag strips in Australia have short and bumpy shutdowns. In fact, at one point Matheson was destroying a set of rotors on every pass trying to get stopped.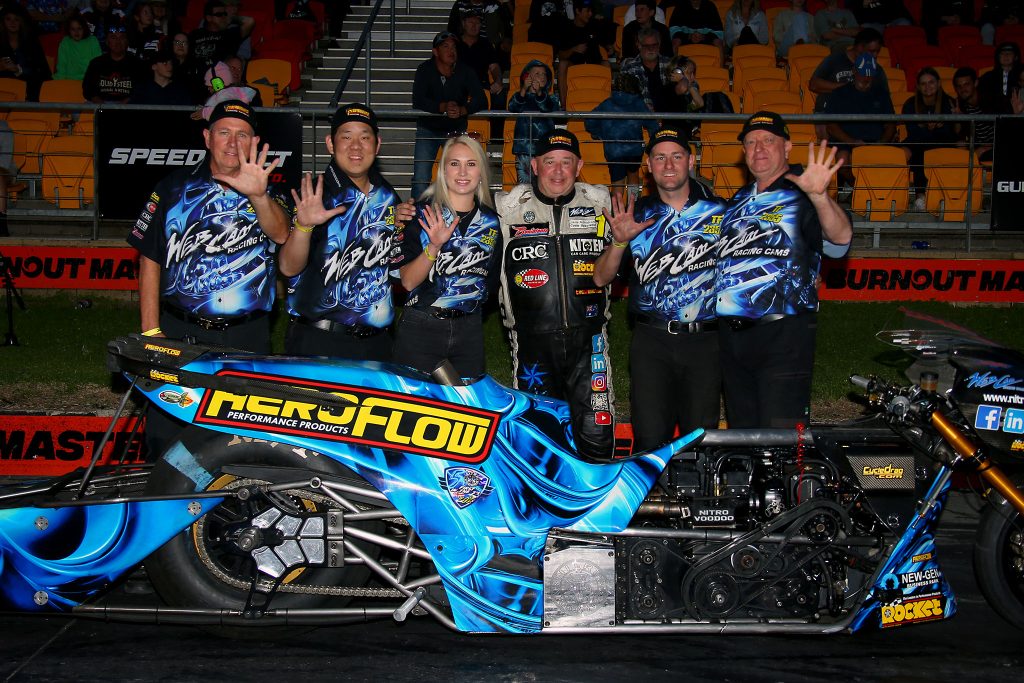 Despite the challenge and his unfortunate crash that greatly affected the accomplished racer's health, the fearless and determined Matheson pressed on towards his goal.
"We have been plugging away at this for about 11 years, I can ring the nursing home now and let them know I am coming next week," Matheson said. "That's a big moment."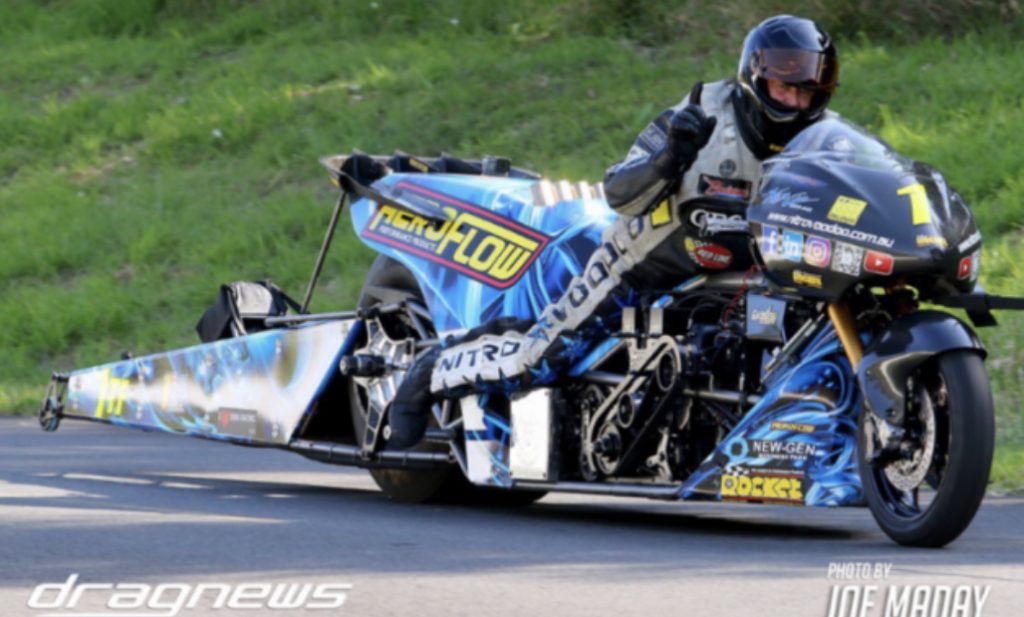 "This has been a big effort from the team, how's that for a bit of history here in Australia," Matheson grinned after the record-setting effort," Matheson said. "To everyone, wow, thank you for supporting us, I can't do it without the team and all of my guys, Performance Wholesale, Rocket, Aeroflow…all the guys who support what we do. Steve McBride back in the States, Jack from CycleDrag…what a big moment."
Please join us in congratulating Chris "Nitro Voodoo" Matheson on this massive accomplishment.
Check out our interview with Matheson from three years ago as he was in pursuit of this goal.
There are more videos on the Cycledrag Youtube channel (please subscribe here) and the Cycledrag Facebook page (Please like here) and more will be coming soon. Check back daily.