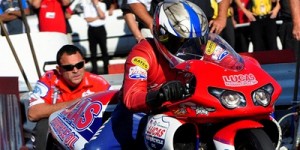 Lucas Oil Buell riders Hector Arana Sr. and Hector Arana Jr. would like to soon forget the FRAM/Autolite NHRA Nationals at Infineon Raceway.
After qualifying No. 1 in Pro Stock Motorcycle for the third time in four races, Arana Jr. fell in the quarterfinal round after some starting-line issues.
Arana Sr. had engine problems all weekend, and in an attempt to earn a holeshot win in the first round, he red-lit and was eliminated.
Arana Jr., back with the engine "Gracie" named after his mom, knocked out Jim Underdahl in the first round with a run 6.843 seconds at 194.80 mph. But while preparing to run defending Pro Stock Motorcycle champion LE Tonglet in the second round, Arana Jr. had problems.
"As soon as he pre-staged, he went in, and I was ready, so I went in," Arana Jr. said. "But as soon as I went in and got on the gas, the light dropped, so I threw the clutch right away. I wasn't prepared for the light to drop as quickly as it did. I knew I needed to cut a good light, so I just threw it, and it threw everything else off."
Almost immediately, Arana Jr.'s Lucas Oil Buell veered to the right, and he had to get out of the throttle to keep from hitting the wall.
"I stayed on it for a second, and I was hanging off the side of the bike," Arana Jr. said. "But I was going right to the wall, so there was no sense in staying in it."
Arana Sr.'s problems started in the second round of qualifying when he blew his engine, named "Abigail" after his daughter. The failure was the worst Arana Sr. has ever seen, damaging other parts of the bike, too.
"It's a paperweight. There are holes everywhere," Arana Sr. said. "There's nothing left. The damage was bad. And it's not just the motor, it's the prep of getting everything ready for that motor.
"It even took the clutch out, so I had to start with everything new. My clutch was totally in left field. I don't know what the bike wants yet with that particular motor."
Arana Sr. and his Lucas Oil crew hastily prepared another engine, "Charlotte," for the rest of the weekend. He knew the speed wasn't in the bike, so he went for a perfect reaction time.
"I went for the win light," Arana Sr. said. "Mad? Yeah, but when the bike did all that, I would've been done anyway even with a perfect light.
"I did everything I could to prepare. You have those days sometimes."
The Aranas will now hurry home to Indiana to prepare for the Lucas Oil Nationals at Brainerd International Raceway in Brainerd, Minn., on Aug. 19-21. And there is a lot of work to be done, Arana Sr. said.
"I'm going to feel sorry for my family going back home," Arana Sr. said. "We'll make fuel stops, but that's about it. None of this, 'Let's have dinner or breakfast.' We've got to get home."