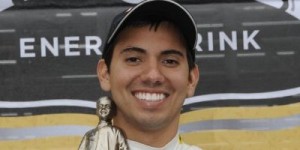 The Lucas Oil Drag Racing team won't be intimidated by trying circumstances in the Tire Kingdom NHRA Gatornationals at Auto Plus Raceway at Gainesville.
In Sunday's eliminations, Lucas Oil Buell rider and Hector Arana Jr. will be chasing new Pro Stock Motorcycle record-holder Eddie Krawiec.
Arana Jr. has winning on his mind.
"We're confident going in to tomorrow," Arana Jr. said. "We're looking for a win. We've got what we've got, but I'm looking for consistency, good lights, and a Wally at the end of the day."
Arana Jr. faces No. 15 qualifier Michael Phillips in the first round of eliminations. Phillips' best run was 7.018 seconds at 190.32 mph.
The Aranas arrived in Gainesville after scrambling to get their bikes ready for the season because of delays in getting parts in. Neither Lucas Oil Buell made it down the track in the first qualifying session Friday, with Arana Jr. pulling his bike off the starting line after his dad's Buell suffered a minor mechanical problem.
Arana Jr.'s first full run was in Q2, when he couldn't get in the six-second bracket. But like his dad's bike, Hector Jr. got faster throughout the weekend.
"Considering everything that we went through, that was good," Arana Jr. said. "We ended up going back to our original setup from Pomona (last year). We're going to have to go testing and try to find something new because we are behind the 8-ball. We need to find some power."