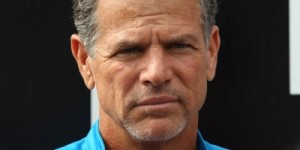 Pro Stock Motorcycle rider Jerry Savoie took on a new challenge at the Tire Kingdom NHRA Gatornationals this weekend at Auto-Plus Raceway at Gainesville when he hopped aboard his new White Alligator Racing (WAR) S&S Buell after racing a Suzuki in all of his rookie season.
The team had an unfortunate surprise on Friday when they realized that all of the data that they acquired after testing the Buell in Valdosta was lost, and the disadvantage held them outside of the field after the first two sessions of qualifying. But the first session on Friday was a sigh of relief as Savoie clocked a nice 6.972 at 187 mph that would be enough to stick them in the field in the No. 11 position.
For his efforts, Savoie drew fellow Louisianan LE Tonglet and although he was characteristically first to leave the starting line, his 6.997, 187.86 mph wasn't enough to top Tonglet's 6.943, 189.55.
"That's drag racing," said Savoie. "We actually think we might have hurt the motor in Valdosta with the timing we were running and been at a disadvantage, because things weren't matching up. Overall though, it was a learning experience. Did we ride the fastest bike that we own right now? No, the Suzuki is faster than that – but we have to start somewhere, and we chose to do it here. It's going to be interesting to see how the future plays out."
Savoie and his team, including crew chief Mark Peiser and newest crew member, Tim Kulungian – who brings experience with fuel injected machines to the team – are opting to test both the Suzuki and the Buell before the next event for the Pro Stock Motorcycles.
"We had high expectations for the weekend, and we also knew that we were dealing with something that's totally new to us," said Kulungian. "After testing in Valdosta before the event, it was almost a coin toss as to which motorcycle we were going to run. We had one engine for a Suzuki and a Buell that we really didn't know that much about, but we're thankful we chose to run the Buell. It's a huge learning curve, but we're getting it."