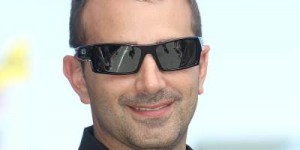 Two-time NHRA Full Throttle champion, Ed Krawiec, unofficially,  became the first Pro Stock Motorcycle rider to surpass the 200 mph mark with a sensational run of 6.771 at 200.08 in a pre-GatorNationals test session at South Georgia Motorsports Park in Valdosta, Ga. on March 5th.  The official NHRA ET and speed records stand at 6.777, held by former series champ Hector Arana,  and 199.26 mph, held by Krawiec.
Krawiec's teammate, three-time NHRA champion Andrew Hines, also produced unofficial record-breaking performance with a blast of 6.758 at 199.82.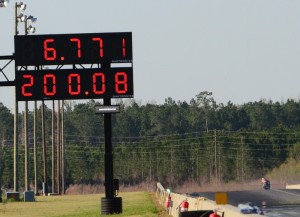 Two riders suffered crashes in the test session. Katie Sullivan, 21, came off of her bike at the top-end and the machine launched over the wall.  The motorcycle ended up breaking to several pieces, but fortunately, Sullivan walked away relatively unscathed.  Michael Ray also came off of his motorcycle and commented, "The bike is fine, I'm fine, I'm just pissed."
Both accidents were reportedly attributed to high winds at South Georgia Motorsports Park.
The strong winds make Krawiec and Hines' numbers even more impressive.
NHRA rookie Joey Gladstone recorded an impressive run at 6.97 on a motorcycle rented from former series champion Matt Smith. The NHRA PSM season begins Friday March 9th in Gainesville, Fla.
Several Pro Mod/Pro Extreme motorcycles also took part in testing; (Monday) Ashley Owens 4.14, Eric McKinney 4.19, Japel Heard 4.20, Jack Young 4.24, Dave Norris 4.25, Rob Hunnicutt 4.42 and Craig Rosenberg 4.42.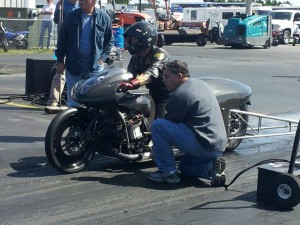 On Tuesday, McKinney improved to 4.12 on his new motorcycle, which features a PMFR chassis, similar to what Owens ran all last season.