As many of you know, APE and Trett Racing were hooked up from the first time he came out west with the Kawasaki until that fateful day in Indy.
During that decade plus, virtually everything APE produced for the Kawasaki KZ motors was tested on Elmer's machines. And that provided some very interesting times. He was always way out ahead of everyone else in top fuel, but that came at a price. Piles of broken aluminum, steel, and titanium sacrificed pushing the limits.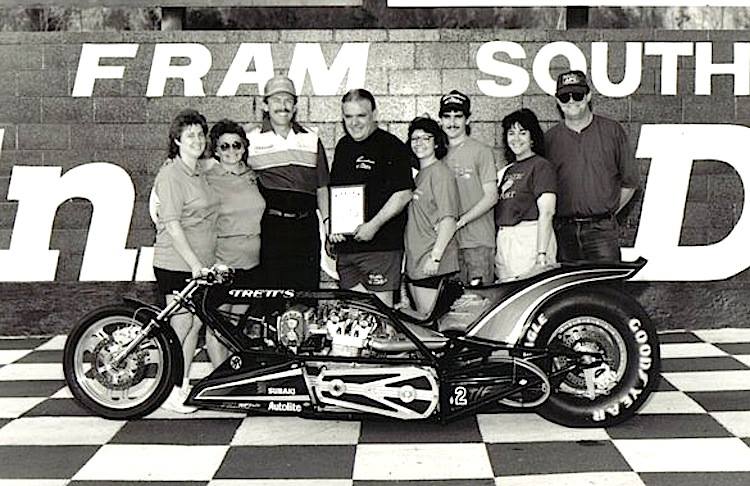 He had won everything there was to win, several times over, and his quest was always to go faster and quicker.
One of the major weak points was the cast cylinder heads. One season he split eleven heads right through the spark plug holes. He kept Clyde Day very busy that year. APE had no CNCs back then, but there was a guy across the street that did, and he had a drag bike. I approached Larry McCormick and told him that Elmer Trett needed a cylinder head machined from a solid block of aluminum. The rest is history.
The McCormick cylinder head ended the head issues. But, it opened a whole nother can of worms. Seems the head was the pop off valve that helped everything else live. Not only that, but it required a totally different tune up.
It seemed that for a couple of years, he would just kill stuff on a regular basis. Sleeves would crack, and under massive boost, would just explode the aluminum big blocks, etc. That is when we did the first ductile sleeves to solve that one.
In the midst of this, Elmer gets booked into an IDBA event in Memphis, to make three runs. He clicks off low 6.30s at 230+ mph and never takes a cylinder head off, let alone changing complete motors every pass. I was ecstatic. Finally we had a handle on this situation. I told him, "this is great" He says "What?" I said "three really fast runs and not hurting anything. He said "I can do this anytime I want to. These folks paid for three fast runs and that is what I gave them. This is my "booked in tune up" "I just am not learning anything when I do this".
And that my friends, is the mindset that made him the first 200, 210, 220, 230 mph performance pioneer.