Angie Smith was part of another record-setting day at Virginia Motorsports Park, running the fastest pass in track history on Saturday to qualify No. 1 at the Virginia NHRA Nationals.
After setting track records on Friday in Pro Stock Motorcycle, Smith followed up with an even quicker 6.756 at 201.37 on her Denso Auto Parts Buell during the second qualifying session, also setting the speed record that she initially set a day earlier. The third session in the class was cancelled due to weather.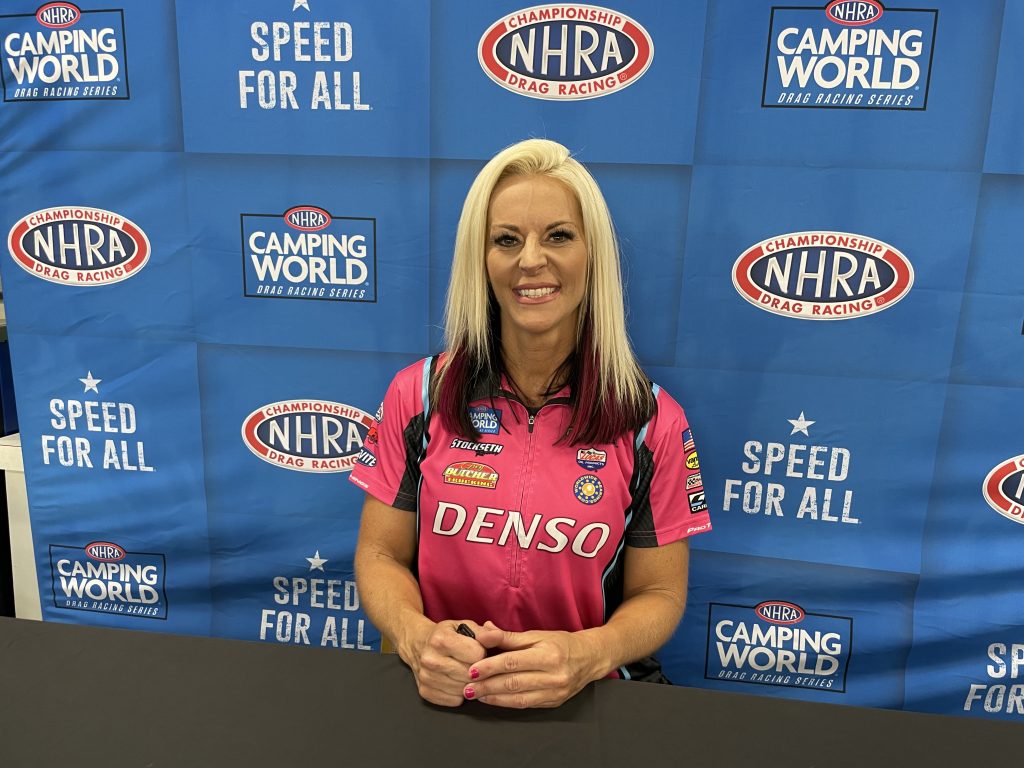 For Smith, it's her second career No. 1 qualifier as she remains the only rider to have made a 200-mph run at Virginia Motorsports Park. She is after her first victory of the 2022 season.
"I knew the bike had more in it," Smith said. "Matt (Smith) didn't think it would go quite that fast, but the bike got off the line really well. I saw Angelle (Sampey) run that 6.78 and I knew this bike had it in it. I couldn't be prouder of my team and the job they're doing. It's all about momentum and continuing to make good runs right now. We're just going to keep trying to do what we've been doing. It's a humbling sport, so we've got to continue to stay focused."
Angelle Sampey moved up to second in that same session with her run of 6.786 at 199.52, while points leader Steve Johnson, who has won back-to-back races, qualified third with his 6.826 at 198.12 from Friday.
In the FuelTech NHRA Pro Mod Drag Racing Series presented by D-Wagon, Kris Thorne took the No. 1 spot with his run of in his ProCharger-powered Camaro. The weekend's race is powered by LAT Racing Oils. Thorne is the points leader on the strength of victories at the first two races of the season.
Eliminations for the Virginia NHRA Nationals begin at 12 p.m. ET on Sunday at Virginia Motorsports Park.
Pro Stock Motorcycle — 1. Angie Smith, EBR, 6.756, 201.37 vs. Bye; 2. Angelle Sampey, Suzuki, 6.786, 199.52 vs. 15. Jianna Evaristo, Suzuki, 7.147, 178.52; 3. Steve Johnson, Suzuki, 6.826, 198.12 vs. 14. Lance Bonham, Buell, 7.147, 187.44; 4. Matt Smith, Suzuki, 6.827, 199.32 vs. 13. Chris Bostick, Suzuki, 7.068, 189.58; 5. Jim Underdahl, Suzuki, 6.828, 197.28 vs. 12. Kelly Clontz, Suzuki, 6.988, 192.91; 6. Karen Stoffer, Suzuki, 6.843, 198.00 vs. 11. Ryan Oehler, EBR, 6.932, 198.15; 7. Marc Ingwersen, EBR, 6.858, 197.57 vs. 10. Ron Tornow, Victory, 6.925, 190.14; 8. Eddie Krawiec, Suzuki, 6.868, 196.79 vs. 9. Joey Gladstone, Suzuki, 6.875, 195.25.
There are more videos on the Cycledrag Youtube channel (please subscribe here) and the Cycledrag.com Facebook page (Please like here) and more will be coming soon. Check back daily.