Victory Motorcycles factory rider Angie Smith has clear designs on the title of this weekend's Toyota NHRA Sonoma Nationals, and when she gets to work on the dragstrip at Sonoma Raceway, she already knows she and her Pro Stock Motorcycle peers have a legion of supporters within the California biker culture.
"It's so awesome when you go to Sonoma and see all of the motorcycles parked up and down the hillsides," Smith said. "Some of the best motorcycle riding in the USA is right there in and around the wine country, out to the Pacific coastline, and up and down the Pacific Coast Highway. Bikers love motorcycles and they love watching us race our Victory Gunners against all the other brands at Sonoma Raceway.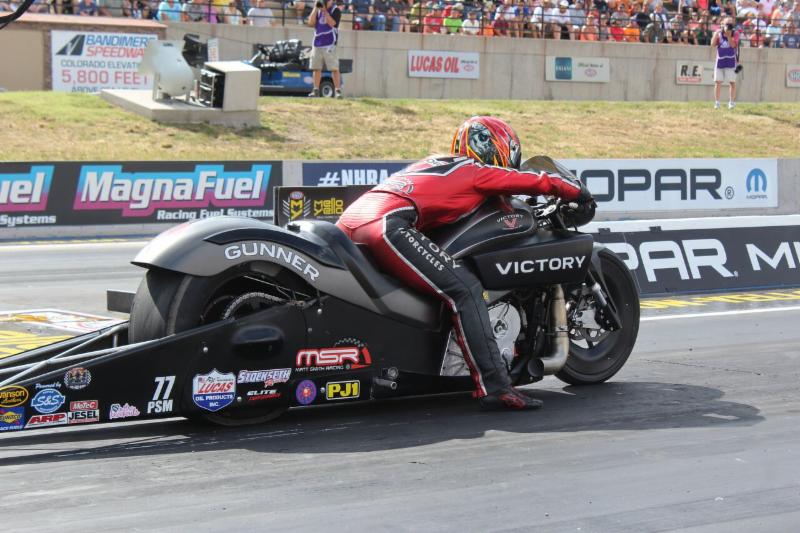 "What I've noticed that is really unique about drag racing is that we draw from all areas of motorcycle enthusiasts. We get the touring bikers, the street bikers, the off-road/Supercross folks, and even the various motorcycle clubs. They all seem attracted to what we do, and we love showing off for them."
Just as they did before and after last weekend's Denver race, Smith and her husband Matt Smith, a two-time world champion who happened to race past his wife during Denver eliminations, plan to take their Victory street bikes out for some scenic tours.
"Life on the NHRA tour can get hectic, and people that ride motorcycles know the best way to relax and clear your mind is to take a ride," she said. "We love to find some back roads, where there are more bikers than cars, and just cruise around. You meet so many great people and we get a chance to tell more and more riders about Victory Motorcycles and how great they are to ride.
"We do the same thing at the track. In between the runs we make during a race, we love to hang out with the fans and answer their questions about all the different bikes we use to get our race bikes up to the starting line and back to the pits. People always love seeing our bikes."
While Angie concentrates on racing for the national event title, Matt will be pulling double duty when he also competes in the annual Pro Bike Battle.
"It was great we got one of the bikes in there, and we hope to have both next year," Angie said. "In the meantime, I'll be Matthew's biggest cheerleader. I know what it would mean to both of us to get a win this weekend."
Pro Stock Motorcycle qualifying sessions are scheduled for 4:30 and 7 p.m., Friday, and 1:10 and 4:15 p.m., Saturday. Eliminations start at noon, Sunday. FOX Sports 1 will air qualifying action from 4:30 to 5:30 p.m., Friday, and 7 to 8 p.m., Saturday. FOX will carry eliminations live from 1 to 4 p.m., Sunday. (All times listed in PT).