What would bring a happy and content lady living in Louisiana enjoying the family life back to a fire breathing almost 200 MPH NHRA Pro Stock Motorcycles? Winning. For Angelle Sampey the challenge of breaking the most wins in Pro Stock Motorcycle history held by Dave Shultz with 45 and the opportunity to share her legacy with her four year old daughter, Ava, was something that the 3-time champ just could not pass up.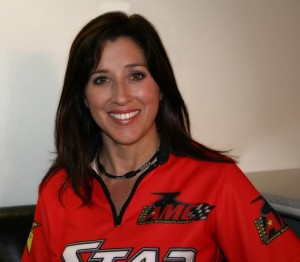 "I am really excited about 2015," said the winningest female in NHRA history. "My life is where I want it to be and when George came knocking to come back this season it was an opportunity I just could not pass up."
Sampey has captured 41 Wally's in her illustrious NHRA career and is just four back of Schultz in Pro Stock Motorcycle wins and wants to break his record. The popular racer ran a select number of races at the end of 2014 to get her ready for this season and a mishap in the pits sidelined Angelle for nearly five months with rehabilitation.
"My rehabilitation for my lacerated Achilles, lacerated Peroneus Brevis and Peroneus Longus tendons was just about the toughest thing I have ever done in my life, added Angelle. " My Brevis was 100% cut and Longus 75% which are responsible for my walking balance. I knew how important getting healthy for 2015 season meant to my team and my fans so I worked as hard as I ever have and I am ready to go."
Angelle is one of the most popular racers in NHRA history and understands the role that her fans have played in her success. In National Dragster's recent poll, who is the most popular two wheeled warrior in 2015, Angelle garnered over 73% of the votes over 11 other candidates an honor she is very proud of.
"My fans mean the world to me, "lamented Sampey. "They are what drive me so hard to win. I feel that I have a responsibility to perform at a high level for myself, my team, my family, my friends, my marketing partners and my fans. My legion of fans helped me so much during my grueling rehabilitation and I want to share my thanks by performing on a championship caliber level."
Sampey and her Star Racing team have quietly been working behind the scenes preparing for the race this weekend in Gainesville, Florida. George and Jackie Bryce are celebrating 35 years in business in 2015 and nothing would make the Star Racing family happier than to bring home championship number four for Angelle.
About Star Racing:
After more than 30 years in motorcycle drag racing, Star Racing and owner George Bryce have won six NHRA Pro Stock Motorcycle championships and 80 NHRA national event wins with 10 different riders.  Their high performance motorcycle company is also a world-wide mail-order parts business, with engine building, a state-of-the-art machine shop and dyno services. Visit us at starracing.com or Angelle's Facebook https://www.facebook.com/AngelleSampey
Angelle Fast Facts:
Lives in Raceland, LA
Age: 45 years old
Three-time NHRA Pro Stock Motorcycle Champion
41 NHRA national event wins (all-time winningest female)
Husband Seth Drago, daughter Ava Jane (2011)