The season finale for the AMRA Pro Mod class ended with a bang and for some competitors a literal bang! Great weather and cool air made for perfect race conditions at the legendary Rockingham Dragway.
Both the Pro Mod and Pro Gas classes put up the quickest recorded ETs of the season. However several riders experienced some serious mechanical problems which is not uncommon for these mega horsepower machines.
The Pro Mod class had a great turn out and ran its tightest and largest field of bikes of the season. Ryan Oehler took the number one qualifier position with a blazing pass of 8.43 at 154.3 mph, but had to work for it all day during qualifying.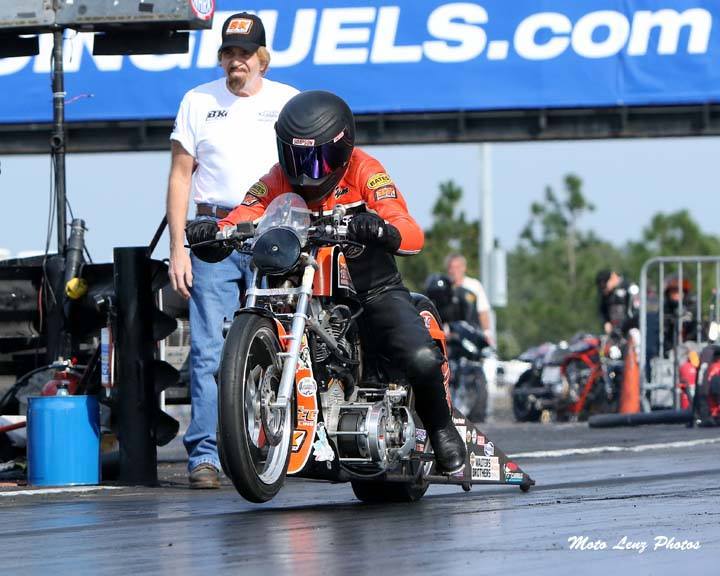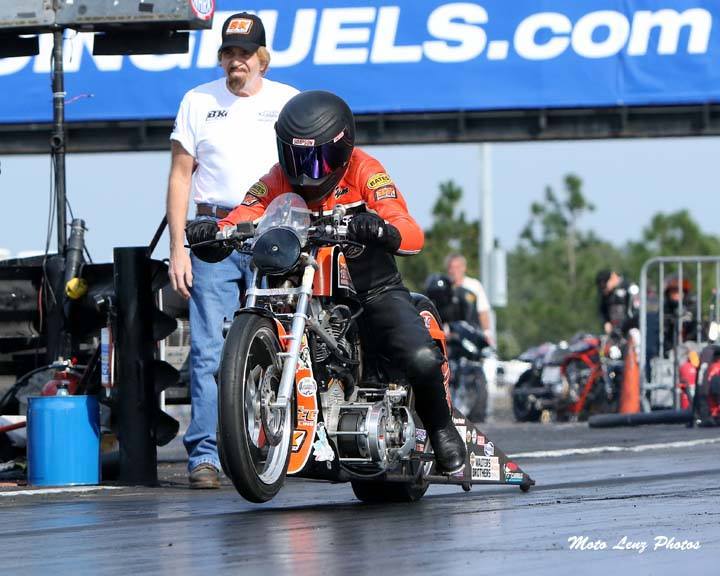 Ryan had been struggling with mechanical issues for the past two races and had also recently blew up a motor during testing less than one week prior to this race. If that wasn't enough, the point's battle for the championship was on the line for Ryan Oehler.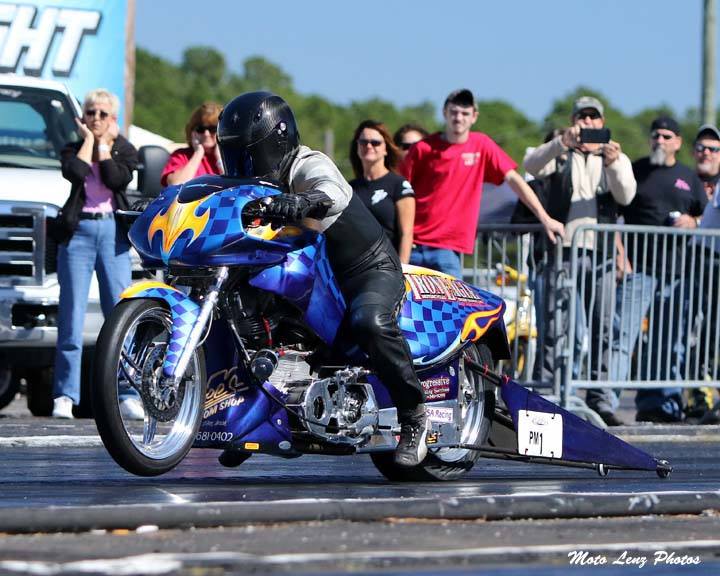 Morry Straubel had been gaining some serious momentum with his past two back to back wins leading up to this event. Morry and team owner and crew chief Larry Pratt took the number three qualifying position with a pass of 8.51 at 153.4, but experienced a huge disappointment during qualifying as the broke a valve spring and was unable to defend their championship title.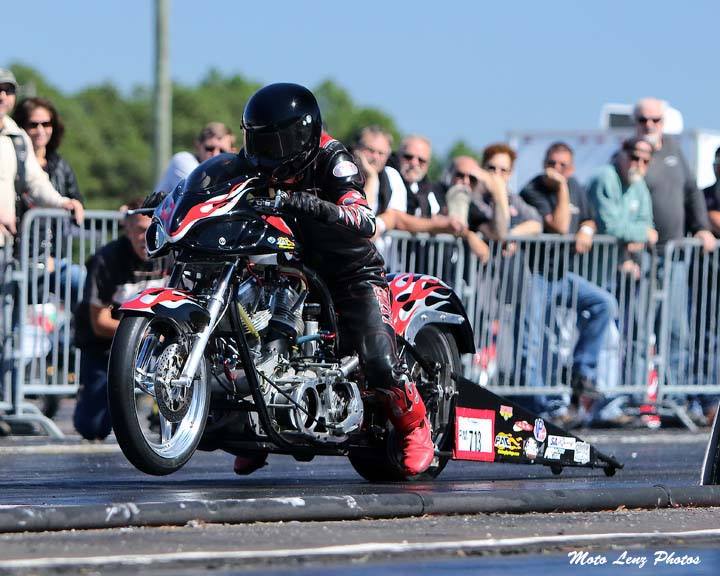 Morry was not the only one fighting mechanical problems, as Jason Adams suffered a broken frame after the second round of qualifying. Jason held down the number six qualifying position and immediately set out to find a welder to repair his frame. Jason was able to make his repairs and would be ready for eliminations on Sunday.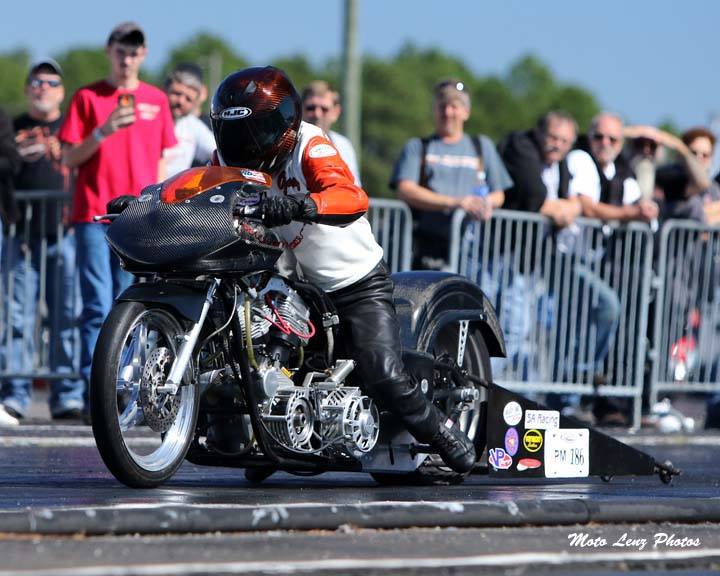 It appeared that the man to watch all weekend long was Gary Douglass. Gary has been a veteran to this Pro Mod class and began this season with a new machine. Gary ran very consistent all weekend long and laid down a very impressive pass on his last qualifying run, placing him in the number two spot with a furious pass of 8.49 at 149.9 mph.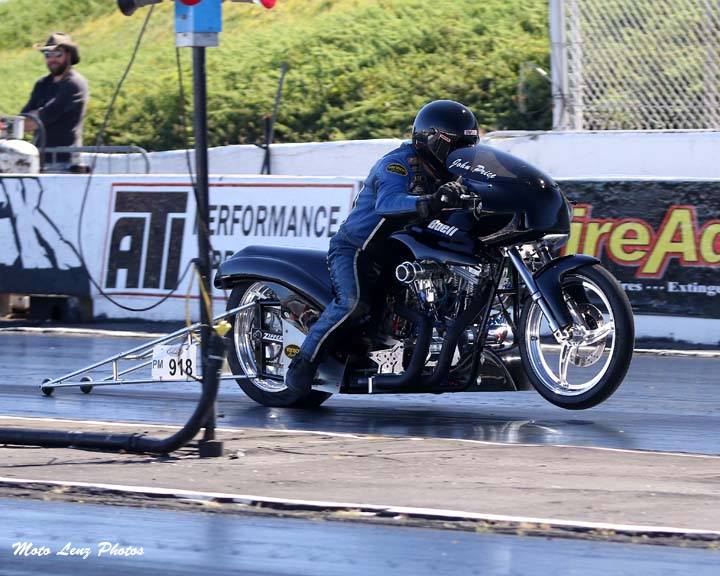 John Price had also been running deadly consistent all weekend long and took the number four qualifying position. John Price also ran the quickest sixty foot times of any Pro Mod machine running several 1.19 and 1.18 passes.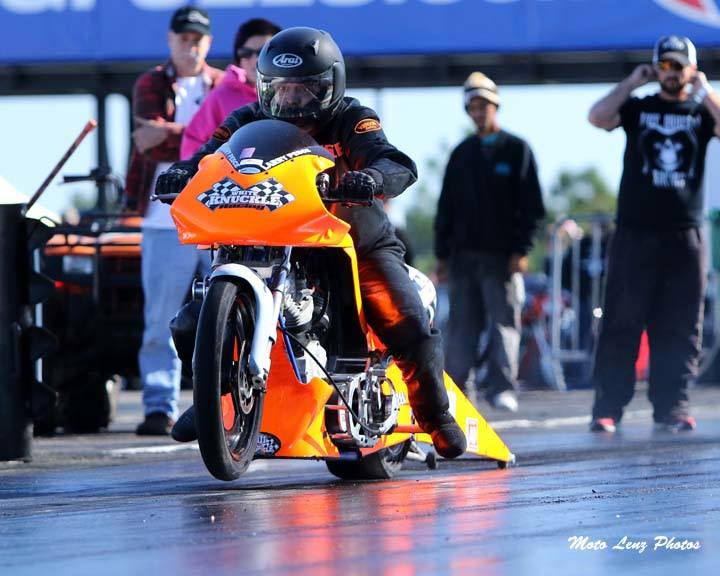 Larry Pesce, our rookie to the Pro Mod class has been getting quicker all year long and took the number five qualifying position with a very impressive 8.62 at 149.4 mph.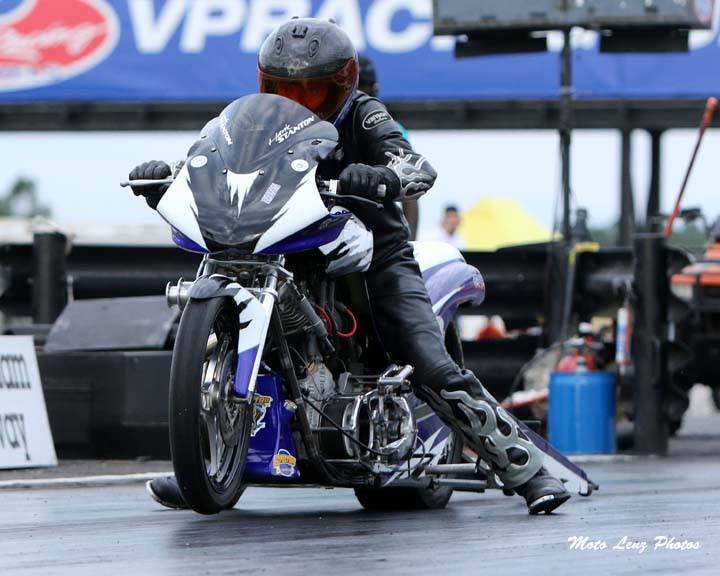 Hank Stanton, a long time veteran to the class, took the number seven qualifying position with a pass of 8.67 at 143.8 mph. Hank had suffered several catastrophic engine failures during the year and was running a backup motor for the last few races.
Rounding out the class was the class favorite Jerry Lee Cloyd.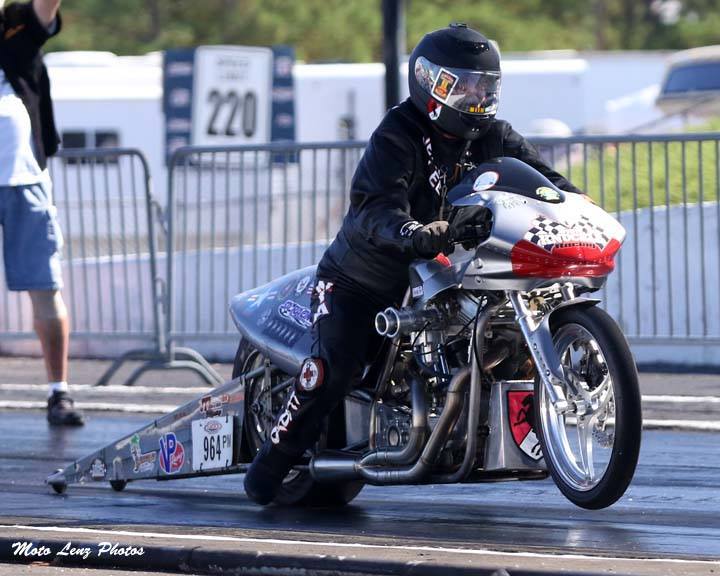 Jerry took the number eight position with a pass of 8.672 at 152.0 mph. Jerry has been deadly on the tree throughout the year and wasn't worried in the least bit for eliminations, knowing that with a field this tight anything could happen.
As the field of ProMod bikes took to the staging lanes on Sunday, everyone watched with anticipation to see who would fight their way to the top. With the amazing weather it was possible for anyone to bump the national record.
Ryan Oehler faced Jerry Lee Cloyd in round one. The green light dropped and Ryan's Pro Mod machine took off like a rocket. Ryan ran had just laid down the quickest recorded time of the season at an elapsed time of 8.36 at 155.1. Jerry Lee experienced mechanical problems which gave Ryan an easy win.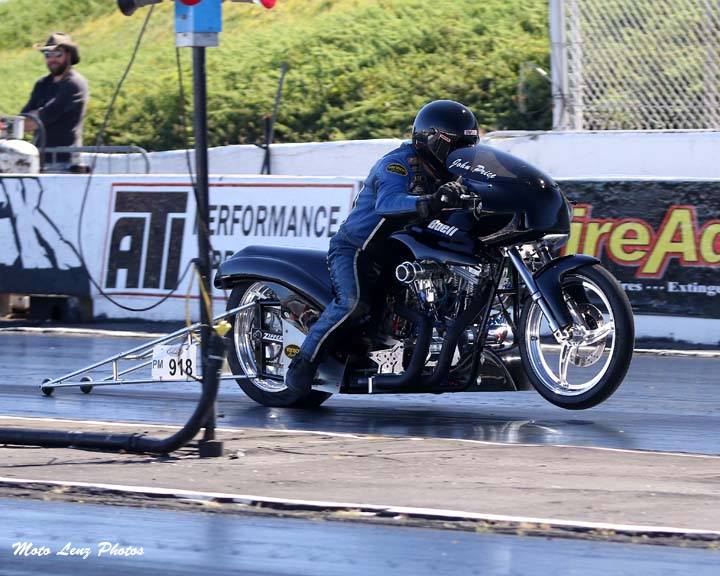 Next John Price faced off with Larry Pesce for round one. These two guys have somewhat of a rivalry as they have competed against each other for several grudge match races during the season. John Price laid down a solid 8.65 at 146.2 mph and moved on to round two beating Larry due to traction problems for the White Knuckle machine.
Gary Douglass and Hank Stanton were the next pair to pull up to the line. Hank Stanton laid down a near perfect light of .003 and a pass of 8.69 at 144.8, but it wasn't enough to take down Gary Douglass. Gary ran an 8.56 at 148.9 and just barely caught Hank at the finish line.
Jason Adams rounded of the pack in round one with a solo pass due to Morry Straubel having suffered from a broken valve spring. Jason laid down the second quickest pass of the round, running an 8.40 at 155.9 mph.
Competition was really heating up as this Pro Mod class entered round two. Ryan Oehler faced off with John Price in round two. Ryan had made some clutch adjustments and was really looking to lay down some serious numbers, but was unable to do so as he broke a shifter lever just seconds after popping the clutch. John laid down a great pass of 8.54 at 149.8 mph. John Price moved his way into his first final of the year in the Pro Mod class.
Next up was Gary Douglass and Jason Adams. A large crowd formed at the line to watch these two face off. Jason turned on the red bulb giving Gary Douglass an easy win into the finals were he would meet John Price.
Everyone was super excited to watch this Pro Mod final. Both John Price and Gary Douglass had not been to a final all year long and both these ProMod machines were running right on top of each other. The green light dropped and we had ourselves a drag race. Great reaction times by both riders, less than a hundredth of second separated these two at the line. Both bikes ran side by side the entire length of the track and at the other end it was Gary Douglass who took home the win! Gary ran a great pass of 8.51 at 143.0 mph to Johns nearly identical 8.53 at 149.9 mph. This was by far the best drag race of the day and what a great race to watch. Both these riders stayed consistent all weekend long and really put on a great show for the fans.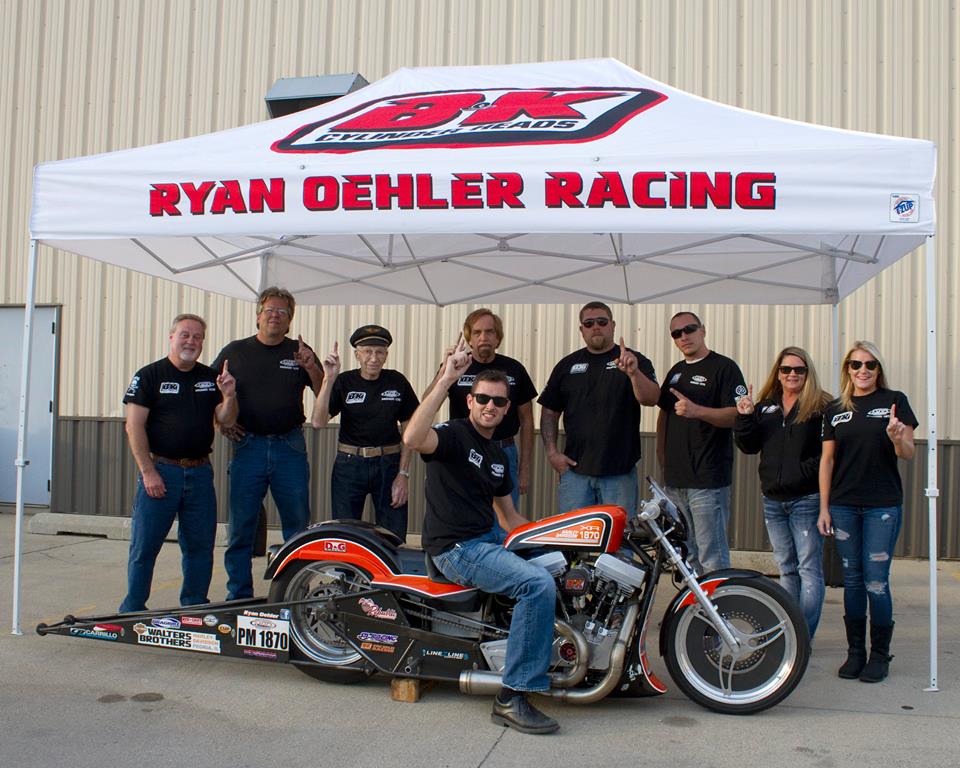 What a great season for the ProMod Class, Ryan Oehler took home the championship just barely nudging out Morry Straubel. The class has been growing all season long and the competition has done nothing but get downright fierce. The class raced for more than $1000.00 to win at every race and raced for nearly $3000.00 to win during the Martin Michigan race in July. This class has continuously gained more and more exposer and caught the eye of many great sponsors all year long. None of this would have been possible without the help of so many generous sponsors.
Those sponsors include Capone Racing, Ryan Oehler Racing, White Knuckle Racing, SA Racing, B&K Cylinder Heads, Motolenz Photography, K&K Marine, Rochester Custom Cycle, Iron Eagle Motorcycles, Progressive Building Maintenance, Smitter Pest Control, KD Construction, Everdry Waterproofing, Vinnes Woodfired Saloon, Jay Urban Racing, Advanced Auto and Truck, and the Wyoming Outlet. Thank you for all of you support! If you think this past year was great, you will be really amazed when you see the list of sponsors for the 2016 ProMod season. The ProMod and ProGas class will also be releasing its 2016 Calendar fundraiser very soon, so make sure you keep your eyes open for this awesome calendar that will feature all the ProMod and ProGas bikes of the AMRA and yes! Some very beautiful ladies. Once again thanks for everyone's support and we are very excited to see what 2016 will bring.