The look on Larry "Spiderman" McBride's face after the ManCup season-opener in April said it all – "This won't be easy."
Back racing again for the first time since a near career ending explosion and debuting a new motorcycle, more than seven years in the making, McBride suffered an early exit and went through nearly a whole trailer of parts.
Eight months later at the same racetrack, at the Mann Hill Garage ManCup Finals from Valdosta, Ga., Nov. 11-13, the look on the Spiderman's face was quite different. It was a combination of joy and disbelief.
Making slow and steady progress all season, McBride capped off his comeback by gaining the 19 points he needed over Sam Wills to secure an unprecedented 16th Top Fuel Motorcycle championship.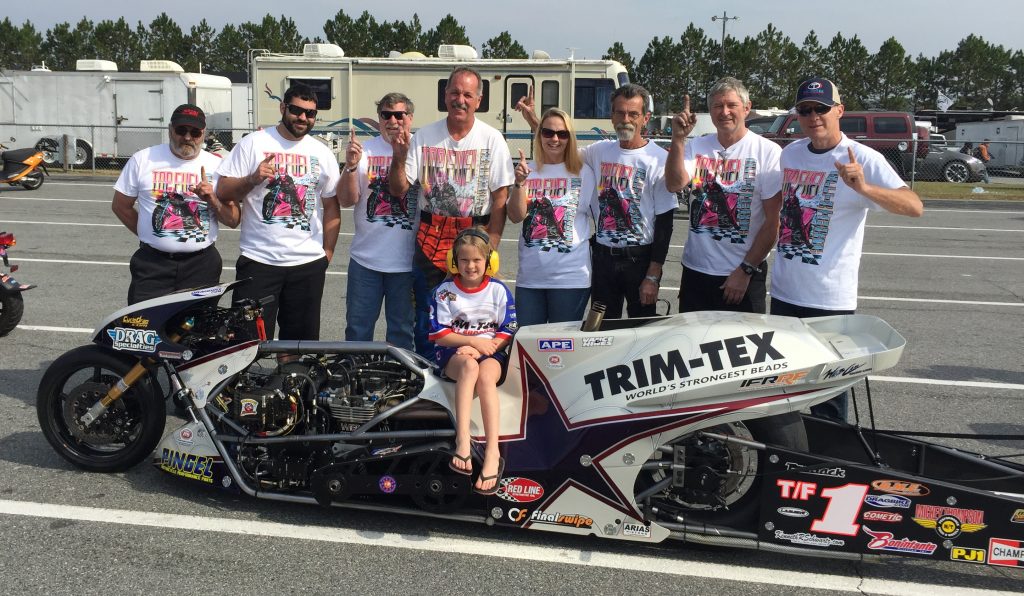 "It is so awesome and gratifying," McBride said. "It was a total relief to get it done."
After a Thursday test session uncovered multiple issues with the motorcycle, including clutch and wheelie bar trouble, Team McBride worked early into the morning to correct the bike.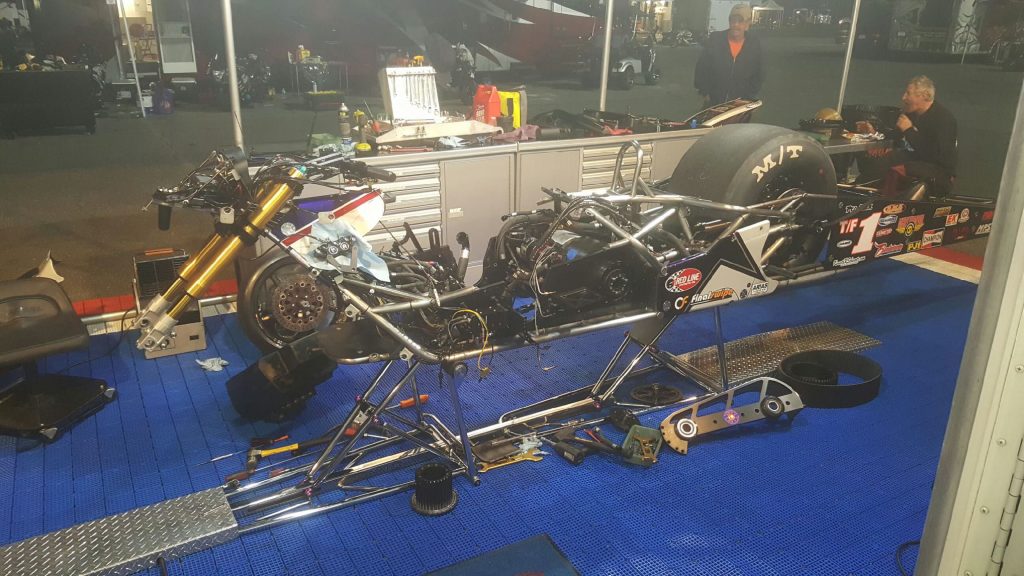 The hard work paid off in official qualifying when McBride ran the quickest pass yet for his new machine, 5.83 at 247 mph.
"We knew we needed to come to Valdosta and qualify on the pole and win the race," McBride said. "My team did an amazing job getting the bike ready for Friday. That run meant a lot to us."
The 5.83 quick lap brings Star into the league of Blue(his former motorcycle)-like numbers, less than a tenth off his all-time best pass of 5.74.
"That makes us feel really good. We have always known we have good quality motorcycle," McBride said. "We changed things up before Rockingham and put a new fuel system on it. It made a huge difference and we still haven't totally figured it out. It's been encouraging."
The pole position set up a first round, winner-take-all championship match up with Wills.
"We didn't want or plan to have him first round," McBride said. "In the lanes, I had the choice to run first or last. I said go get this out of the way."
McBride took the win with a 6.05 as Wills smoked the tire hard.
"We knew Sam could run a number at any time. We stayed with our game plan," McBride said. "We didn't want to beat ourselves."
McBride's championship jubilation was quickly damped due to a horrifying top-end crash by Korry Hogan.
Fortunately Hogan escaped the incident with no serious injuries.
"I'm so glad he's OK. He's a lucky man. I was down there on the top-end with him," McBride said. "I feel horrible for the whole team. They are our competitors, but they are our friends. I know what it's like to lose a motorcycle."
Several hours later, McBride kept his mind momentum going with a final round victory over Dave Vantine.
Gaining Star's second event win and scoring an epic come from behind championship victory is a far cry from how McBride spent last season, looking on from the tower, still recovering from burns sustained during his explosion.
"It's a whole lot more fun on the bike than standing in the tower," McBride said. "It was a great event and a great season."
Primary sponsor and Trim-Tex Drywall Products President Joe Koenig says he could not have been happier with how the season turned out.
"I'm so very proud of these guys," Koenig said. "We are excited for 2017."
McBride is also looking forward to 2017
"It's going to be another competitive year. Sam, Dave and Chris (Hand) will be tough as always. We know Ian King is coming over from Europe to race with us and he is always tough," McBride said.
After a frantic, busy pressured filled season, McBride said he is looking forward to a couple weeks off.
"It's been non-stop work on the bike for a year," McBride said. "Not having to rush to get ready will be nice."
McBride says the team plans to test in Florida in February.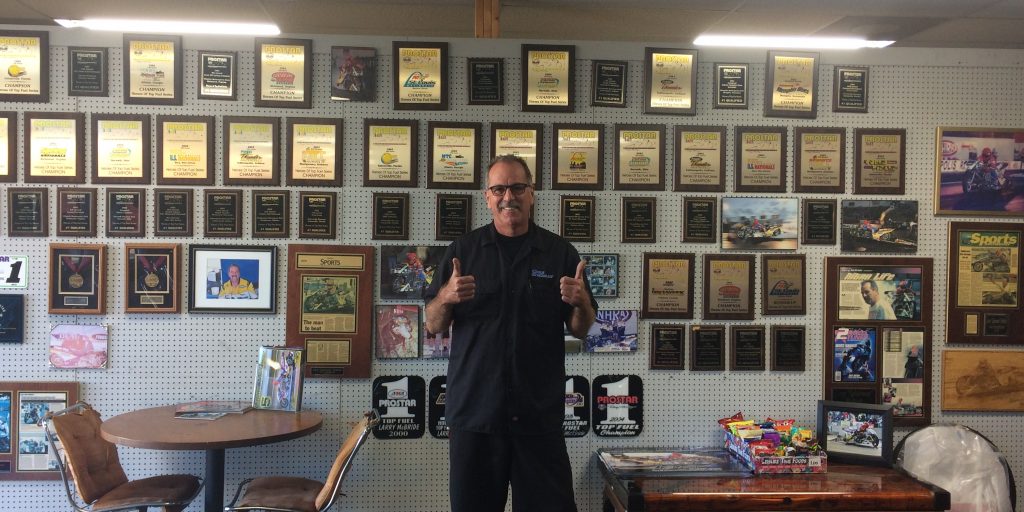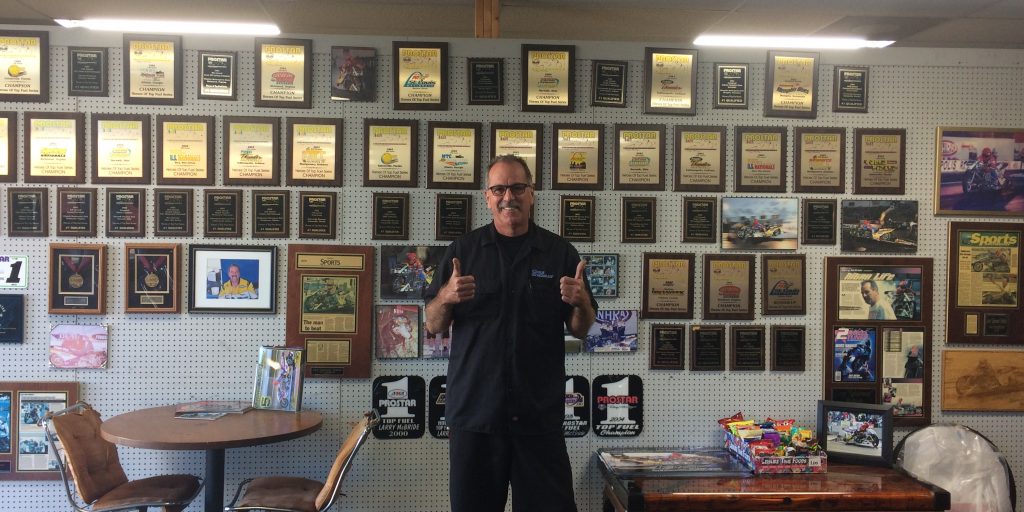 For all their continued support with this new machine, McBride thanked his primary sponsors; Trim-Tex Drywall Products, Pingel Enterprise, Drag Specialties-Parts Unlimited, Final Swipe Merchant Services, Web-Cam, APE and Kibblewhite – Precision Machine.
Vance & Hines Motorsports, Red Line Synthetic Oil Corporation, Federal Mogul, Portable Shade, PR Factory Store, Ferrea Valves, World Wide Bearings, Vanson Leathers, Five Star Powersports, Belt Drives Ltd, Simpson Race Products, Nitrous Express, APE, EK Chain, Arias Pistons, Cometic Gaskets, B&J Transmission, Carolina Cycle, L.A. Sleeve, PJ1, Mickey Thompson Tires, Valco, Goodridge, Carlisle Belts, ProJack, Bullseye Visual and Gates Belts.
McBride also thanked Jay Regan and Dave Schnitz of the ManCup.