Please enjoy a teleconference interview of newly-crowned NHRA Pro Stock Motorcycle champion Jerry Savoie.
THE MODERATOR: We'll take questions for Jerry.
Jerry, I have to ask you, you became such a great story not only this year but through the last five or six years when you came back. To come back after 30 years of a layoff to build your business, to raise your family, people just don't do that. How satisfying is it for you to have such a long layoff and come back and win the ultimate prize as a champion?
JERRY SAVOIE: You know, as a young boy, a lot of people don't know, they say I never pat myself on the back and say how good I could have been or was, but as a young boy, I did pretty good at drag racing on the streets of Louisiana. Set a couple of national records. It was all good.
But the fire always burns in you. Once a drag racer, always a drag racer. Even though you don't continue racing, the fire continues burning in your body. I always wondered if I was ever good enough. It played a tole on me, 'Was I as good as Angelle?' Angelle was a young girl growing up, she baby-sat for me. When she came up, I was like, I would only dream of doing something like that.
32 years didn't sit on a motorcycle. Later in age, worked really hard, was able financially to put together a team. A friend, Paul Miller, I went and talked to him and asked him if he thought I was any good.
He said, 'Absolutely. It's never too late.'
I went and called George Bryce, who I went to school with. Like I said at the banquet, George Bryce put his hand on my shoulder, and he said, 'Brother, if you ride like that on race day, I promise you you're going to win one of these races.' My goal was only to win one. My dream never was ever, ever, even last year, to win a championship. It was just to come out here and compete, beat up on people, try to be the best.
God has blessed me in so many ways. It's an amazing thing.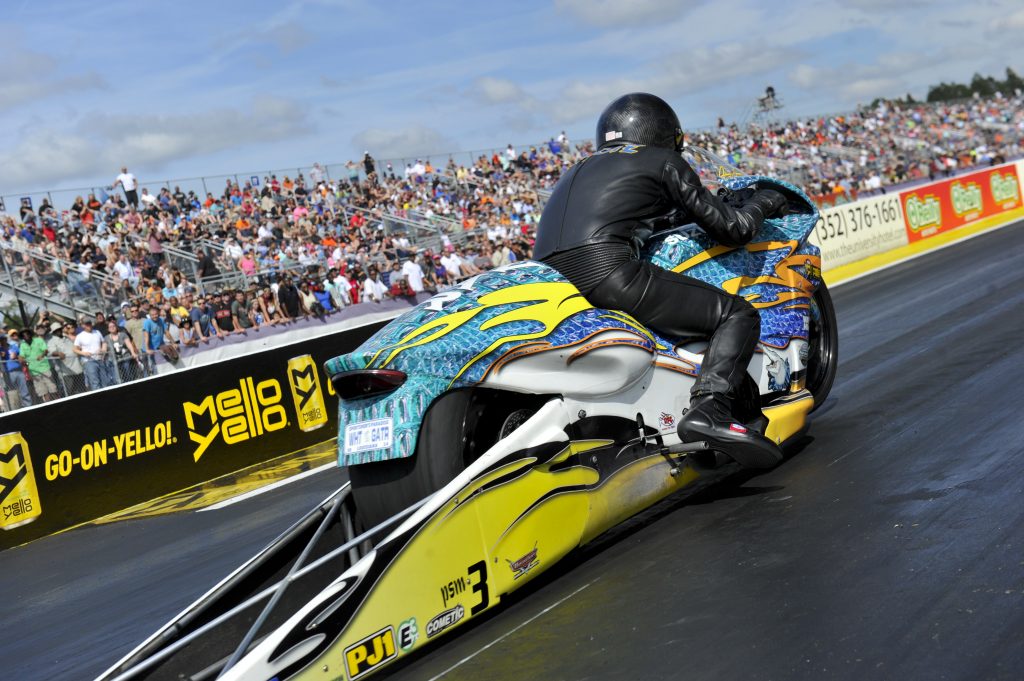 Just to clarify, you say you never got on a bike for 30 years. Did you have a regular sports bike you would go out and ride?
JERRY SAVOIE: No. I had three Harley Davidsons. I still got them. One is a 1966, my father's old sportster. I have a '97 Bad Boy. I have a '98 FXR with a turbocharger on it. I love Harley Davidsons. It's not a cross for me to be racing against them, no vengeance, you know what I'm saying?
Speaking of the Harley Davidsons, were you surprised to see them knocked out in the quarterfinals?
JERRY SAVOIE: Man, let me tell you something. Them guys never get knocked out early. I'm not sure if the pressure got to them or God came down and put his hand on me and my crew and my family and said, 'This is yours, you deserve it.' It was really weird. We had a choice to lay low, which we've never done. Never laid low in my life. I tried to beat everyone every time. To have the ladder stacked in my favor the way it was. The two Harleys were on one side of the ladder in Q-three. Then we go to Q-four and make a decision to run it out the backdoor and try to be No. 1.
Then the second round end up being against Matt Smith and Angelle, both of them got beat. God is watching. He probably put His hand on us and said, 'You guys are working really hard, we going to give it to you.'
Jokingly I went back out after the media deal at Ruth's Chris on Thursday, I said, 'Tim, we got them, we got them boys, man.'
He's like, 'What do you mean?'
'I'm over here eating salmon and salad. I lost four pounds this week so we could do well. They over there eating steak and potatoes and cheesecake.' I said, 'We got their ass so bad we don't even know it yet.'
I said, 'They can't 60 foot with us.'
It was a joke, but honestly the bottom line is unless they 60 foot with us, they cannot beat us, if I'm on my game and my bike is tuned up. So it's pretty good.
JERRY SAVOIE: Oh, no. I mean, those guys have a lot of money. But here's the deal. It's a matter of budget and resources, that's okay. But they're building our engines. For those guys, to build your engine, then you take that engine, you sprinkle a little pixie dust on it like Tim does, we do a few things that other people don't do, and to go out there and to be able to compete with that package that they give you, actually win a championship, it's amazing.
Got a little joke running around the shop at Vance & Hines. Andrew looks at the numbers on the dials, 'Is this what we got to run against this weekend? Are you kidding me?'
It's pretty cool they know what's coming, they know what they have to run against. They know how fast we should be running. Man, look, it's a first-class operation. A lot of people say, 'You don't give us the power you give Jerry, whatnot.' Give me any one of your engines that's fresh, not been beat up on, give us any one of your engines, and I promise you we'll make it run.
I change the valve spring every weekend. Some of those guys are running valve springs 50 runs, okay? The difference is, if you maintain your stuff, you do everything proper, you can run with them boys. But it's all got to come together.
I'm just a rider, man. Like I said before, I'll say it over and over, Tim, Jeremy, Steve, those guys are the best. They family to me. When you click like that, you got a good thing going, man, nothing can stop you.
Do you go back to your alligator farm for the next few months? What is your daily schedule like now when you're not racing?
JERRY SAVOIE: Well, I come in and out of the farm pretty regular. Like I'm at the farm today. Got a little auction by the local hardware store. I'm up here buying some equipment.
Yeah, go to the farm, make sure everything's okay, start doing our normal thing. Then hunting season is right around the corner. My boy swims in the state playoffs this weekend in swimming. Then Sunday we'll leave and go to Mexico for a week.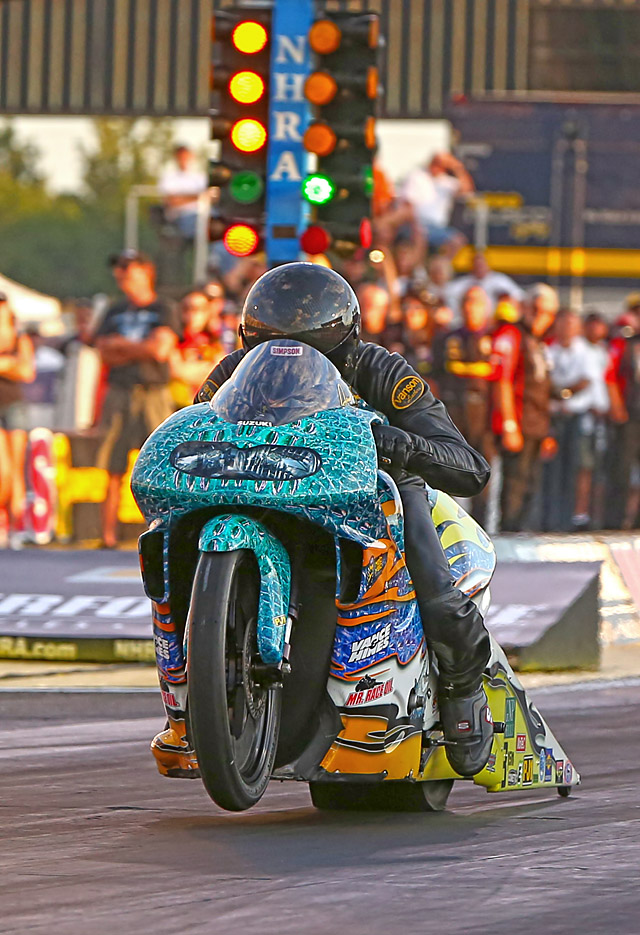 I like to hunt and fish. I'm an outdoorsman. I'm a guy that loves Mother Nature and loves birds and everything, man. I love life. Put it that way. That's the most important thing.
Jerry, this is a question that's been on my mind for the last couple of years. I know it's going to sound funny, but bear with me. We know how farmers, they raise cows, pigs, chickens. How do you farm alligators? What is the process? What do you do there?
JERRY SAVOIE: Well, it's a program we set up through the state of Louisiana where everything is permitted. You actually purchase the eggs from landowners with the oversight of Wildlife and Fisheries. You take those eggs and incubate them and hatch them. You got helicopters, airboats, the whole nine yards involved.
Pick up the eggs, hatch 'em, raise 'em, kind of like a chicken farm. They're all in water. The water is actually filtrated 24 hours a day. As they get bigger, different size for different markets, you harvest the gators, sell the skin, meat, head, feet. Everything's sold. 12 percent of what you hatch, 12 percent goes back to the wild at four feet. So you replenish the marsh, so that keeps everything going.
About how large is your complex, compound, the farm? How big is it?
JERRY SAVOIE: Probably 20-acres. The water is heated to 90 degrees year-round. Never cold, so…
You said you're going to Mexico. Any other big plans for the off-season?
JERRY SAVOIE: We're going to start testing. Probably going to make a hit in December with the new bike. It's going to take a while to tune the chassis. In February, from there we'll go to Bradenton, make a couple days in Bradenton. My bike should be okay. We're not going to reinvent the bike like we did last winter. It took a while to get it dialed in, and it showed. It's pretty stout now.
We'll test, make a couple hits, everything is good. Then we'll beat on LE's bike, get it good. We'll have a good 1-2 punch.
THE MODERATOR: Thank you for joining us and congratulations on a stellar season.
JERRY SAVOIE: Thank you, man. I appreciate all you guys, all the fans, my people in Louisiana. Don't ever think that Jerry Savoie doesn't take it to heart about the way people feel, what they say, the way he treats people. Drag racing is in my blood and it's in my heart. We all one big family. I love everybody.
THE MODERATOR: It's been a pleasure working with you, Jerry. We'll see you next season in Gainesville.
JERRY SAVOIE: Thank you.