The celebration began before Matt Smith and his Victory Motorcycles Gunner crossed the finish line.
Smith earned his first victory of the season and the first for Victory Motorcycles when Angelle Sampey went red in the final round of the Auto Club NHRA Finals on Sunday at Auto Club Raceway at Pomona. Smith knew the victory was in the bag, so he pulled in the clutch and pumped his first in the air as he went down the track.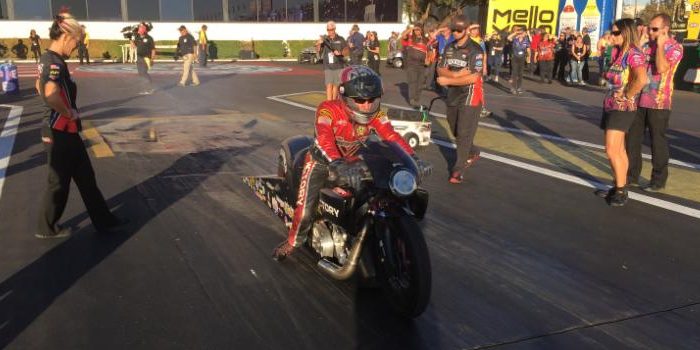 "You don't realize how much you miss being in victory lane until you get back to victory lane," a smiling Smith said. "To get a victory for Victory – I like that saying. Hopefully we can do it more next year. I know we are going to have some teammates with Victory next year, and I'm just glad we got to do it first."
Smith and his Matt Smith Racing team brought the Victory Motorcycles brand into the NHRA Mello Yello Drag Racing Series in 2015, and he went to two final rounds last year and two semifinal appearances this season before finally breaking through with a victory for Victory.
The victory also snapped a three-year losing streak for Smith, who last won at The Strip at Las Vegas Motor Speedway in October 2013. Smith clinched his second Pro Stock Motorcycle championship by winning the race that day.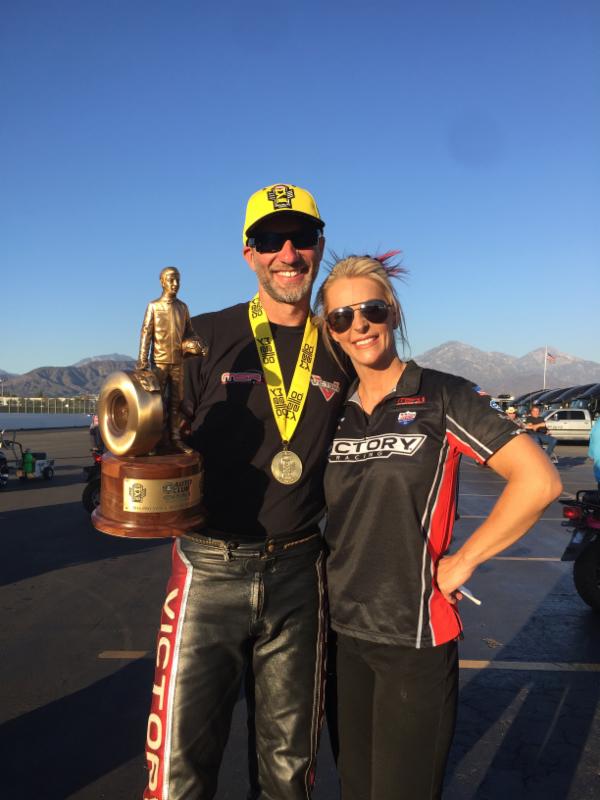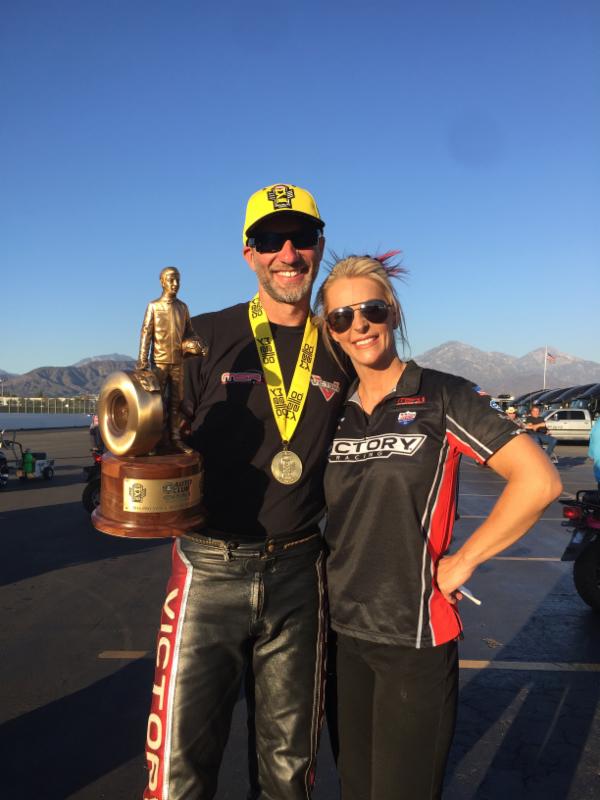 Sunday, Smith had an eventful day to earn his 18th career victory. He beat Hector Arana Sr. in the first round when Arana Sr. went red, and Smith won with a slower 6.916-second pass at 193.35 mph (Arana completed his pass and went 6.871 seconds at 196.62 mph).
Smith then helped Jerry Savoie clinch the 2016 championship by taking out Eddie Krawiec in Round 2. Smith's .029-second reaction time and run of 6.904 seconds at 192.99 mph was enough to beat Krawiec's 6.871-second pass at 195.31 mph – after a .063 light.
Smith then faced Hector Arana Jr. in the semifinals, and a stellar .018 light gave him a big advantage on the starting line, as Arana Jr. had a .116 light. Arana Jr. pulled the clutch in a coasted to a 7.569-second pass at 134.10 mph, while Smith sped to the final with a run of 6.946 seconds at 192.44 mph.
The final was over early, when Sampey left .020 seconds too soon. Smith's run of 8.044 seconds at 117.34 mph included a celebration down the track.
"What a deal!" Smith said. "It's a good finish to what's been a bad year. We've had gremlins this year and to cap it off here in Pomona for Victory, Lucas Oil, Mark Stockseth – I mean that guy's been helping me since I started my own deal – is amazing. Thank you Mark and Marshall (Stockseth) for everything you have done for me. And thanks to Nitro Fish, Kenny Koretsky and Elite Performance, too.
"It's been a long time coming – three years since I have won and the first one for Victory so it's pretty special."
Wife/teammate Angie Smith was on the starting line to watch her husband get the victory after Angie Smith was eliminated in the first round. Savoie's run of 6.879 seconds at 194.88 mph out-ran Smith's 6.972-second pass at 190.51 mph.
"We ran all right today," Smith said. "The lanes were not equal by far, and when we got stuck in the left lane, I didn't want to red light. I didn't want to go up there and throw it away because anything can happen. I squeezed the clutch lever a little harder that time, and I was a little late, but all in all we still made a decent run.
"The E.T might not have shown it but I think we learned something. I think we have good momentum for the off-season and we will just do some research and development and figure some things out.
"I'm glad this season is over even though the last two races we turned the corner and started running well with the bike, I just wish it had been 14 races earlier. But you can't change the past, all you can do is regroup for the future."