The upcoming BlackAdda Top Bike double round of the Santos Super 3 Extreme 400 Thunder Series is expected to deliver!
Current National Record holder with a 6.04 at 241.8mph (389kph) Chris Matheson said, "we set the National Record at Willowbank Raceway back in 2013 and we're well overdue to re-set it. We have been developing a new engine combination this season, which has put us back a little in our performance, however, we are improving with each race meeting. A couple of   6.3 second passes at the recent win in Perth is encouraging, but not enough"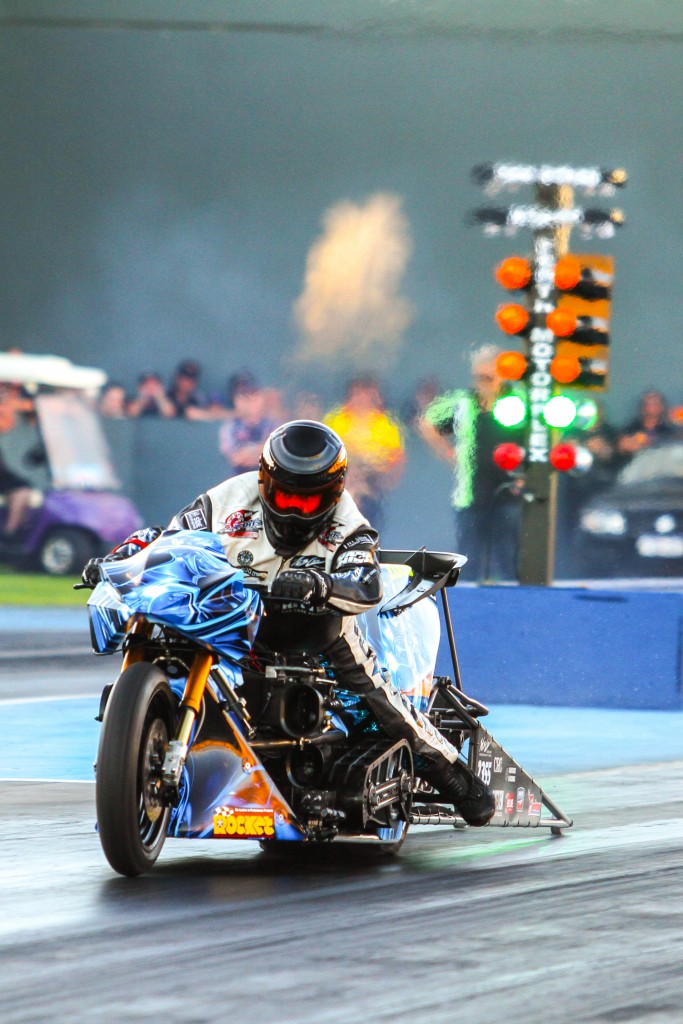 Chris Matheson went on to say "Drag racers are typically greedy when it comes to performance results and we're no different, 'we just want to go quicker'. We expect the performances at the upcoming event will be quick, usually the air is good in March at Willowbank, combined with the good track preparation".
"It appears that we have a big field, with already 7 entered at this stage. A couple of new competitors in the mix will really stir up the proceedings, which is great for the Championship and spectators alike. The bulk of entries are East Coast based, which is encouraging".
BlackAddda who sponsor the Top Bike bracket have stepped up in their support of Top Bike, which has generated interest in the Easter weekend event.
The Nitro Voodoo Team are looking forward to improving their performance results as part of the entire show. Matheson said "it's great competing at an event, especially when the Top Fueler's run, it just seems the atmosphere of the track is a whole level higher, as fans flock to witness the extreme power of the 'big rails'."
Don't miss out on joining us at the Santo's Super 3 Extreme Drag Race. You can follow the event, or get results updates by visiting www.400thunder.com.au. Spectator tickets are now available to purchase at willowbankraceway.com.au, with tickets starting at just $35.00 for adults, whilst kids aged 13 and under gain free admission.
Check Out: www.blackadda.com.au & "Level Your Ladder"
Thank you once again to our Sponsors & Supporters:
BlackAdda, GT Radiators & Machining, WebCam, Rocket Industries, CRC Industries, PDS Graphics, Kitten Car Care Products, Worldwide Bearings, Hi-Side Leathers, Boninfante Friction Inc. with special thanks to Steve and Larry McBride.