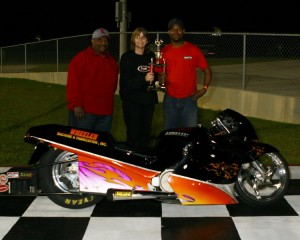 The 2011 SEMDRA awards ceremony celebration will take place Friday, Nov. 11, 2011 at the Manufacturers Cup Race after Top Fuel qualifying, at approximately 6 p.m in the concession pavilion of South Georgia Motorsports Park, Adel, Ga.
Please come and enjoy fun and fellowship with the SEMDRA racers, crews and families.
Everyone is welcome!
* Champions will be awarded trophies *
~ Bonus money for the Top 5 will be presented ~
** Top 10 in each class will be recognized **
2011 Points standings are listed on the SEMDRA Web site
Call Jackie Bryce at Star Racing for more information: (229) 924-0031