XDA started its sixth season strong as they overcame a poor weather forecast, yet still delivered a weekend of quality racing action with 645 motorcycle drag racers at the Maryland International Raceway for the 29th annual Platinum General Services (PGS) Spring Nationals.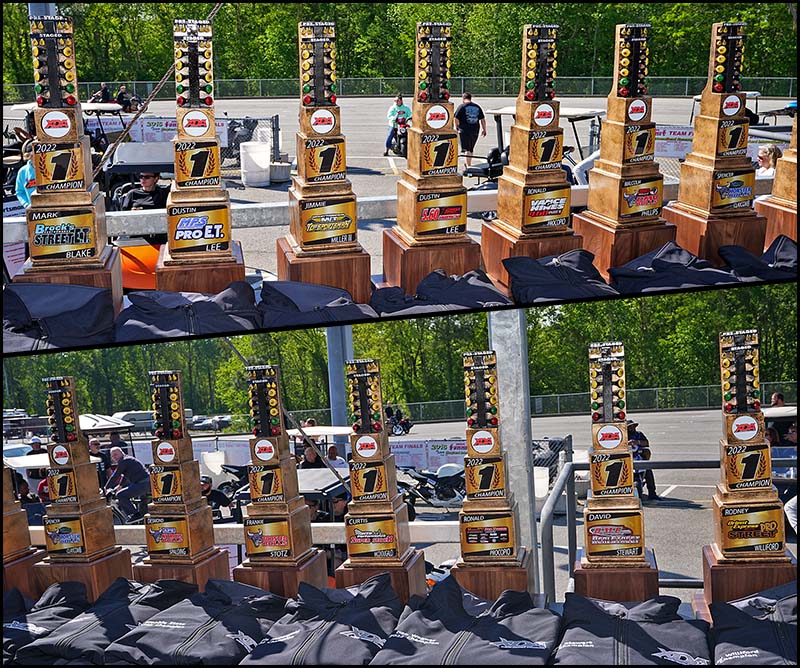 The pre-event weather forecast showed potential storms on Saturday with a 100% chance of rain. But this did not deter loyal XDA racers from loading up and heading out for the event. Before XDA even opened the gates on Thursday, the Miller brothers had already laid out and announced a plan to adjust the schedule with the forecast on Saturday. Sportsman morning qualifying would stay intact with 2 qualifiers, the Voodoo Bracket Bash was canceled, the Pros would only receive 2 qualifying sessions and the Bulls would get 2 shakedown runs, then eliminations for everyone would be on Sunday. It was a perfect solution that allowed the entire event to move forward while still giving the racers what they needed.
High winds and rain came in at 2pm on Saturday and rained off and on long into the night. Despite these circumstances, the pit area was full of wet kids running around playing in the rain and happy adults catching up with their racing friends and grilling their dinners. The track staff came back in on Saturday night and started working on drying the track overnight. When the sun came up on Sunday, it was game on! The Awards Ceremony on Stage was completed to honor the Top 10's and Champions from 2022, and it was back to business as the lanes filled with racers eager to turn on win lights.
Orient Express Racing Pro Street
Orient Express Racing Pro Street once again delivered on-track action with several personal bests and several new riders making their marks.
Brandon Litten, who had been doing pre-season testing, made his official Pro Street debut this past weekend. Litten made his fastest pass during Thursday's test session with a 6.682 at 210.70 mph. However, he was unable to replicate that time during official competition. He qualified with a 6.786, which will land him on the #37 spot on the Pro Street GOAT list.
In round one of eliminations, Litten put a .023 light on Jordan Haase and quickly got out in front of him; however, at about half track, Litten started losing momentum, and Haase came around him to take the win. Despite the loss, seventeen-year-old Litten has already shown he will be a player this season.
Mark Rendeluk also debuted with a new DME Racing built Turbo Hayabusa. He couldn't get pre-season testing in and made his maiden voyage on Thursday before the event with an impressive 6.986 at 214 mph. Rendeluk has been 6.30 in the quarter mile on his record-breaking Pro Open machine, so he is no stranger to the speed. He quickly learned a new riding style and qualified with a 6.651 at 22.29 mph. Rendeluk will land on the #26 spot of the Pro Street GOAT list and the #21 spot on the MPH list.
He went on to win the first round of eliminations with a 6.690 over Ricky Wood. In round two, he had a bye after teammate Jason Dunigan could not continue due to an unusual valve train failure, which ended his hopes for an event win. In the semi-final, Rendeluk left before the tree was activated to end his weekend and sent Jordan Haase to the final round.
Defending class champion Rodney Williford showed up and did what he does best; he applied the pressure. In the last round of qualifying on Saturday, he ran a 6.382 to take the top qualifying position.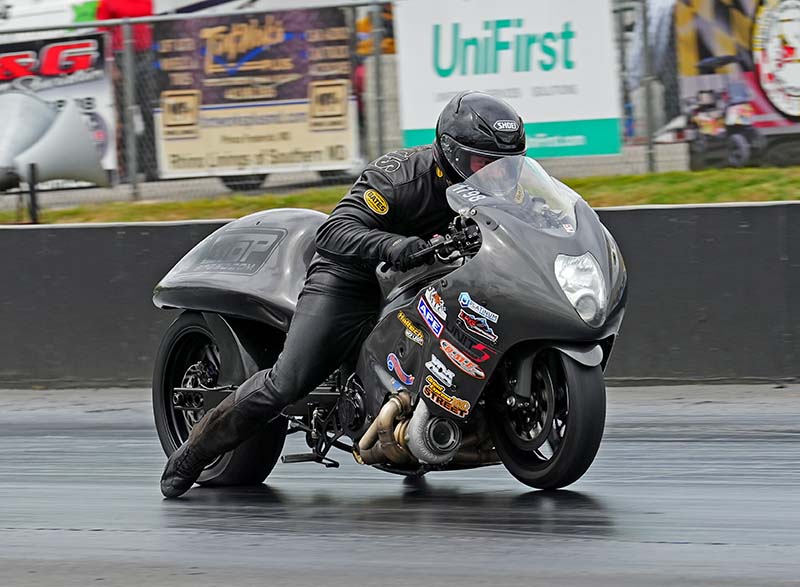 In round one of eliminations, Ryan Bonitatis reset his record to a 6.643 as he took a win over Jamie Lopes. However, the victory was short lived when he found himself up against Williford in the next round. Williford ran a 6.477, defeating Bonitatis's 6.711 to move on to the semi-final. In the semi-final Williford ran a 6.400 taking a win over Darion Payne's 6.497.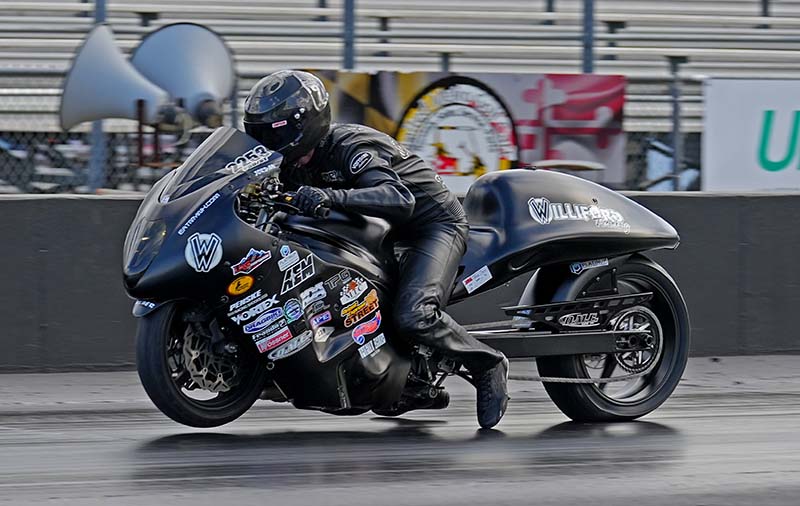 Jordan Haase, who failed to qualify for the World Cup Finals in November, put in the hard work in the off-season to prep for a successful 2023 season. Haase qualified with a 6.658 and went on to win round one against Litten, round two against Caleb Holt, and Rendeluk in the semi-final. However, his semi-final win came at a cost as his output shaft decided to break out of the cases.
With Haase unable to make the final round, and Williford on his third motor of the weekend, Pro Street had its most anticlimactic win in history when Williford took the win by breaking the beams with his bike under power for the win.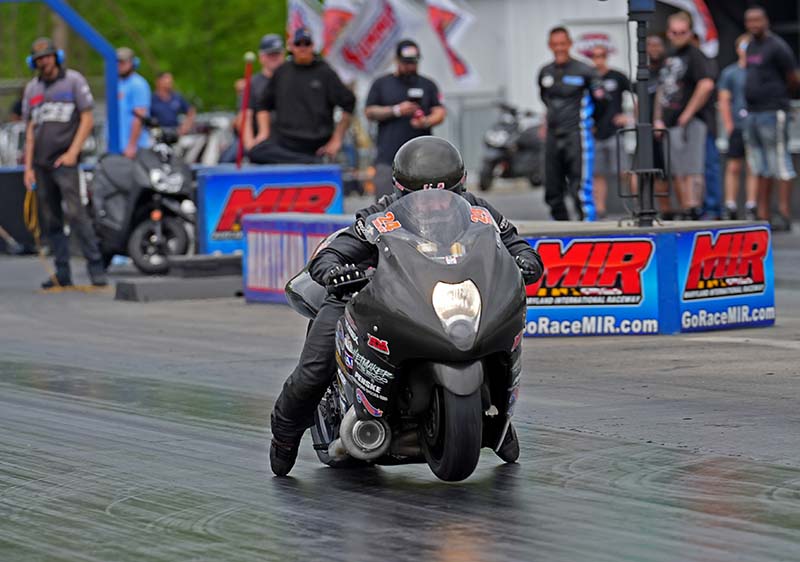 Williford starts another season leading the Orient Express Racing Pro Street points chase. However, there is enough talent in the class that he could be knocked off his perch next race. Will another team be able to get their ducks in a row? Come to Virginia Motorsports Park on June 2-4 to find out!
DME Racing Real Street
DME Racing Real Street was all business this past weekend as racers looked to step up their game this season, and the class saw the biggest bike count in years!
Defending class champion David Stewart earned the number one qualifying spot with a 7.53. Stewart made it to the semi-final but was outperformed by Courtlan Whiting, who ran a 7.568 to Stewart's 7.622. This win would send Whiting to his first-ever Real Street final!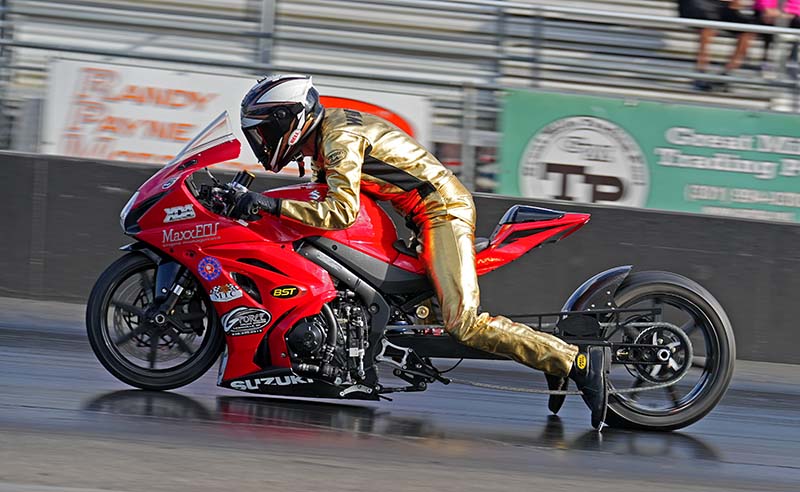 In the final, Whiting faced previous class champion Mark Hylton and it would take everything he had to get around him for a win. When the bulbs flashed both riders rocketed out of the gate. Both riders fought wheelies at the 60′ mark, but Courtlan recovered quicker, allowing him to keep his forward momentum and stay ahead of Hylton to the finish line. This was Whiting's first DME Racing Real Street win.
MaxxECU Pro Xtreme
The MaxxECU Pro Xtreme 1/8 mile heads-up class welcomed a new entry to the race, Dale Leeks came down from Ontario, Canada, and put down a 4.210 at 18.68 in a round one win over Ronnie Smith.
Chris Cutsinger who finished third in points last season came out swinging at the PGS Spring Nationals as he qualified number two with a 4.165 and took wins over Chris Theodoridis and John Collins for a final round appearance. Unfortunately, the final would be anticlimactic as Leeks could not make the call with a broken transmission from his previous bye run, so Cutsinger broke the beams to claim the win.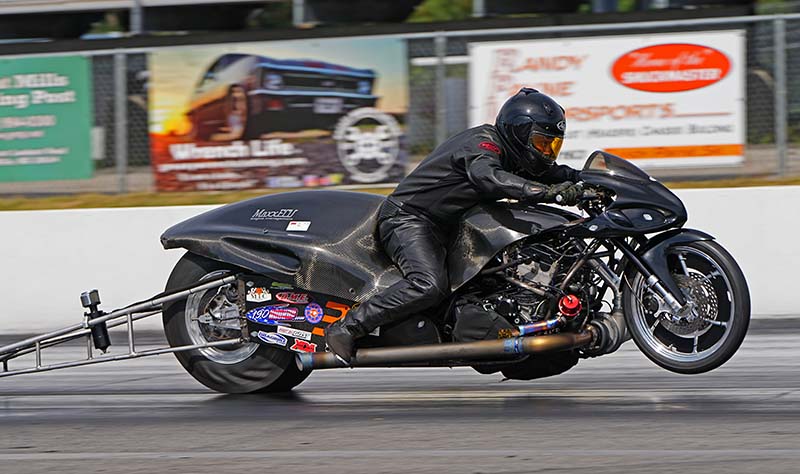 MaxxECU Pro Xtreme is presented by Billy Vose Racing, Fast by Gast, Dunigan Racing, DME Racing, Grothus Dragbikes, Harley Haul, Rob Bush Motorsports, Robinson Industries, Schnitz Racing, Timblin Chassis, and Worldwide Bearings.
HTP Performance Super Stock
In HTP Performance Super Stock, Caleb Holt grabbed the number one qualifying spot with an 8.831. Holt would make it to the semi-final but would take a loss after he experienced mechanical troubles at about half-track against Mark Blake. Blake also took out Terry Geesy and Felton Goodwin Sr. to earn his spot in the final round.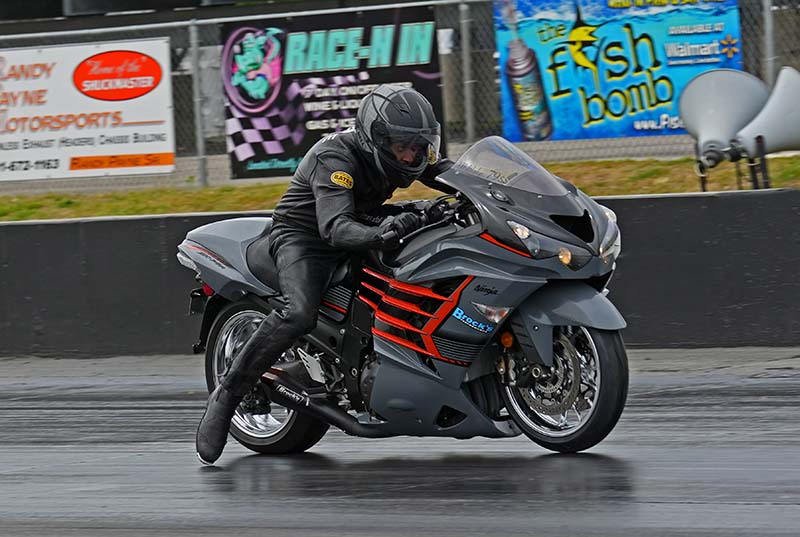 Patrick Cooper, aboard the only Gen3 Hayabusa in the class, also earned a spot in the final as he took wins over Blake Johnson, Felton Goodwin Jr., and Curtis McDougald. Going into the final Blake looked to have the performance advantage over Copper on his 2018 Kawasaki ZX-14R, but Cooper would go -.090 red at the tree to hand Blake a win and the points lead.
Boosted Bulls
Boosted Bulls defending class champion Frankie Stotz on 'Reddi-Wip' was unable to make the field after he suffered a blown turbo during shakedown passes. The first round would also be the final with 'Billy Mays' piloted by Malcolm Phillips, and 'Minion' ridden by Geoff Godfrey. When the bulbs dropped, 'Billy Mays left the line hard and straight as it rocketed to the eighth-mile finish line. In the other lane, 'Minion' struggled to leave the line and wheelied, causing Godfrey to abort the pass.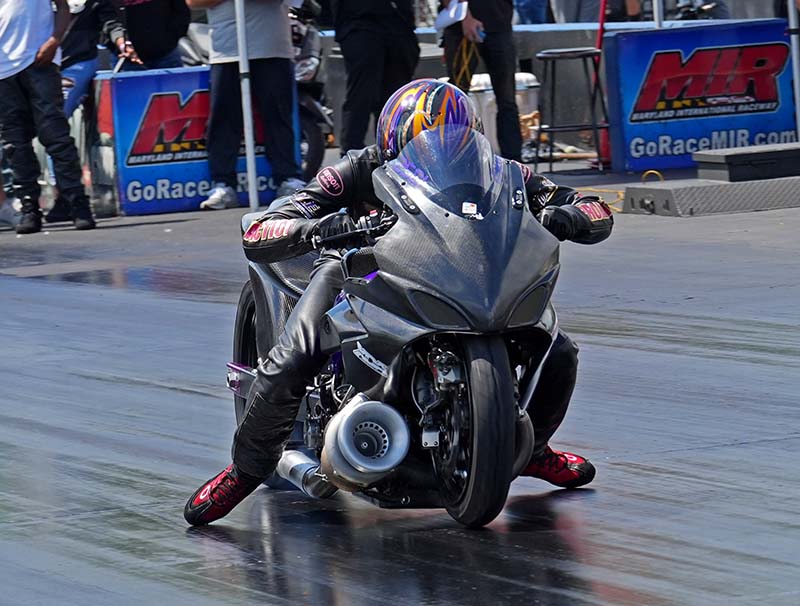 APE Nitrous Bulls
APE Nitrous Bulls features the quickest nitrous grudge bikes in the game, and Matt Dozier on 'Kill Shot' pulled a first-round bye sending him straight to the final without breaking a sweat.
Despond Spaulding on 'Sho Nuff' left first from the tree, but Lavar Delee on 'High Roller' quickly overtook him and started to pull in front, but just as Delee started to overtake the pass, fire shot out of the exhaust at the 330′ foot marker and Spaulding capitalized as he kept building power to pull away and cross the finish line first.
In the final, Delee made another strong pass while Matt Dozier on 'Kill Shot' struggled off the line handing a win to Spaulding.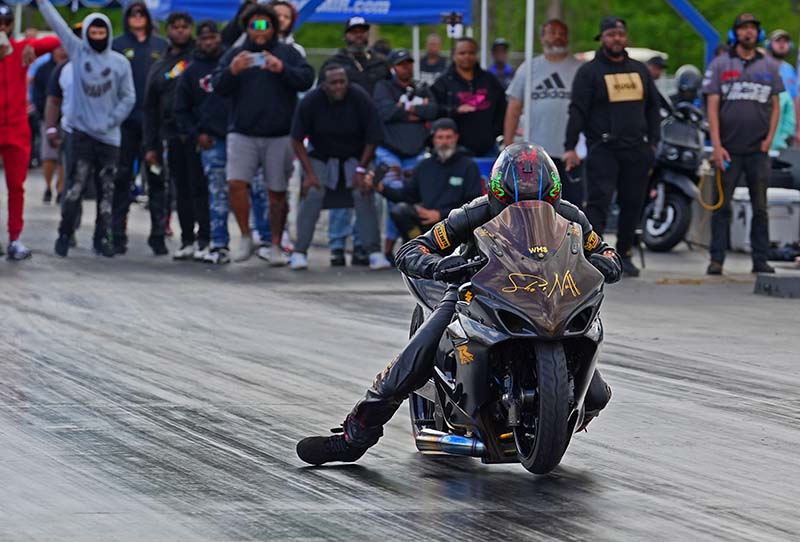 3 Sixty 5 Monster Bulls
3 Sixty 5 Monster Bulls had ten entries and these racers were hitting the track hard as the side-by-side action was ample. After three rounds of competition, Brandon Tyree on 'Made Man' and Ken Alston on 'Leather Face' made it to the final round. 'Leather Face' outperformed 'Son of Sam' and 'Unknown' while 'Made Man' knocked off 'Belmont' and 'Flawless Victory' on their way to the Sunday night final.
In the final 'Leather Face' let out hard on a trifling wheelie off the starting line and aborted the pass as Tyree took the 'Made Man' crew to the winner's circle.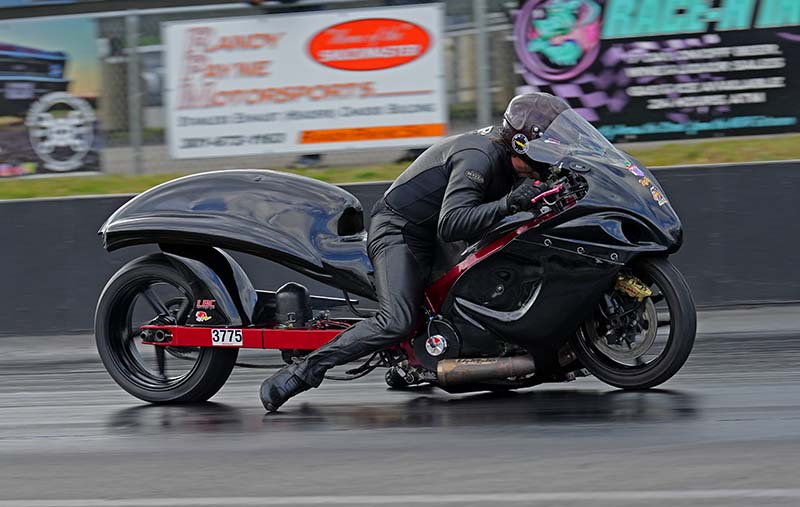 Tommie's Motorsports DMV Bulls
The Tommie's Motorsports DMV Bulls class was another sold-out affair with 16 entries. 'Mob Ties' piloted by Desmond Spauling, made his mark as the bike was a consistent rocket pass after pass. This consistent performance landed Spaulding in the final after defeating 'Bounty Hunter', 'Pimp C' and 'Grey Matter.' Lavar Delee on 'Lil Charlie' earned a spot in the final after tossing out 'Bop Bop', 'Quick Money' and 'Night Stalker.'
'Mob Ties' showed up for the final round meeting, but 'Lil Charlie' was a no show giving the win to Spaulding.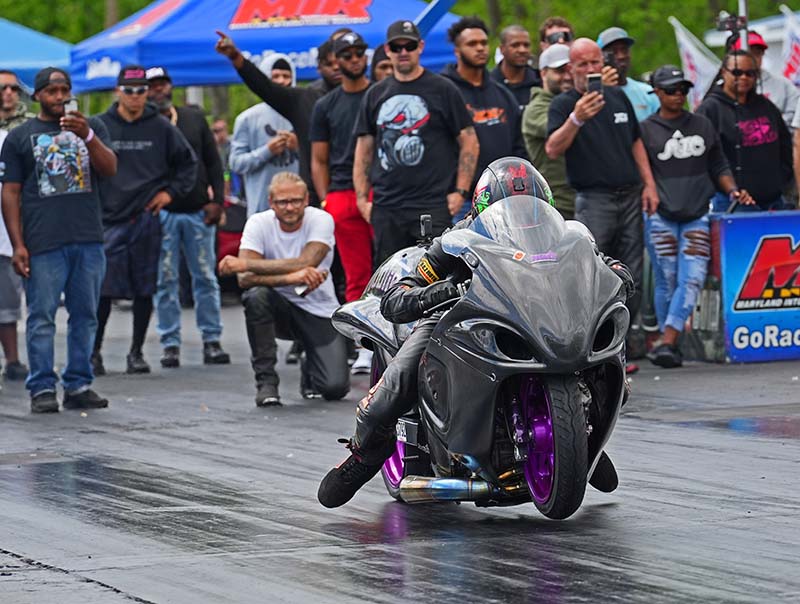 All Motor Bulls
David Fondon on 'Bad Bitch' drew the bye run in the first round of the non-power adder class of All Motor Bulls. James Culbreath on 'Vicous' outran Edward Thomas on 'Da Setup.'
In the final Culbreath battled a wheelie that would ultimately lead to an on track crash while Fondon made a clean pass to take the win. Culbreath was unharmed and was able to walk off the track.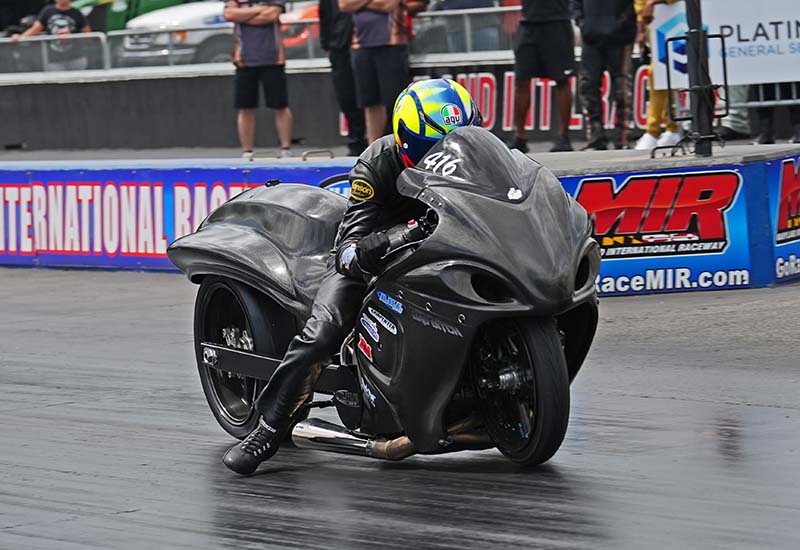 Vance & Hines 4.60
Forty competitors qualified for the country's most popular 1/8th-mile index class, Vance and Hines 4.60. Four riders ran a 4.60x in qualifying, but Brad Gleason edged them out to take the number one spot with a 4.601 time.
Class veteran Troy Hausmann sliced through the competition to win five rounds before making it to the final to meet Darion Payne. Payne, a multi-class pro and sportsman rider, was unstoppable on the 1998 Kawasaki bar bike as he knocked out competitors left and right to make it to his first XDA 4.60 final. Hausman was cutting unbeatable lights, including a .005 in a previous round against Boo Brown.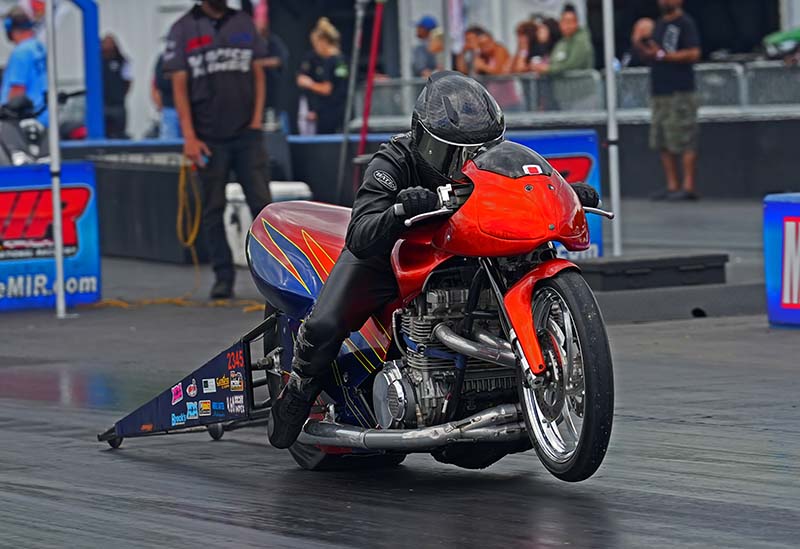 However, in the final, Hausmann leaned a little too hard on the tree and went -.008 red, handing the win to Darion Payne and his team at the starting line. "I couldn't have done it without my team, Bad Boyz Racing. Butch Shelton got me into racing, and I will forever be grateful. And Charles Chuck Kay did a hell of a job tuning for us," said Payne. "It's a great feeling to be moving in the right direction at the start of the season."
And because forty riders entered, the payout increased with a $500 winner's bonus to bring the payout to $5,500!
1 Stop Speed 5.60
The eight-mile class of 1 Stop Speed 5.60 was led by Brice Cornish, who earned the number one spot in qualifying with a 5.604. Brice would get the first-round bye and win three rounds until Dustin Davis cut a light on him in round 4 to take the win and move on to the final. Davis would go on to meet Duane Jackson in the final round. Jackson who is no stranger to the final round was ready as he cut a .021 light on Davis's .60 reaction time.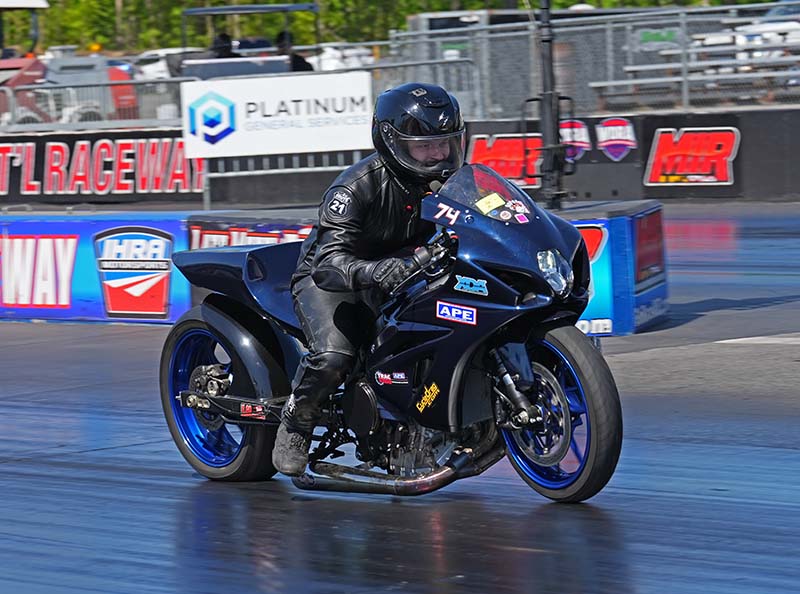 As the two competitors raced side-by-side down to the eighth mile, they never took their eyes off each other, and no one lifted as they crossed the finish line. It was a photo finish with a two-inch margin of victory going to Dustin Davis on his Suzuki GSX-R1000.
Mickey Thompson Tires Top Sportsman
Mickey Thompson Tires Top Sportsman features the quickest ET racers on the property. Connecticut racer Kevin Manchester led the thirty-two bike field with a 7.244, while Barry Pryer Sr. brought up the back of the pack with an 8.312. Bill Maturo Jr. earned his way to the final by taking out defending class champion Jimmie Miller in the first round, Dystany Spurlock, Rick Bunting, and finally Boo Brown in the semi-final.
On the side of the ladder, 2020 class champion Dustin Lee took wins over Norman Teal, Dave Cornnell, Logan Mathias, and Michael Daddio. Maturo would make Lee's job easy as he turned on the red light when he left the line. Lee's win also allowed him to continue to MPS Racing Pro ET eliminations.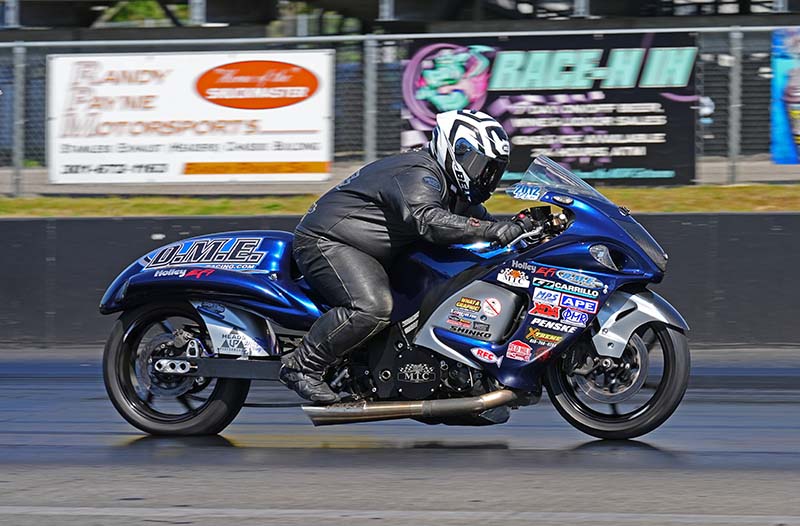 MPS Racing Pro ET
The MPS Racing Pro ET class had an incredible turnout for Sunday competition, with one hundred and thirty-three racers entered. After Dustin Lee's win in Top Sportsman, he entered into Pro ET in the sixth round of competition. He didn't squander the opportunity as he took wins against Nick Hamlett and Boo Brown to end up in another final, this time he had to face Barry Pryer Sr. And like Déjà vu Pryer, who was dialed slower, left the tree first and turned on that red eyed monster to hand another win over to Lee and a double payday for the PGS Spring Nationals. With two sportsman wins, Lee took home a cool $7,000 in XDA payout!
Brock's Performance Street ET
Seventy-five competitors entered Brock's Performance Street ET for their chance to start the season with a points lead. Derrick Barbour and Donta Yates sliced through the competition to earn six-round wins on Sunday to meet in the final. It was set to be a BUSA battle, however, Yates threw it away at the hit with negative -.006 light. Yates' disappointment would send Barbour to the top of the points leaderboard and the coveted winner's circle.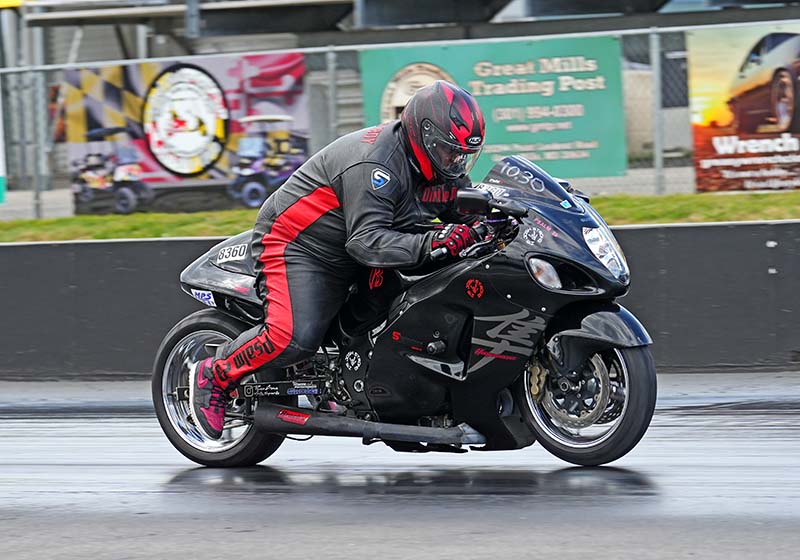 Hard Times Parts & Service Gambler's Race
The Friday night Hard Times Parts & Service Gambler's race sold out again and had a whooping sixty-four entries that went to battle well into the night. However, two on-track accidents pushed the event later, and the final two competitors opted to split the purse rather than running the following day. Robin Procopio and Shayne Proctor, who took four round wins, each spilt $4,400.00.
The XDA heads to Virginia Motorsports Park located in Dinwiddie, Virginia for the 37th annual MTC Engineering Summer Nationals on June 2-4, 2023! Make plans now to be there!
There are more videos on the Cycledrag Youtube channel (please subscribe here) and the Cycledrag Facebook page (Please like here) and more will be coming soon. Check back daily.
To take advantage of some amazing discounts at Brock's Performance, click – http://brocksperformance.com?aff=12
USE cycledrag5 coupon code.