New Vance & Hines rider Gaige Herrera swept the Pro Stock Motorcycle class on Sunday at zMAX Dragway at the Circle K NHRA Four-Wide Nationals.
Herrera continued to be incredible to open the 2023 season in Pro Stock Motorcycle, staying perfect with another dominant performance, breaking the track E.T. record with a stellar run of 6.710 at 202.00 in the final round on his Vance & Hines/Mission Foods Suzuki. After qualifying No. 1 for the second straight race, Herrera made the quickest run in two of the three rounds on Sunday, delivering an epic performance in the final quad against teammate Eddie Krawiec, defending world champ Matt Smith and defending event winner Steve Johnson.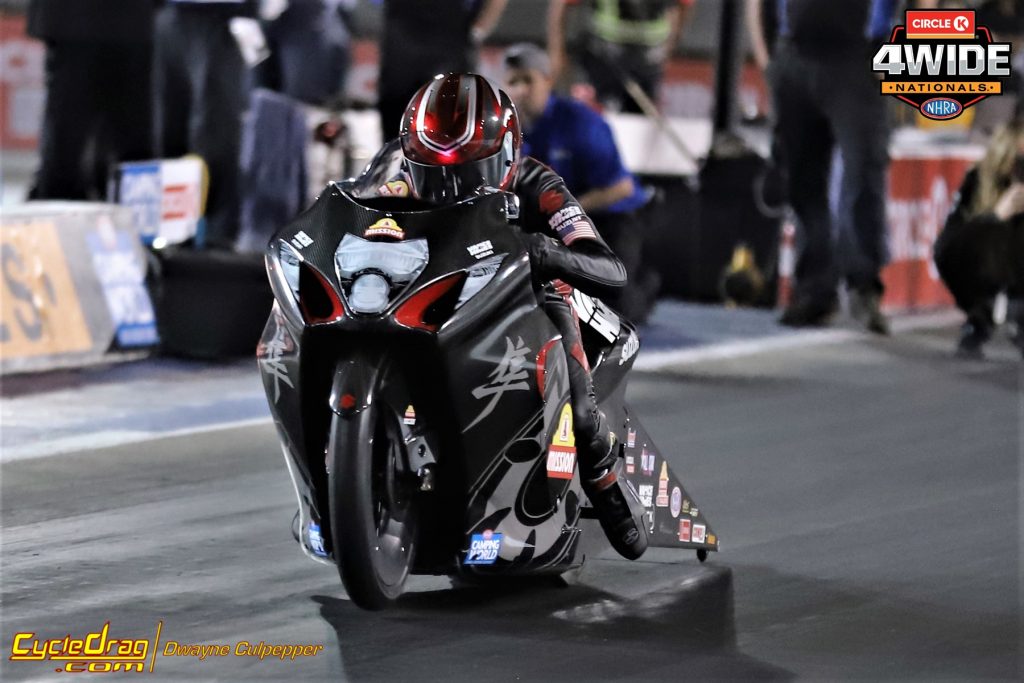 Herrera finished first in both quads heading into the final and then ran away from his competition in the final round, posting a .013 reaction time and making the quickest PSM run at zMAX Dragway.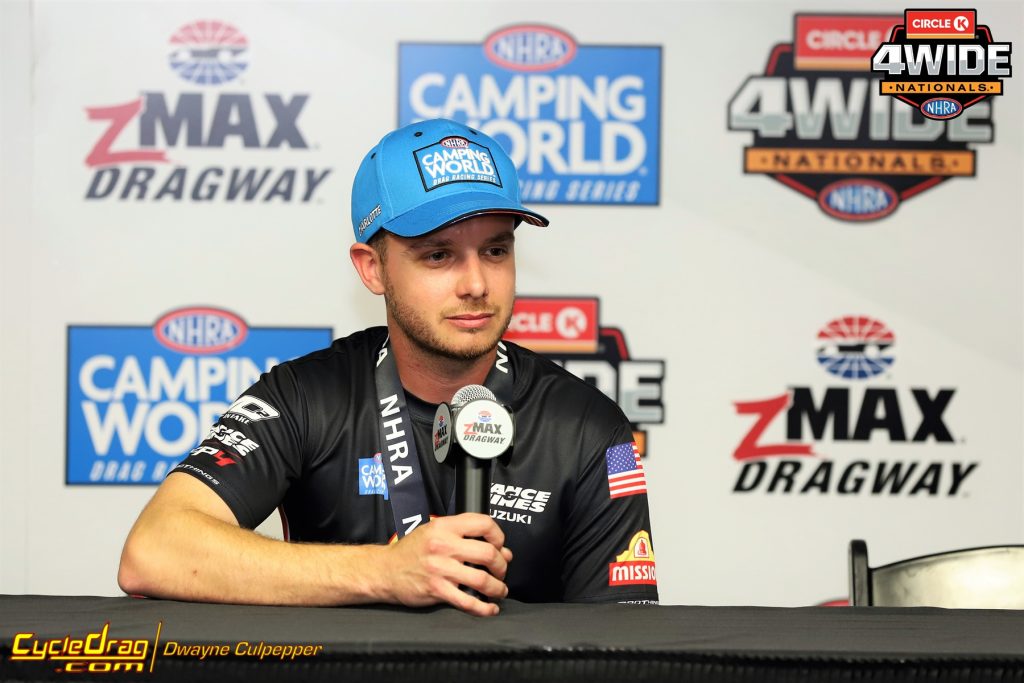 "I'm on cloud nine. To be out here and go No. 1 back-to-back, win the race back-to-back, it's a lot to take in. I'm enjoying the ride," Herrera said. "There are plenty of good riders out there, so to be able to be in the final with those three and come out on top, that's awesome. It's going to be a tough season. We're out here basically dominating, but it's the beginning of the season, and it's going to be a long ride. (Four-wide) is a different kind of pressure. To be up there with three other rides, you have to focus. I didn't want to wait or get timed out, so pretty much every round I put it on the 2-step and made sure I was ready for anything that happened."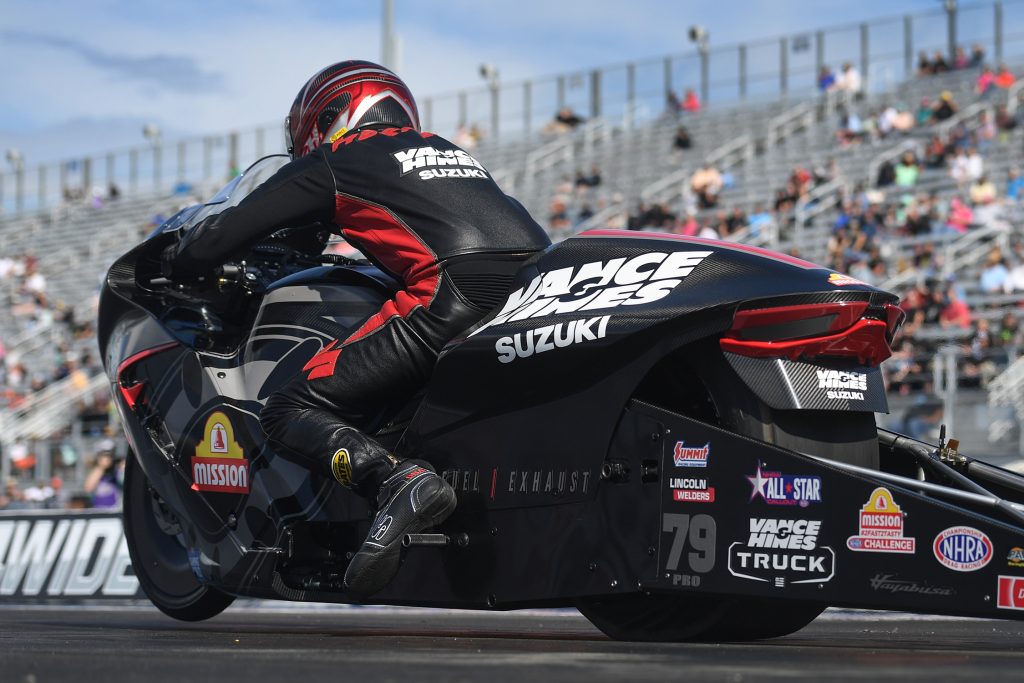 Smith finished as the runner-up, going 6.780 at 199.61, with Krawiec, who was seeking his 50th career win, taking third and Johnson following in fourth.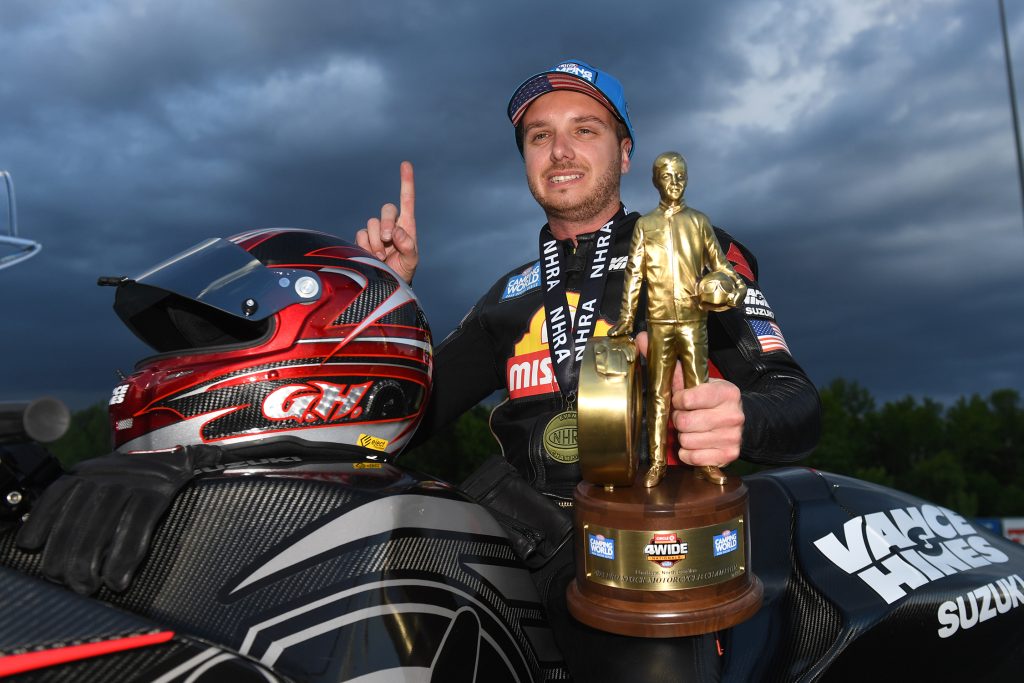 The NHRA Camping World Drag Racing Series returns to action May 19-21 with the Gerber Collision & Glass Route 66 NHRA Nationals presented by PEAK Performance at Route 66 Raceway in Chicago.
ROUND ONE — Matt Smith, Suzuki, 6.862, 197.88 and Jerry Savoie, Suzuki, 6.894, 195.34 def. Chase Van Sant, Suzuki TL, 6.982, 193.63 and Marc Ingwersen, EBR, 6.875, 193.96; Joey Gladstone, Suzuki Hayabusa, 6.840, 197.31 and Steve Johnson, TL, 6.840, 197.39 def. Jianna Evaristo, broke and John Hall, Buell, DQ; Eddie Krawiec, Hayabusa, 6.822, 200.02 and Hector Arana Jr, EBR, 6.914, 199.55 def. Ron Tornow, Victory, 6.964, 194.97 and Angie Smith, EBR, broke; Gaige Herrera, Hayabusa, 6.754, 201.13 and Kelly Clontz, TL, 6.874, 196.04 def. Marcus Hylton, Buell, 8.973, 101.82 and Ryan Oehler, EBR, 6.832, 198.15;
SEMIFINALS — Krawiec, 6.784, 199.73 and Johnson, 6.806, 198.00 def. Gladstone, 6.861, 194.18 and Arana Jr, 6.872, 197.97; Herrera, 6.857, 170.02 and M. Smith, 6.916, 194.60 def. Clontz, 6.858, 195.39 and Savoie, 6.956, 191.78;
FINAL — Herrera, 6.710, 202.00 def. M. Smith, 6.780, 199.61, Savoie, 6.784, 199.37 and Johnson, 6.810, 197.54.
Pro Stock Motorcycle Points
1. Gaige Herrera, 255; 2. Matt Smith, 153; 3. Eddie Krawiec, 135; 4. Angie Smith, 126; 5. Steve Johnson, 122; 6. Chase Van Sant, 117; 7. Joey Gladstone, 107; 8. Jianna Evaristo, 106; 9. Hector Arana Jr, 87; 10. Ryan Oehler, 85.

There are more videos on the Cycledrag Youtube channel (please subscribe here) and the Cycledrag Facebook page (Please like here) and more will be coming soon. Check back daily.
To take advantage of some amazing discounts at Brock's Performance, click – http://brocksperformance.com?aff=12
USE cycledrag5 coupon code.