The long-awaited debut of the Xtreme Dragbike Association (XDA) and the return of the Millers to motorcycle drag racing finally arrived this past weekend at Maryland International Raceway™ (MDIR). Armed with an elite staff and the best track prep in the business, the Spring Nationals turned into a record-shattering weekend.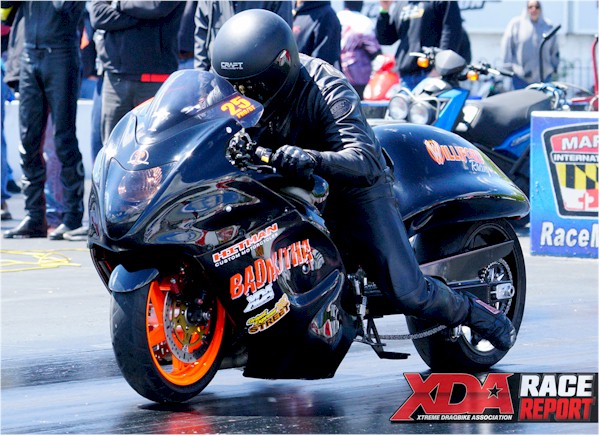 Orient Express Racing Pro Street
Winner – Mark Gargiulo
Runner-up – Chris Connelly Jr.
#1 Qualifier – Jeremy Teasley / 6.639
ET Record – Jeremy Teasley / 6.639
MPH Record – Chris Connelly / 221.20
The Orient Express Pro Street class never disappoints, and if the season opener is a glimpse of what's to come, then we are in for an exciting year! Champion, Rodney Williford, showed up to defend his title, and despite running his career best of 6.656 in round 3 of qualifying, the attention gravitated to Jeremy Teasley in the other lane when he took his 68" Hayabusa to his career best of 6.639! This qualifying round not only gave Teasley the #1 qualifying position, and moved him to the #1 spot on the Pro Street GOAT list, it also made history as the quickest side-by-side 6-second pass in a competition!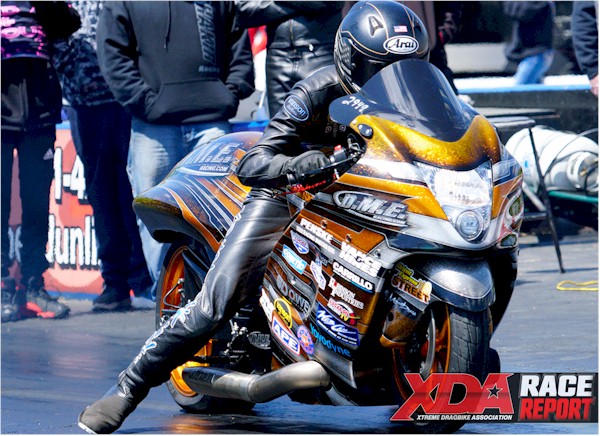 After an exciting day of qualifying, the expectation for Sunday's eliminations was high, and no one was anticipating the upsets that would fall on our top two qualifiers. Williford was taken out in the first round by #13 qualifier, James Herbert! Herbert struggled through qualifying only running a 7.80. But he was up early Sunday morning making some last-minute changes that would pay off for him big time giving him a bye to the Semi-Final! Teasley suffered a similar fate in round 2 when Ryan Schnitz ousted him on the new HTP GSX-R1000 entry. In the semi-final, Chris Connelly Jr. and Mark Gargiulo both took easy wins against broke competitors Schnitz and Herbert.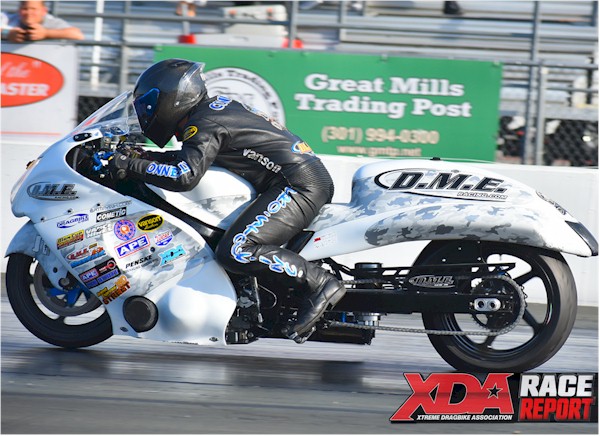 The final round of Williford Racing's Mark Gargiulo and DME Racing's Chris Connelly, was going to be the most exciting round of the day as the two riders were both seeking their first career win in Pro Street. And the first Pro Street win of the XDA season would go to Gargiulo who would claim victory with a 6.783 to Connelly's 6.786 with a margin of victory of only 17 thousandths of a second! The pass brought the crowd to their feet as these two were side-by-side from the tree to the finish line. It was an emotional win for Gargiulo and his entire team. "I am so proud of how far Mark has come in such a short amount of time, his progress and dedication got him to the winner's circle," said team owner Rodney Williford. "And we would like to congratulate DME and Teasley on their 6.63 run as well; it's great being able to run against tough competition."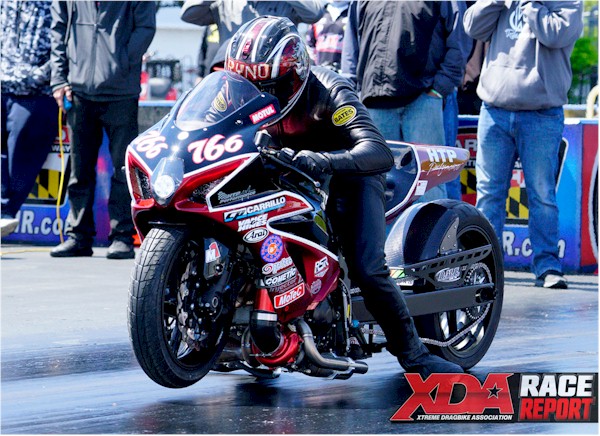 Many personal bests were set on the MDIR quarter mile, including Herbert moving up an impressive 20 spots on the goat list with a career best of 7.18, Justin Shakir running a 6.74 and Chris Connelly breaking into the 6.70's and setting the MPH record for the event with a 221.20.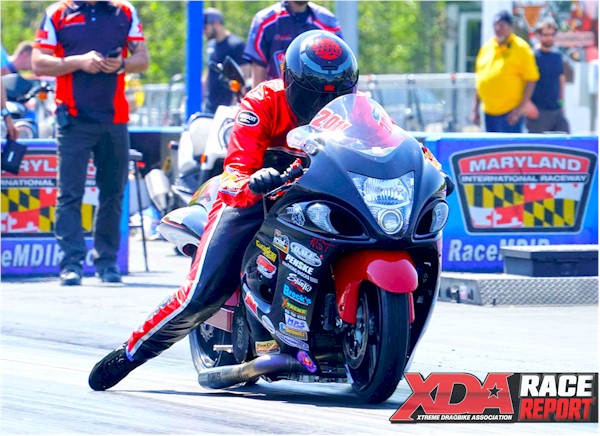 DME Racing Real Street
Winner – Spencer Claycomb
Runner-up – Anibal Merced
#1 Qualifier – Spencer Claycomb / 7.666
ET Record – Spencer Claycomb / 7.659
MPH Record – Eddie Chapman / 193.16
Spencer Claycomb came to Maryland and set the DME Racing Real Street class on FIRE! Claycomb known mostly as an ultra-competitive sportsman racer has stepped into Real Street full time for 2018, and he made sure you knew his name! In round #4 of qualifying, Claycomb ran a record-shattering run of 7.666 to give him the #1 qualifying position. In the first round of eliminations, Claycomb went event quicker with a 7.659 to reset the XDA class record and MDIR track record!
With the top five in qualifying running from a 7.66 to 7.77 ET, Claycomb would have tough competition on his way to the final round where he met the 2015 class champion of Anibal Merced. And this would turn into another side-by-side final with both competitors out for a victory. But Merced couldn't stop the fire Claycomb started as Spencer claimed his first professional class victory with a 7.750 to Merced's 7.751. When asked about his thoughts on breaking the 7.60 barrier, he simply stated that the weekend was a dream come true and he felt honored to be considered among some of the best in the class such as Johnny Dobrin, Anibal Merced, Eddie Chapman, and 2017 champion David Stewart.
Vance & Hines 4.60
Winner – Mike Thyen
Runner-up – Boo Brown
#1 Qualifier – Eran Pielert / 4.600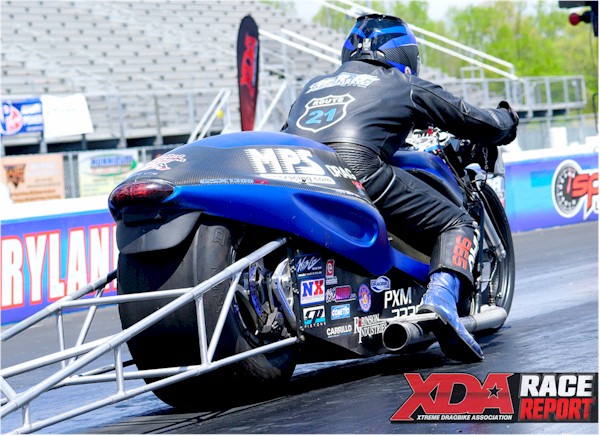 Vance & Hines 4.60 Index, the quickest 1/8th-mile index class in the XDA, featured some of the best the class has to offer. As the only class in the XDA that has never had a repeat champion since its inception in 2013, former champions Kenny Cornell, Eran Pielert, Tyler Cammock, Ronnie Procopio and defending champion Boo Brown looked to change that. With 24 talented riders coming to the post on race day, it was anyone's guess to who would be on top at the end of the day.
Eran Pielert took the #1 qualifying position with a perfect 4.600 pass, with Michael Ostrowski and Tyler Cammock right behind him with 4.609 qualifying times. Heavy hitters McAdams, Cammock, and Procopio fell in the quarter-finals, leaving Boo Brown with a bye to the final. Michael Thyen, who two weeks prior won the 4.60 class at the NHDRO, took out Ostrowski in the Semi-Final. Defending Champion Boo Brown, who took runner-up the day before in the 460 Big Money Shootout, would once again take another runner-up finish to Thyen who was able to recover from a starting line deficit to run a stout 4.634 to Brown's 4.706.
On Saturday Tyler Cammock won the special 4.60 Big Money Shootout, a $500 to enter, $4,000 winner take all race among eight riders that took place during qualifying.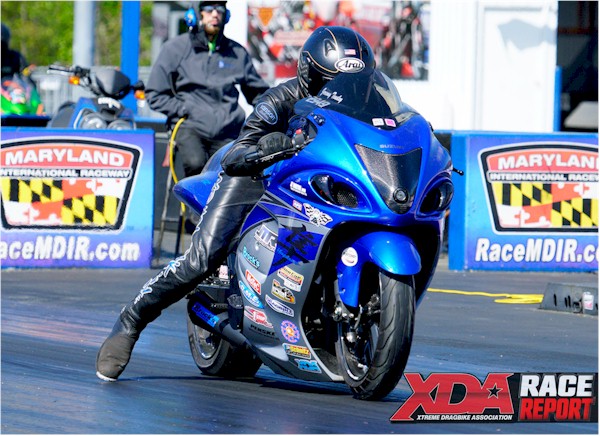 The FBR Shop 5.60
Winner – Jeremy Teasley
Runner-up – Ed Harvey
#1 Qualifier – Boo Brown / 5.601
The FBR Shop 5.60 saw a stellar group of racers on bar bikes, as well as street bikes, try to tackle the 1/8th mile. With the top four qualifiers all running the 5.60 number, it was Boo Brown with a 5.601 who would take the #1 qualifying spot over his 38 competitors. But this position wouldn't hold for Brown who would fall in round 2 to Harvey Hubbard.
In the quarterfinals, Jeremy Teasley took out Spencer Claycomb to earn a bye to the finals. And on the other side of the ladder, it was Ted Harvey who won 5 rounds of competition to meet Jeremey Teasley, the defending class champion who was also competing in additional sportsman classes, grudge, and Pro Street this weekend. While both experienced riders are from Ohio, there can only be one winner, and unfortunately for Harvey, the bike wouldn't shift coming off the line, and he had to watch Jeremy Teasley ride off into the sunset for the 5.60 win. Though disappointed, Harvey stated during post-race activities, that he had a wonderful time, and was looking forward to the next race at Atco Dragway.
Shinko Tires USA Crazy 8's
Winner – Dustin Lee
Runner-up – Jeremy Teasley
#1 Qualifier – Mike Schulz / 8.885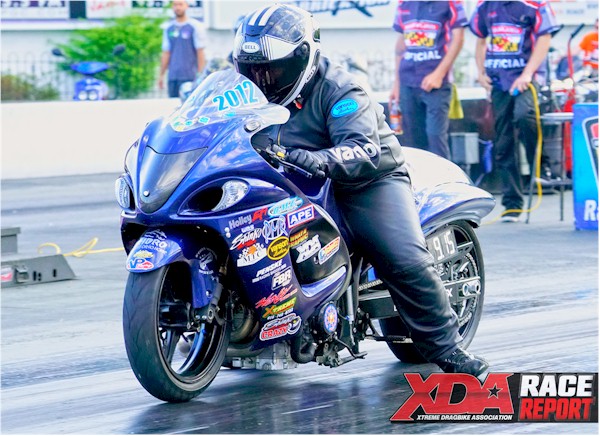 Shinko Tires Crazy 8's, the street bike only index class started by Jason Miller several years ago has turned into one of the most exciting sportsman classes in the XDA. With a magic number at the finish line of 8.88 seconds and the stellar conditions the riders had during qualifying and race day, many riders found themselves having to detune the bikes to get them to the index.
In qualifying class champion Stephen Knight ran an 8.889, but that wouldn't be enough for the #1 spot earned by Mike Schulz with an 8.885. Schulz made it to round four where he red-lit against Teasley who would win the bye to the final against Dustin Lee. With these two-tough sportsmen, many knew it would come down to reaction time to see who would get the win. And fortunately for Lee, Teasley left with a rare red light of -.003, giving him an automatic win and sending him to the winner's circle.
Mickey Thompson Performance Tires & Wheels Top Sportsman
Winner – Hank Lovett
Runner-up – Jay Windsor
#1 Qualifier – Ryan Bonitatis / 7.583
In Mickey Thompson Performance Top Sportsman 136 racers would enter, but only 32 would battle for the payday. Ryan Bonitatis rocked the qualifying with a 7.382 leading the field by three-tenths over #2 qualifier Jay Windsor's 7.719.
In the semi-final, Boo Brown and Derek Milbourne would take a loss to Hank Lovett and Jay Windsor who would head to the final. Hank Lovett of Seaford, DE would take a win over fellow Delaware native and former class champion Jay Windsor when he red-lit trying to chop the tree. Lovett's win would send him to the 6th round of Pro ET for a chance to double up on wins and payout. However, Lovett would not be able to make it past Mike Schulz in the next round.
MPS Racing Pro ET
Winner – Brian Guarino
Runner-up – Mike Schulz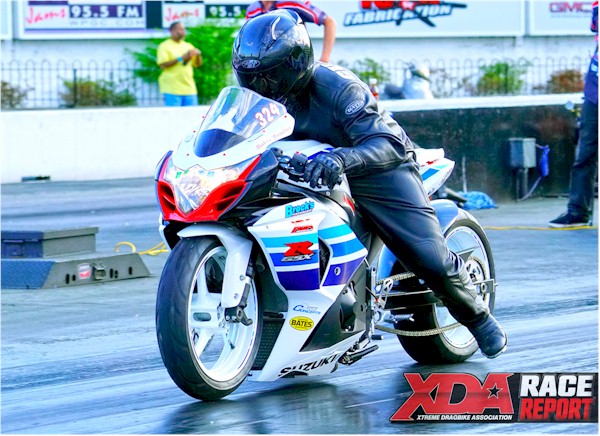 With MPS Pro ET now earning points to determine a class champion, round wins are more critical than ever. And with 136 racers and eight total rounds of competition on Sunday, the points chase is on. By round six, heavy hitters like Davies, Lee, Knight, Brown, and Sweeney were out! In the semi-final Brian Guarino earned a bye to the final to face Mike Schulz who took out Shayne Proctor running an 8.70 on an 8.67 dial to Proctors 8.99 on an 8.90 dial. The Suzuki riders from Virginia dialed a 9.13 and 8.65, but those ET's wouldn't come into play as Schulz red lit and gave the first win of the season and the points lead to Brian Guarino.
Brock's Performance Street ET
Winner – Roy Johnson
Runner-up – Jeff Sweeney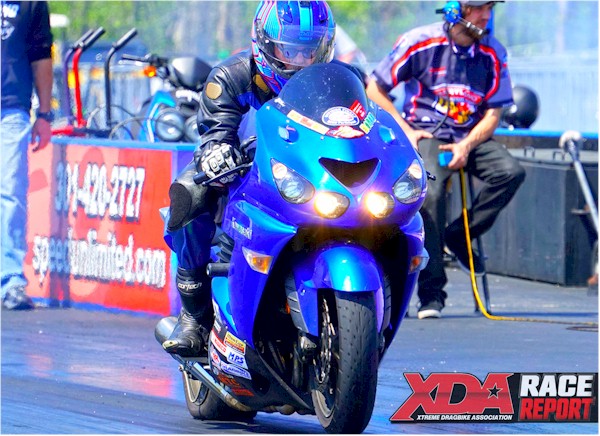 Brock's Performance Street ET is also now on the points system, which rewards series commitment and consistency to determine a class champion. Street ET on Sunday yielded a whopping eight rounds of competition. With every round, the class saw a good balance of Kawasaki and Suzuki's taking wins. Michael McAllister was the lone Honda racer of the class but took a defeat in round 2 to Kawasaki rider Dave Amaru. In the final round, it was Kawasaki Rider Roy Johnson verse Suzuki rider Jeff Sweeney who had earned a bye to the final. Johnson dialed a 9.30 and Sweeney an 8.86, but like in Pro ET, the win was taken at the tree when Sweeney red lit giving the win and points lead to Roy Johnson.
HTP Performance Grudge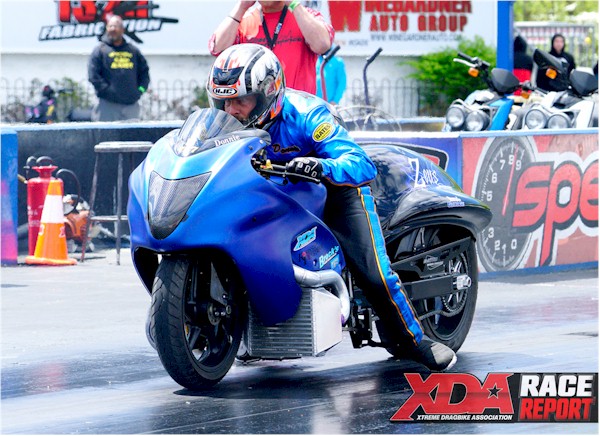 With a new format for 2018, HTP Performance Grudge Racing now runs every round with all Pro Sessions giving them the best track prep in the country. The Miller track prep was on kill for these guys from Friday night until the last pass on Sunday. For the season opener, 23 grudge entries made good use of the track prep as they were flying every round.
Grudge Racer Donnie Taylor showed up with his new build, Zeus. On Saturday, he struggled to find the gremlins that were plaguing his bike, but by the end of the day on Sunday he had made tremendous strides and was moving! He plans to be ready for Atco and hopefully ready to start locking in some races.
David Page on the Williford Grudge bike and Jeremy Teasley on the Gravedigger looked ready to lock in some races. Shawn Cooper on his GSXR and Greg Gross on the 'The Big Pay Back' were making consistently quick passes.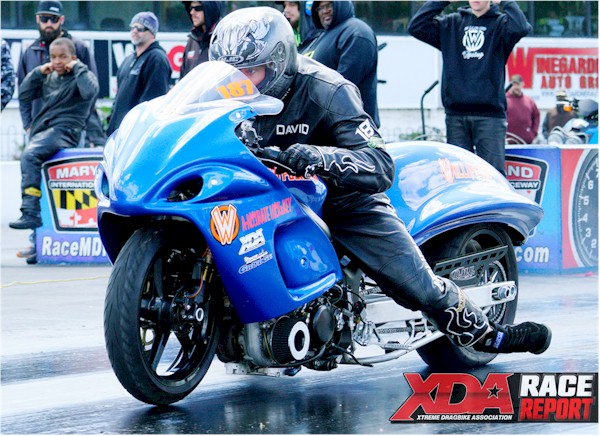 Rickey Gadson had a starting line crash Friday night. The bike tried to rotate the earth right off the starting line, but Rickey was right up and track clean-up was so quick that some racers in the pits didn't even know it happened. Rickey was unhurt and back on the track the next morning in the sportsman classes. "I learned a valuable lesson about switching from flat slick to a street tire without changing gearing" stated Gadson.
The Millers are also working with Cecil Towner from HTP Performance on some individual Grudge Heads-Up Shootouts that will be run at select XDA events this year. Stay tuned for more details on those coming soon.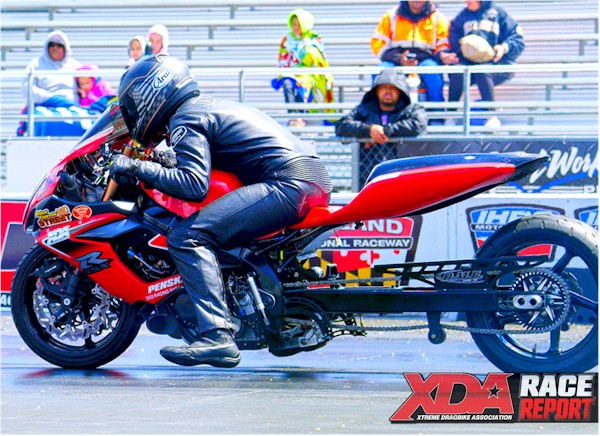 Friday Gamblers Race
The Miller's tradition continued with a Gambler's race during Friday night testing. With sportsman racers out in force, 43 racers entered with a $100 buy-in. Local racer Dale Hamilton and Ohio racer Kevin Adams won five rounds before meeting in the final. Both racers ran consistently close to their dial-in round after round making them great match-up for the final. Hamilton dialed a 9.47 to Adams 9.13, and Hamilton left first with a quicker reaction time of .015 to Adam's .026. Adams caught up to Hamilton at about the 1/8 mile and misjudged how fast he was moving and broke out with a 9.10 giving the win to Hamilton who ran a 9.46. It was a good day for Dale Hamilton to gamble as he took home a $2,700 payday and earned the first win of the XDA series.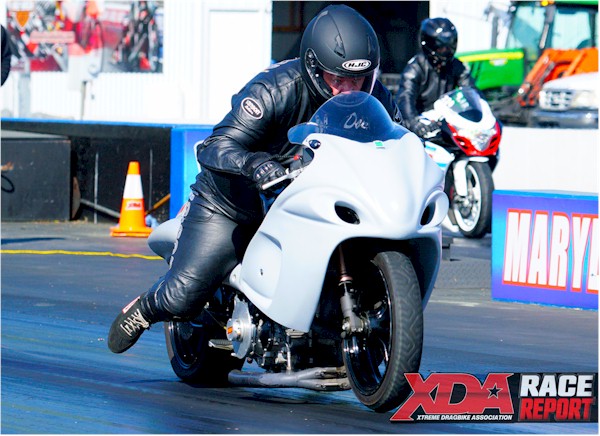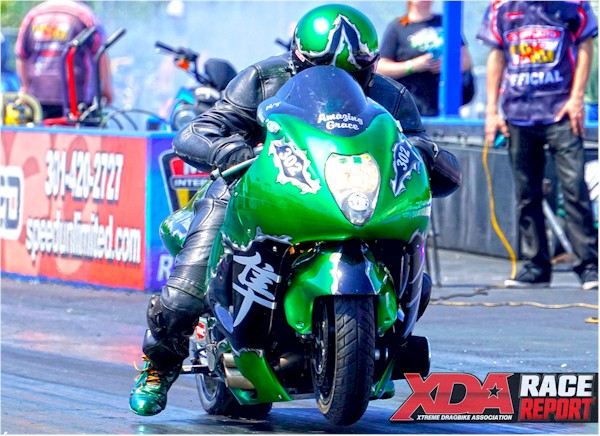 For full qualifying and round-by-round results of the event, visit www.xdaracing.com.
The next stop for the 2018 XDA season will be at the legendary Atco Dragway, for the longest running motorcycle drag race in the world. The 47th annual Platinum Fleet Repair U.S. Motorcycle Nationals takes place on May 18-20.
Visit www.XDAracing.com for event information, class rules, schedule and more.
The Xtreme Dragbike Association is an east coast motorcycle drag racing series with 700+ motorcycle racers in competition. The XDA features professional and sportsman classes along with grudge racing and a vendor midway. Lifestyle activities such as bike shows, bikini contests, DJ and live bands are also held at select events. For more info on the XDA, visit www.XDAracing.com or connect with us on Facebook, Instagram, Twitter and YouTube @xdaracing
About the XDA
The Xtreme Dragbike Association is an east coast motorcycle drag racing series with 700+ motorcycle racers in competition. The XDA features professional and sportsman classes along with grudge racing and a vendor midway. Lifestyle activities such as bike shows, bikini contests, DJ and live bands are also held at select events. For more info on the XDA, visit www.XDAracing.com or connect with us on Facebook, Instagram, Twitter and YouTube @xdaracing