XDA delivered stellar performance numbers for the 4th annual FuelTech Superbike Showdown at Maryland International Raceway.


The weather attempted to play games this past weekend at MDIR, but XDA came out on top once again. With a roller coaster forecast of potential rain on Saturday the Miller Brothers did what they do best; they adapted the race for the worst possible scenario.
The Saturday program was moved up, and the XDA racers hustled to help move the program along quickly so they could get in as many rounds as possible. But the rain never came, and XDA adapted again to fill the newly created time by adding an extra Consolation Race for the sportsman racers. Fifty-six sportsman racers opted into the bonus race for the $3,500 payout.
Jeffery Santin took the win over Dustin Lee in a tight race, making Saturday a lucrative day for sportsman racers.
With close to 600 entries, the Pro classes delivered incredible record-breaking performances, while the sportsman racers kept the show brimming with the highest level of competitive bracket and index racing.
Orient Express Racing Pro Street
The Orient Express Racing Pro Street racers continue to show performance improvements while keeping parity between the different motorcycle models.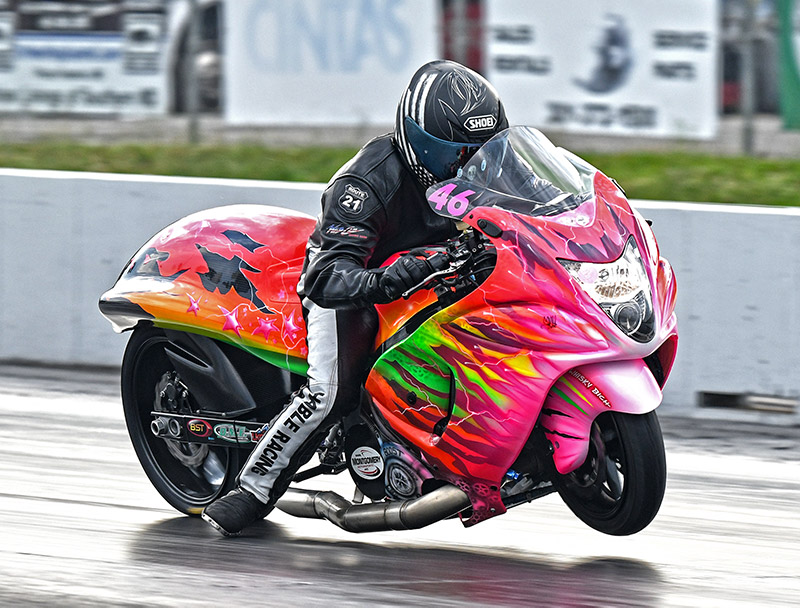 Ryan Hable on the Lee Tomlinson bike reran a personal best this past weekend with a 6.643 pass, putting him in the #6 qualifying position and showing performance improvements at every race this year. Hable would not make it past round two of eliminations when the bike lost steam at half-track against Greg Wallace. But the team left with smiles on their faces after a weekend of consistently quicker runs.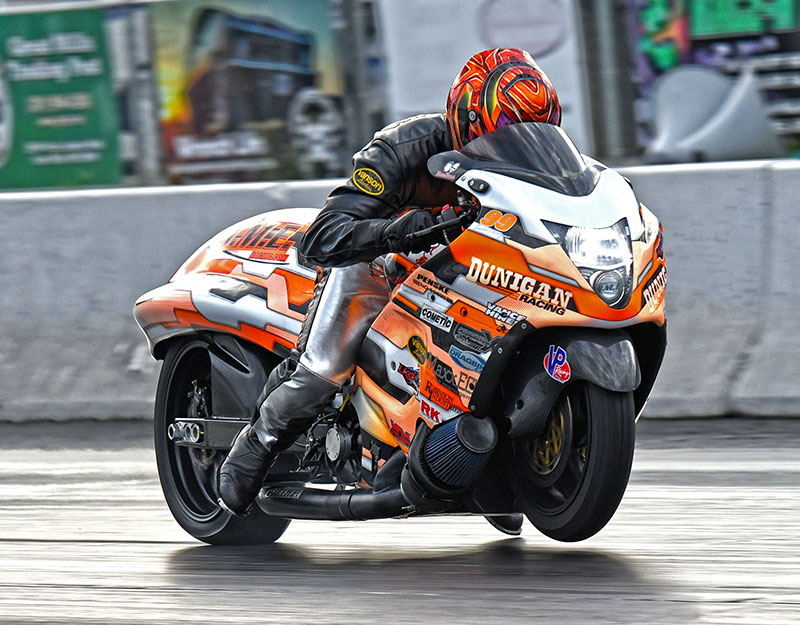 Jason Dunigan has seen improvements at every race and became the third turbo Hayabusa in history to enter the forties with a 6.484 and 6.477 during qualifying and eliminations. Dunigan also improved his MPH standing with a 231.08 mph run, making him the fifth-fastest in the world.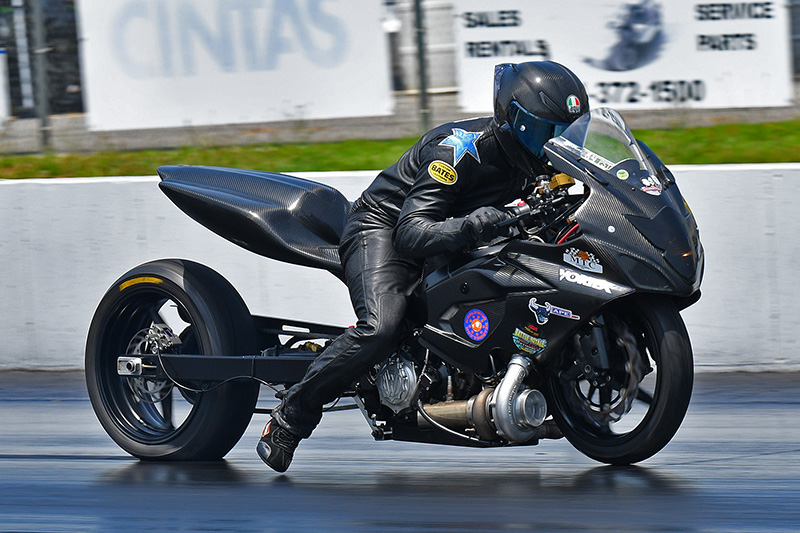 Jamie Lopes also made a massive improvement as he dropped his personal best ET every round of eliminations on his Turbo GSX-R1000. Going into this event Lopes personal best was a 6.830, but by the final, it would be a 6.506!
Lopes would face teammate Rodney Williford, who won the last three XDA Pro Street events dating back to the 2020 season finals. In the semi-final Williford took out Shakir running a 6.479, and on the other side of the ladder, Lopes won with a 6.562 against Greg Wallace.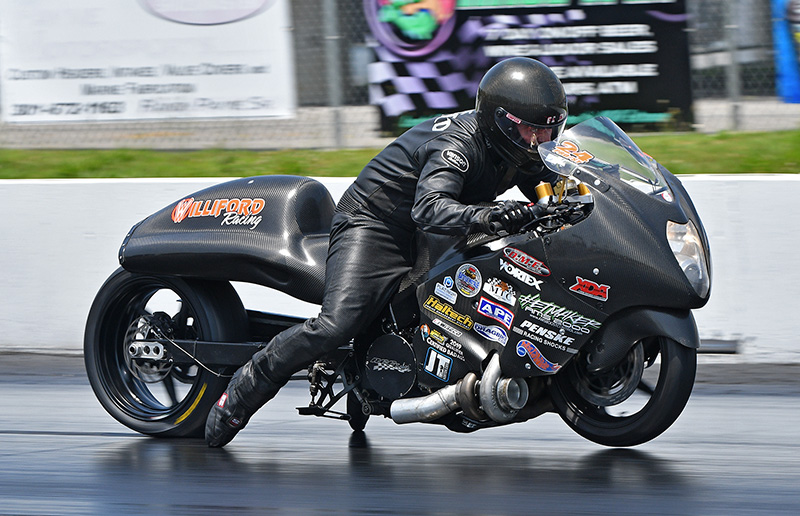 Williford was hungry and focused when he cut a .006 light to Lopes .090, and as the Hayabusa vs. GSX-R1000 battle flew down the track, they stayed close to each other as they approached the finish line. Williford's pass was straight and smooth as he overpowered Lopes for a fourth straight win running a 6.466 at 231.08mph to Lopes career-best 6.506 at 217.84mph.
DME Racing Real Street
The Teasley brothers were M.I.A. this past weekend in the DME Racing Real Street class. But the drama rolled on without them, nonetheless. Rickey Gadson broke the MPH record of 195.76 to reset it to 196.13 mph. The points leader Mark Hylton lost in the first round to Chad Sosnowski, opening the door to losing his points lead.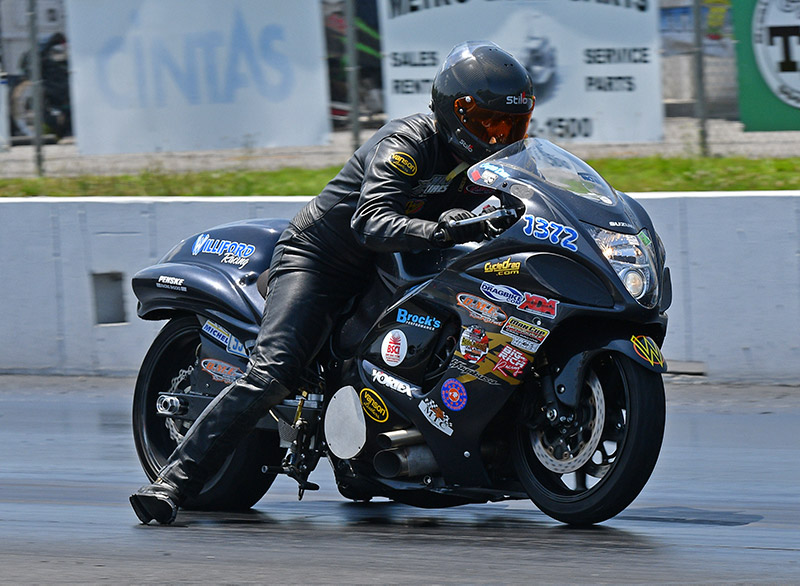 Spencer Claycomb qualified #1 with a 7.505 and found himself in the final against David Stewart. In the semi-final, Stewart ran a 7.578, suggesting the final would be an exciting well-matched race. Claycomb cut a better light on Stewart with a .071 to his .093. But at half-track, Claycomb lost steam, and Stewart powered on to cross the finish line with a winning 7.596 pass.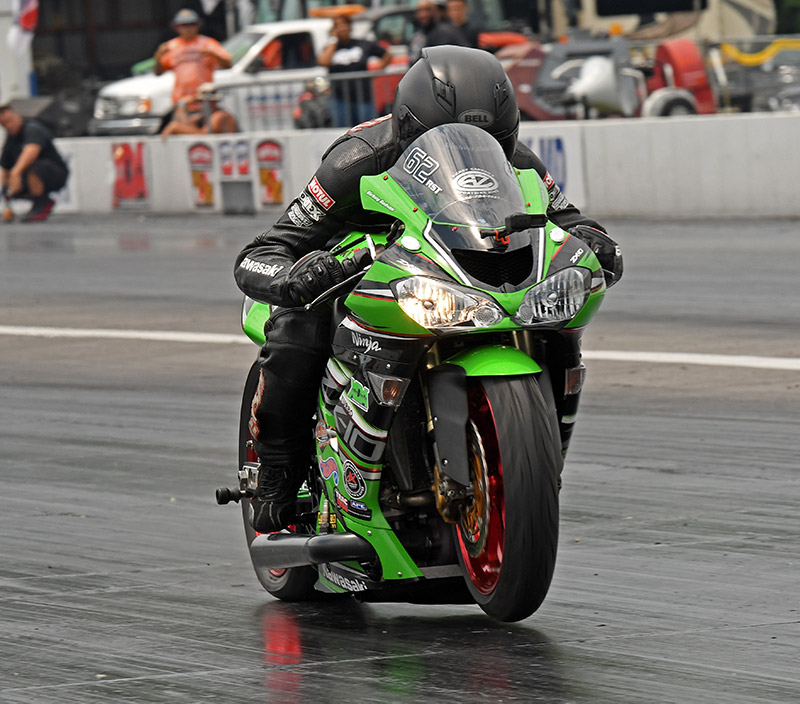 MaxxECU Pro Xtreme
The MaxxECU Pro Xtreme class saw two three-second passes in qualifying. Chris Garner-Jones came into this race with a brand new GSX1400 motor built by Stuart Crane at Warp Speed
Racing, and without missing a beat took the #1 qualifying position with a 3.970. John Collins who won the last event qualified #2 running a 3.993.
John Collins would not make it past round one with a 4.172 to Rob Garcia's 4.057 pass. Bobby Lovingood would also fall in round one with a 4.572 to Garner-Jones quicker 3.980.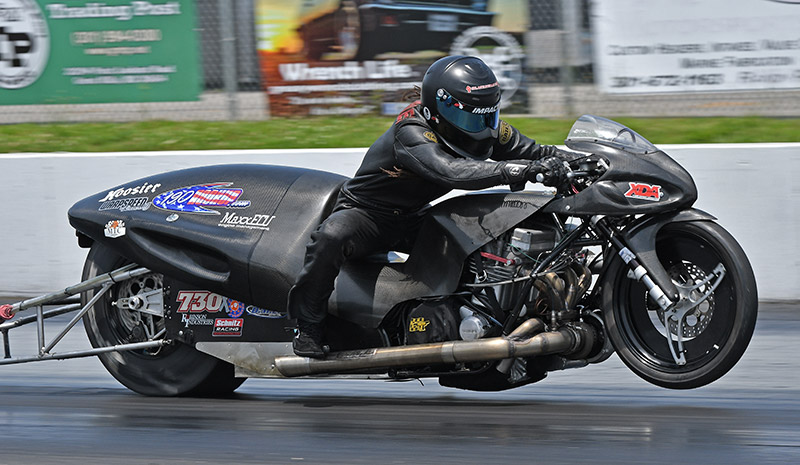 In the final the race would be so close that it is still up for discussion. Garner Jones cut a .039 light and ran a winning 3.991 pass. But in the other lane Garcia cut a better light of .028 and was still carrying the front wheel as he went through the finish line to make his rear wheel the tripping point for his ET of 4.002. So the win goes to Garner-Jones, but off the record, some will say Garcia looked to be the first to cross the finish line.
HTP Performance Super Stock
For the third event in a row, Zachary Applegate took the #1 qualifying position in HTP Performance Super Stock, and class champion David Fondon made a final-round appearance.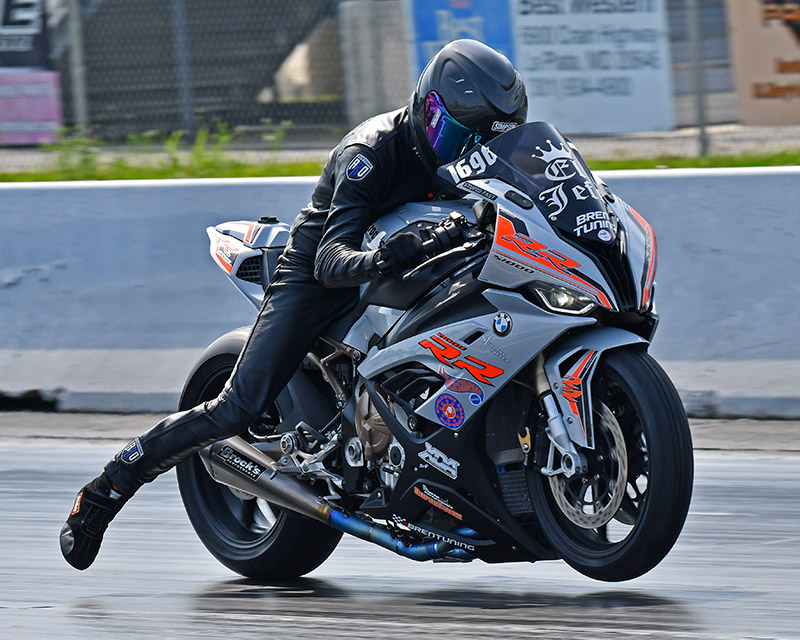 Darion Payne, a multi-talented rider, made his first final round appearance in Super Stock at the FuelTech Superbike Showdown. Payne cut a better light in the final against Fondon for the starting line advantage, but a wheelie sixty feet out for Payne would neutralize that advantage.
Both riders got tucked into their machines quickly as they raced down to the finish line. But nothing was going to stop Fondon on Tauncy Soprano's 2020 BMW S1000RR as he outperformed the Kawasaki ZX-14R and took the win with a 8.804 to Payne's 9.154
Vance & Hines 4.60
In Vance & Hines 4.60 both Darryl Hollins and Durwood Rawlings both ran a dead-on 4.600 in qualifying. Hollins got the number one spot with the higher mph of 148mph. In round three, Shayne Proctor would end Hollins weekend with a reaction time win. Proctor would then go on to make it to his first 4.60 final.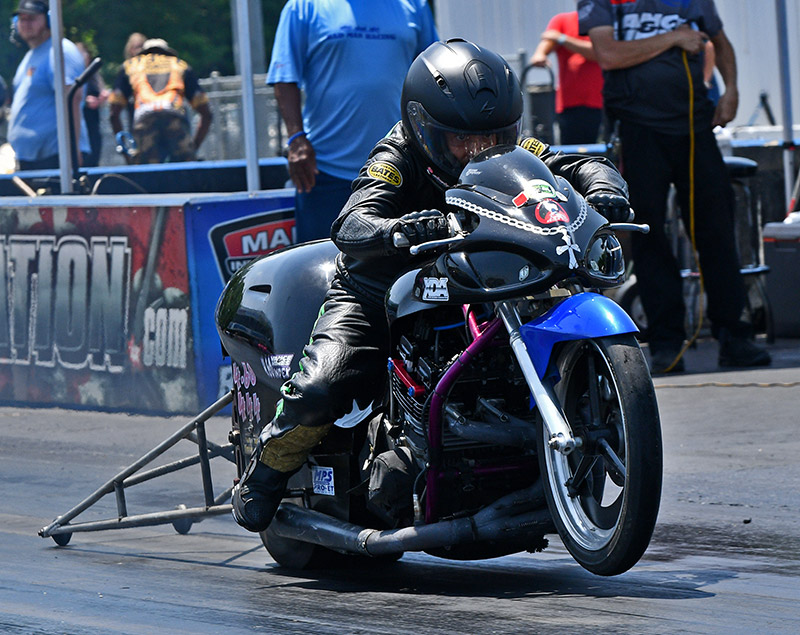 In the final, he would face Tyler Cammock, who along with Proctor, entered Boo Brown's Last Man Standing and would take home an extra $3,300 cash with the $3,000 XDA winner payout. With $6,300 on the line in the final, Cammock would take a devasting blow when his bike pulled him through the beams early, turning on the red light, sending Proctor to his very first Vance & Hines 4.60 winner's circle.
APE Nitrous Bulls
In APE Nitrous Bulls, class points leader Russell Dennison on Jimmy Hendrix took out Richard Gadson on Redskins,while Jaques Gaskins on Soldier of Fortune sent Augustine Herrera on Bankrupt back to the loan officer in round one.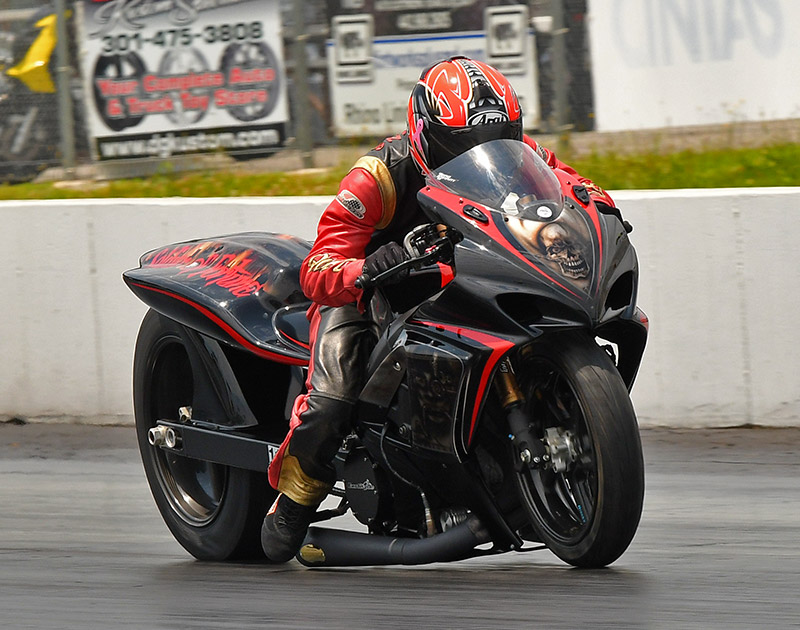 The final featured a face-off between Gaskins and Dennison. These two racers would be well-matched as they both blasted down the quarter-mile. But after all the nitrous was purged, the Soldier of Fortune; would look over at the thousand-foot mark and know Jimmy Hendrix would be singing the blues as he stayed tucked in until his win light came on.
3 Sixty 5 Transport Monster Bulls
Dave Martin Unknown and Jamael Jones on Stimulus Check did not make it out of round one eliminations in 3 Sixty 5 Transport Monster Bulls. Jason Herron on Spencer Claycomb's Tik Tok; made it to his first final to face the 2020 class champion, David Page, on Pickin Pockets.
Both grudge racers left the tree building power and stayed side-by-side down for the first half of the pass. The Williford Racing bike crept past Tik Tok showing him time was not on his side as he crossed the finish line first for the win.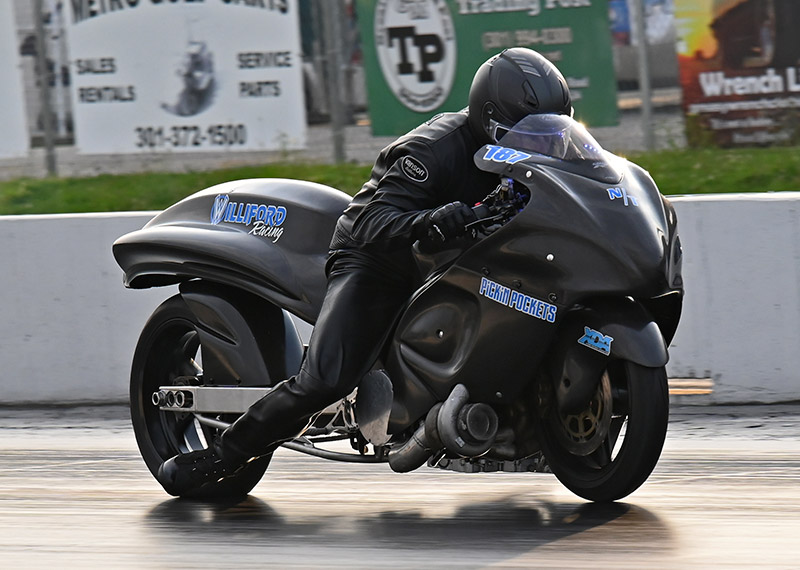 Tommie's Motorsports DMV Bulls
In Tommie's Motorsports DMV Bulls Geoff Godfrey on Minion took out Duane Jackson on Miss Behavin while Edward Thomas on Da Setup had an earned bye in the first round. In the final Thomas got the jump on Godfrey and was out in front. There just wasn't enough track for Minion to gain ground, and Da Setup got the win.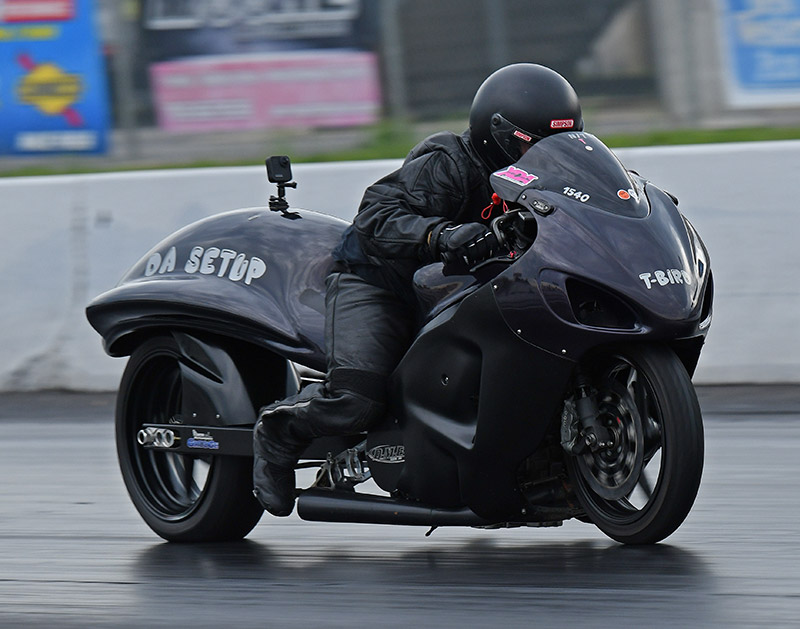 Make plans NOW to be at MDIR for the 21st annual WPGC Bike Fest on July 23-25. Boosted Bulls will return for a race everyone will be talking about for years to come. Richard Gadson on Mad Dog 20/20 vs. Chris Moore on Melania will finally be going down. And there are NO options for backing out. It's time to find out who has the Baddest Bull in the country. Lights, Camera, Action, it's time to race.
1 Stop Speed 5.60
For the first time this year, 1 Stop Speed 5.60 points leader Dustin Lee was not in the final. The FuelTech Superbike Showdown saw two new competitors in the final, Nick Noble and Duane Jackson. These eighth-mile competitors turned on five win lights to meet each other in the final.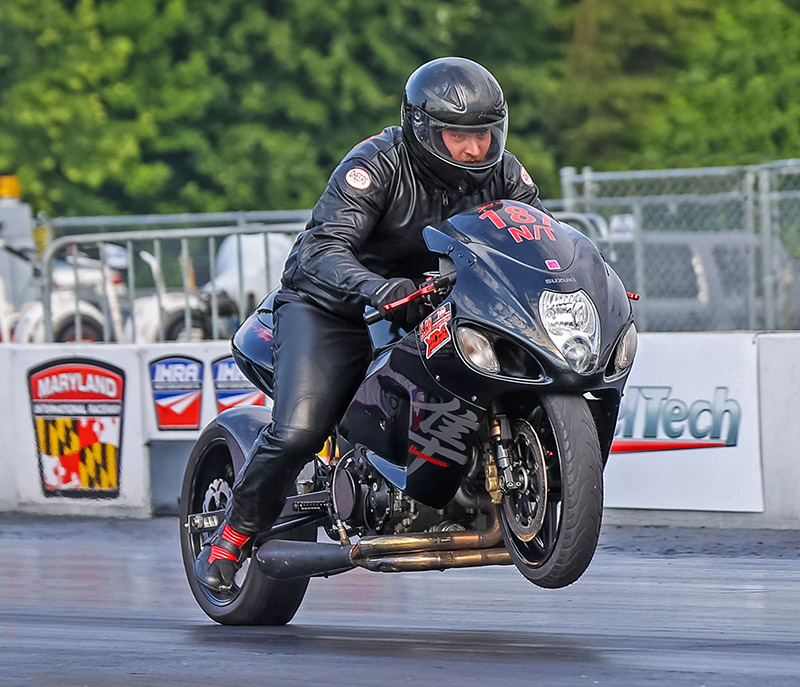 In the final, Noble cut a .022 light for the advantage to Jackson's .056. The finish line comes quick, and Jackson made a judgment error and broke out running a 5.561 while Noble ran dead on with a 5.607 for a winner circle finish.
Mickey Thompson Tires Top Sportsman
Mickey Thompson Tires Top Sportsman points leader Jeffrey Santin has made it to every final this year. And going into this event, he had a sixty-two point lead over the class. But with a class full of the quickest heavy hitters in the bracket ranks, we know that holding onto a points lead is never an easy feat.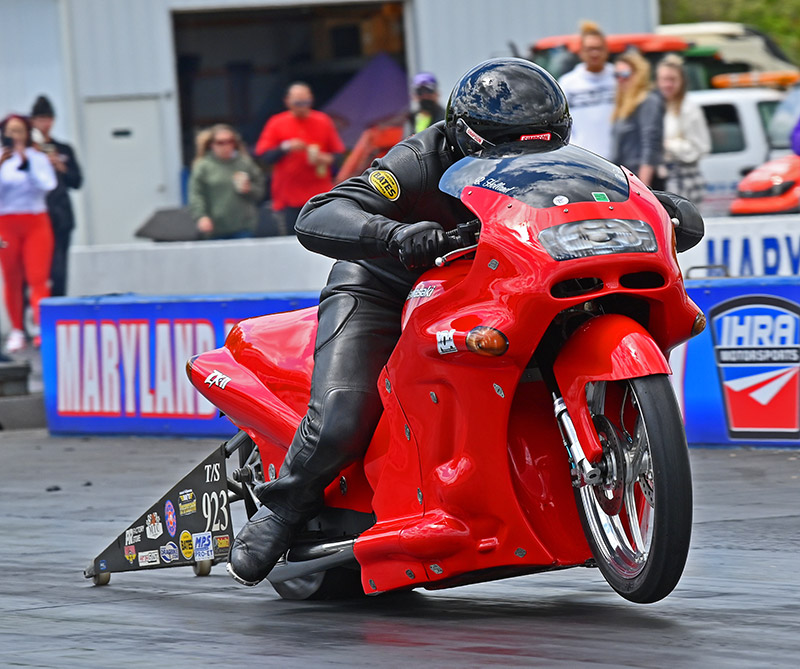 This past weekend Santin made it to the final to face #2 qualifier Bobby Holland. In the final Santin crossed that fine line of perfection when he went -.003 red to send Bobby Holland to the winner's circle. And while the gap on the points lead may have shrunk, Santin still holds the lead.
MPS Racing Pro ET
MPS Racing Pro ET featured one hundred and twenty racers, which required our final round contestants to turn on seven-win lights before their final battle. Dale Hamilton was cutting serious lights all day, and he would need that edge to face Jeffrey Santin in the final. Santin has been on fire this year, with wins at every XDA event.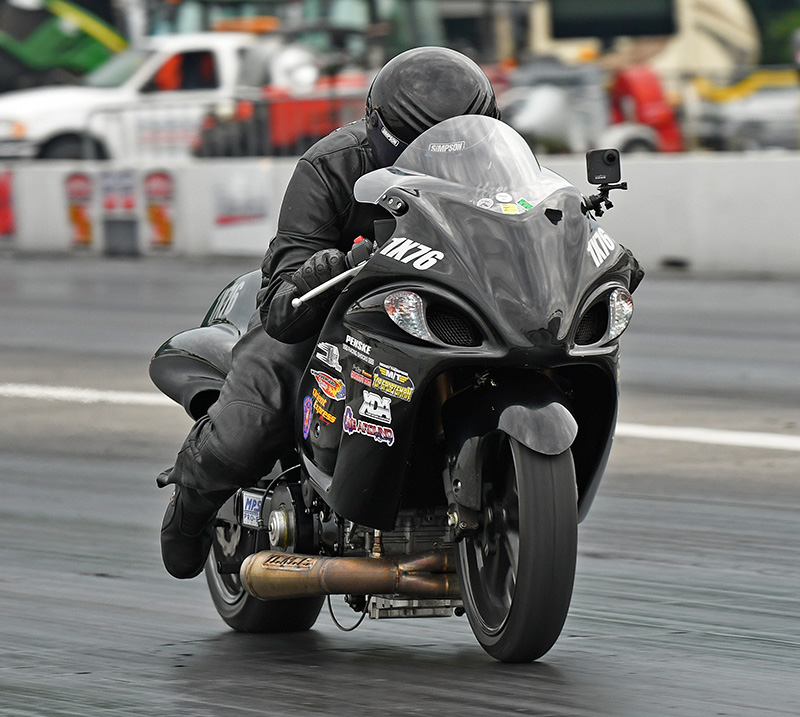 In the final, Santin dialed a 8.41 to Hamilton's 9.63. Hamilton left first with a .063 reaction, and Santin took the starting line advantage with a .039 light. Santin chased Hamilton down and they both had their eyes on each other as they hit the finish line. Santin got the win light running a 8.431 to Hamilton's 9.644 with a margin of victory of 0.016 seconds! This win makes it three
events in a row for Santin.
Brock's Performance Street ET
The Brock's Performance Street ET racers showed up ready to win rounds with a great showing of consistent runs. Floridian Robert Parker had no plans to be at this event until a last-minute schedule change allowed him to load up and make the twelve-hour trip to MDIR.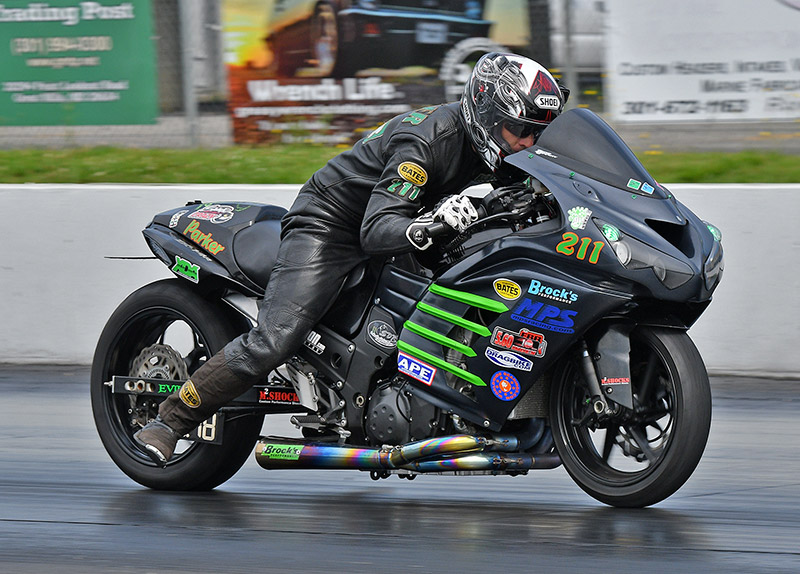 Parker won six rounds of competition to face Ronald Loftland in the final. Loftland cut a better light on Parker, but Loftland ran off his 9.45 dial with a 9.52 and could not beat Parker's dead on 8.81 run. That makes two wins for Parker this year with XDA.
VooDoo Components Bracket Bash
The VooDoo Components Bracket Bash went down on Saturday without a hitch, even with the whooping 110 entries into the class. Derrick Milbourne, who has more winner circle appearances in a year than most racers will see in a lifetime, was once again in a final ready-to-do battle.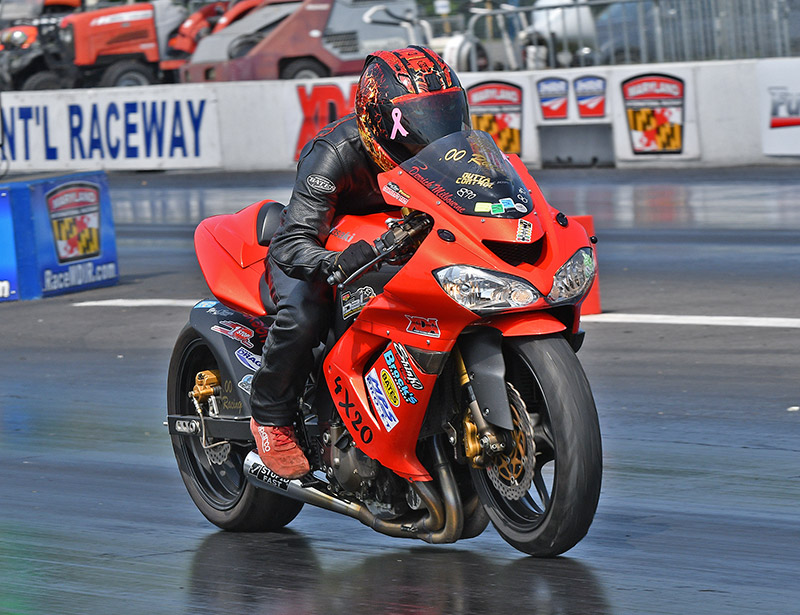 Out of Mifflinburg, PA, Jeff Stahl won seven rounds of competition and was looking for his first XDA win. Milbourne dialed a 8.95 and cut a better light on the 8.84 dialed Stahl. With an intense race to the finish line, a double break run of 8.930 and 8.816 would turn the win light on in Milbourne's lane once again.
Hard Times Parts and Service Gamblers Race
The Friday night Hard Times Parts and Service Gamblers Race featured thirty-two brackets racers looking to get an early start on pocketing some weekend cash and win lights. Heavy hitters Boo Brown and Mike Schultz made it to the end for the final tussle of the night. Schulz tapped out early with a red light giving Brown the first win of the weekend.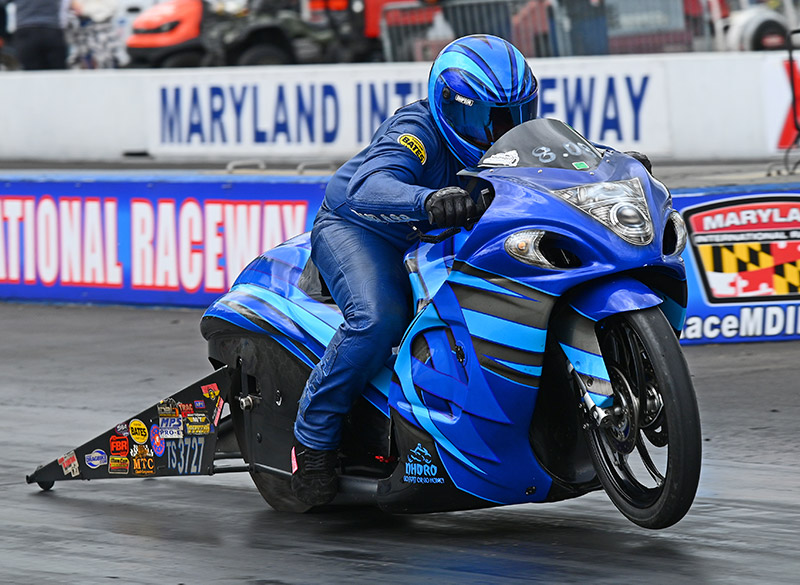 The next stop for the 2021 XDA season will be back at the Maryland International Raceway for the 21st annual WPGC Bike Fest on July 23-25. This is the biggest XDA event of the year! The event will feature a Live Band, DJs, Bikini Contest, Freestyle MX Show, Sound Competition, Custom Bike Show, Beer Garden with Bikini Bartenders, and a vendor midway full of great deals on motorcycle parts, accessories, and apparel.
There are more videos on the Cycledrag Youtube channel (please subscribe here) and the Cycledrag.com Facebook page (Please like here) and more will be coming soon. Check back daily.
To take advantage of some amazing discounts at Brock's Performance, click – http://brocksperformance.com?aff=12
USE cycledrag5 coupon code.