Join us for this tour of "Big Daddy" Don Garlits Museum of Drag Racing as we showcase why one of the most legendary Top Fuel Nitro Motorcycles of all-time, the Terminal Van Lines Drag Bike of Bo O'Brochta, Sam Wills and Mike Grey is front and center when you walk into the building.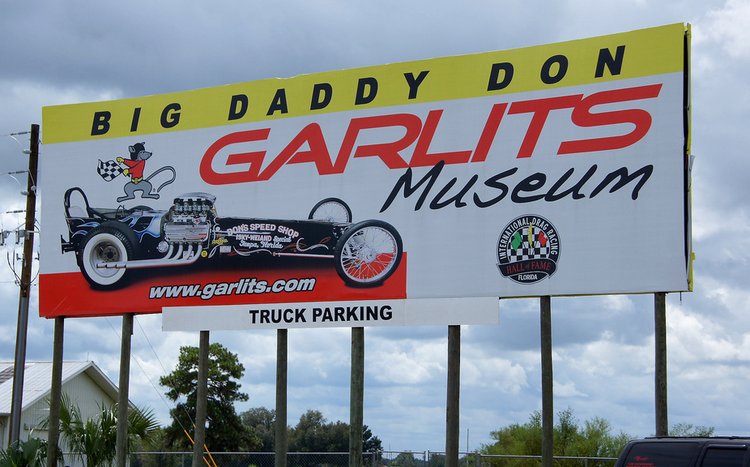 We also take a look at a world record holding 1973 Triumph Bonneville drag bike, a JJ Motors AMA and DRAGBIKE! record holding alcohol Harley Davidson, the three speed automatic turbo-charged, Hahn Racecraft Harley Davidson known as "Big Foote", the purple – pink Kawasaki KZ1000 Z1R of Vicki Farr, the first woman of professional motorcycle drag racing, the famous Top Fuel dragster "Swamp Rat 31" that flipped over August 21st 1987 in Spokane, Washington and went trough the lights with a 5.51 at 215 mph, upside down, backwards and on fire, a Honda v-twin Street Bike Don was given for winning the 1986 NHRA U.S. Nationals, Car Craft Mini Bikes including a Honda Mini Trail 50, 70 and 90, the Castrol GTX Funny Car of John Force, The Army Car of Don "The Snake" Prudhomme, Garlits' 8,000 Horsepower Top Fuel Dragster engine he used in 1983, an extensive racing diescast collection that includes NHRA Pro Stock Motorcycle great Dave Schultz and much more. If you have any stories or memories from anything we see here, please leave it in the comments below. And if you are ever traveling on I-75 through Ocala, Fla., make sure to stop in at "Big Daddy" Don Garlits Museum of Drag Racing!
There are more videos on the Cycledrag Youtube channel (please subscribe here) and the Cycledrag.com Facebook page (Please like here) and more will be coming soon. Check back daily.