Victory Motorcycles factory rider Matt Smith gave season-long points leader Eddie Krawiec his hardest challenge of the year but ultimately came up a few inches short of winning his first race at Atlanta Dragway.
Smith used a massive .023-second reaction-time advantage and led the way to every incremental timer on the racetrack except the finish line, where Krawiec was finally able to nose ahead by a miniscule .004-second.
"I guarantee you those Harley guys know what we're capable of now because Eddie saw my Victory Gunner going all the way down the track," said Smith, a two-time class champion. "I knew I cut a good light and I sensed he was next to me but back a little bit. I really thought I had the win. If the track was a few feet shorter, we'd have won.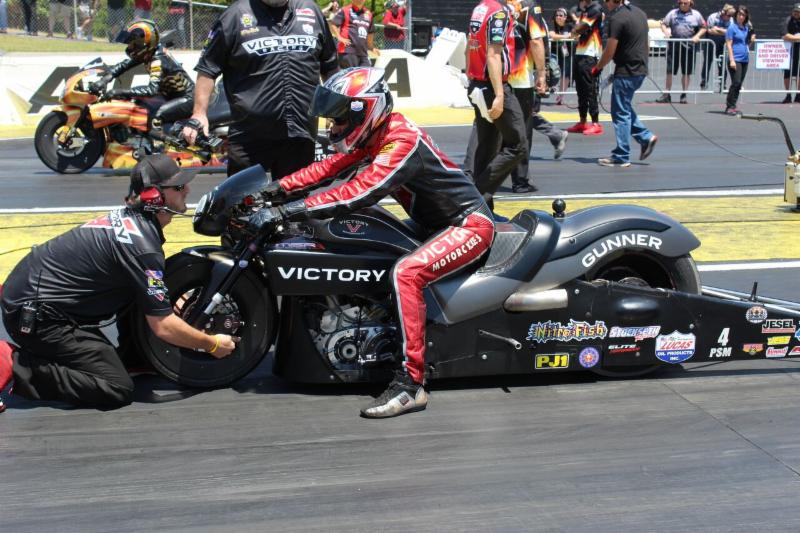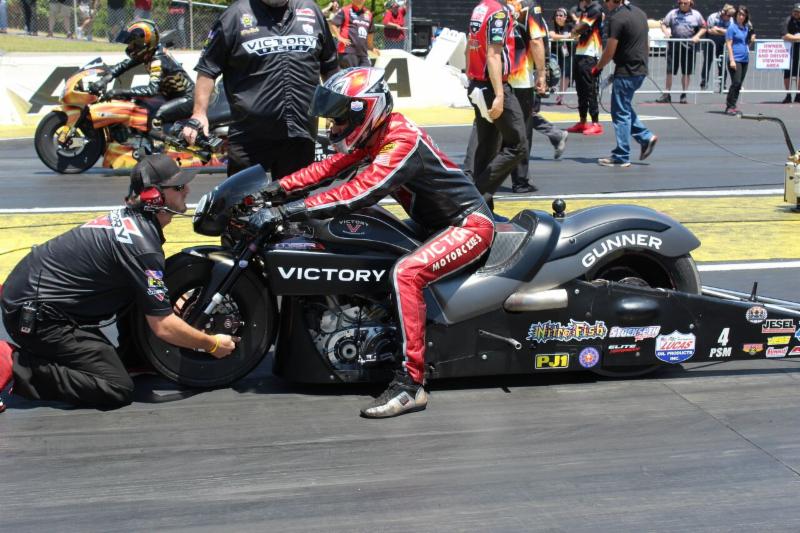 "I'm never happy when we lose but I sure am happy with the way the Gunner responded today. I finally got my brain around a tune-up that is gonna work in these hotter summer months, and that will pay dividends down the road for sure."
The final numbers in Smith's race against Krawiec showed Smith posting a 6.877-second pass at 193.05 mph to Krawiec's come-from-behind 6.850 at 194.13 mph.



"It was a frustrating weekend with Angie (Smith, wife/teammate) not qualifying and now losing to Eddie by such a close margin, but we truly are making some big gains with the horsepower and the bikes themselves," Smith said. "The long-range goals are the same — to win an NHRA championship for Victory Motorcycles — and we are way closer to that goal now.
"There's still a long season ahead, and having a few weekends off before the next Pro Stock Motorcycle race will only help us that much more. We will definitely be testing some more and I will absolutely wear out the dyno. At the same time, a part of me wishes we were racing again tomorrow."
The 47th annual NHRA Summernationals takes place June 10-12 at Old Bridge Township Raceway Park.