The Precision Service Equipment/Star Racing team made their presence known this weekend at the 36th annual Summit Racing Equipment NHRA Southern Nationals. Three-time NHRA Pro Stock Motorcycle World Champ Angelle Sampey made her way to the semifinals from the No. 1 qualifying position and her teammate Cory Reed qualified for the first race in his career.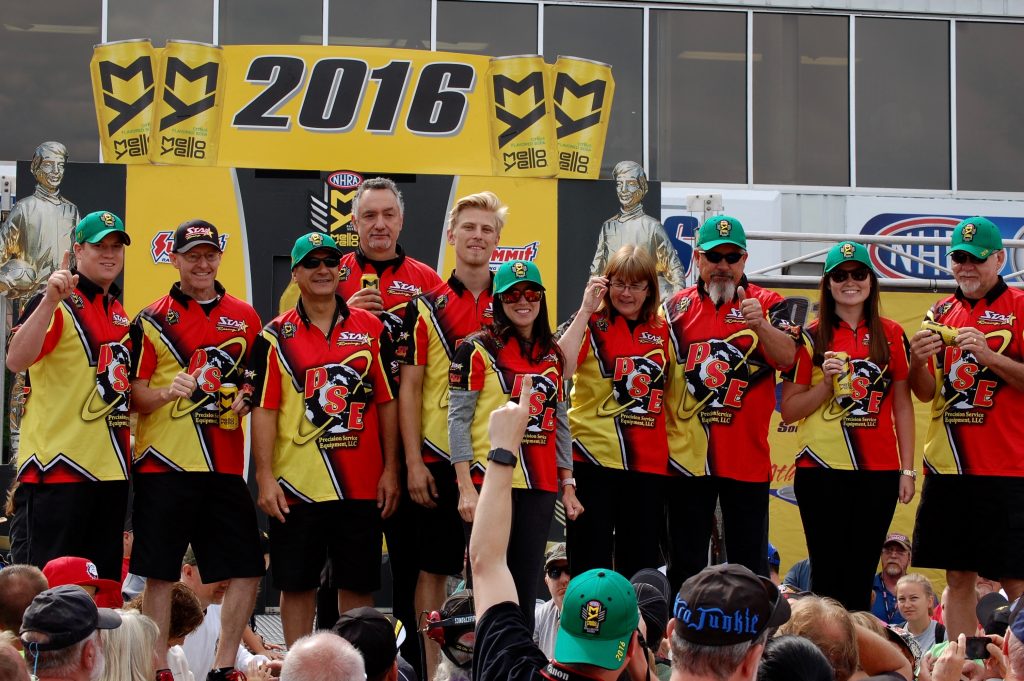 Angelle Sampey started her raceday at the Southern Nationals from the No. 1 spot. With lane choice over Steve Johnson, Sampey showed the competition exactly why she was the No. 1 seed when she clocked in with a 6.799-second pass at 195.59 mph; that stout pass turned her win light on against Johnson's 6.952, 192.11.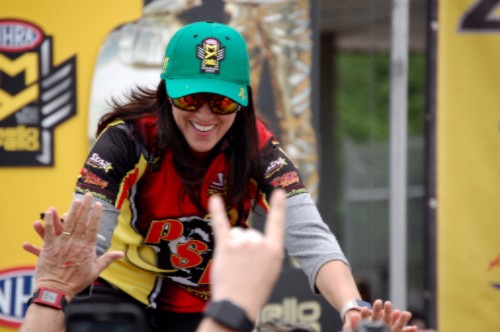 In the second round, Sampey had lane choice over Hector Arana Sr. At the finish line, Sampey's win light turned on once again with a 6.870, 195.39 against Arana's 6.941, 191.76.
The second round win gave Sampey a semifinal round matchup against Jerry Savoie. Sampey slowed to a 6.901, 193.74 and wasn't able to hold off Savoie's 6.871, 195.00, ending her hopes for a wire-to-wire win prematurely.
"I was devastated to lose in the semis," admitted Sampey. "I really thought it was my day. I hit the rev limiter in the second round and I was blessed with the win light that round and then I short shifted on one of the gears in the semis but I don't think that's what slowed it down."
The winningest female racer in the NHRA knows what it takes to win and has high expectations of herself and her team.
"I would be honestly willing to bet my life that nobody puts as much passion and emotion into this than I do," she said.
Understandably disappointed in the semifinal loss, she still sees the positive takeaways from this weekend's racing effort.
"The positive from this weekend is definitely getting that green hat," she smiled. "That was awesome and we wanted it bad. I keep reminding myself of that. Going No. 1 was our first victory and we got it."
ANGELLE SAMPEY, PSE/STAR RACING BUELL
Qualified: No. 1
ELIMINATIONS
First Round: SAMPEY (6.799-second, 195.59 mph) def. Steve Johnson (6.952, 192.11)
Second Round: SAMPEY (6.870, 195.39) def. Hector Arana Sr. (6.941, 191.76)
Semifinas: Jerry Savoie (6.871, 195.00) def. SAMPEY (6.901, 193.74)
QUALIFYING
FRIDAY: 6.943, 190.81 (Session 1); 6.865, 193.32 (Session 2)
SATURDAY: 6.881, 191.48 (Session 3); 6.876, 192.96 (Session 4)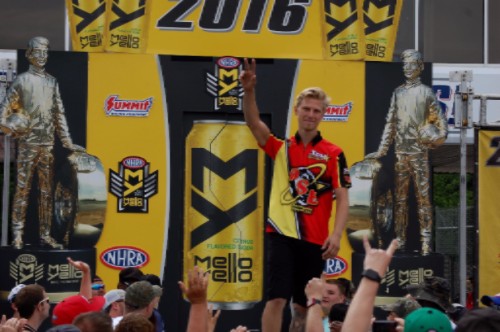 Rookie motorcycle racer Cory Reed qualified for raceday for the first time in his short career this weekend at the NHRA Southern Nationals.
Reed had a tough opponent in Chip Ellis in the first round of eliminations after he qualified in the No. 14 spot. Reed clocked in with a 8.262, 105.09 after the engine deadheaded between third and fourth gear and he was forced to abort the run giving the win to Ellis.
"This weekend was pretty good," said Reed. "Other than the transmission breaking in the first round, it was a good weekend. I think we've reached the top of the hill and we're gonna push the ball over the hill at the next race."
A first round exit for Reed was not what the PSE/Star Racing team has planned for but Reed continues to have faith in his team and his Buell.
"My driving is coming around and our bikes are coming around too," he said. "The whole team is getting a better handle on everything. I just wish we could've had this outcome at the first race in Gainesville. Regardless, we did good in qualifying but it sucks to go out first round and not have anything beyond third gear. I had a .010 light too! I had a good chance at it before it stopped shifting; Ellis and I were even until that point."
PSE/Star Racing's next event on the NHRA Mello Yello Drag Racing Series will be at the NHRA Summernationals at Old Bridge Township Raceway on June 9-12, 2016.
CORY REED, PSE/STAR RACING BUELL
Qualified: No. 14
ELIMINATIONS
First Round: Chip Ellis (6.889-second, 190.81 mph) def. REED (8.262, 105.09)
QUALIFYING
FRIDAY: 6.952, 190.38 (Session 1); 6.978, 188.44 (Session 2)
SATURDAY: 6.997, 186.74 (Session 3); 7.017, 185.72 (Session 4)