Victory Motorcycles factory rider Angie Smith strives to win every NHRA drag race she enters. That will especially be true at this weekend's 35th annual Lucas Oil NHRA Nationals at Brainerd International Raceway, which is situated less than 100 miles away from Polaris' headquarters in Medina, Minn.
Smith and her husband, two-time Pro Stock Motorcycle champion Matt Smith, are in their second season racing Victory Gunners on the NHRA tour. This weekend, 180-plus Polaris employees from offices in Medina, Roseau, Bass Creek, Osceola, and Spirit Lake will be on hand to see them perform live. Polaris is the parent company of Victory Motorcycles.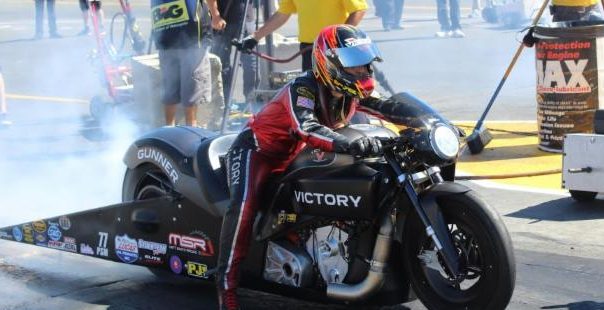 "I don't know if we've ever been more excited for a race than we are this weekend," Angie said. "Having so many people from Polaris coming to see what we do in person is so awesome. I can't wait to show all of them our race bikes, our transporter, and the racing on the track. I know we're going to win over a bunch of new fans this weekend.
"Everyone at Victory and Polaris already supports us so much, but no matter how many times you tell someone about drag racing or even if they watch it on FOX, there's simply no substitute for experiencing it in person."
The Smiths prepped several of this weekend's scheduled guests during the recent Sturgis Bike Rally in South Dakota, where Victory Motorcycles and Indian Motorcycles (another Polaris brand) had huge displays, gatherings, and events to showcase their product lines.
"It was a great week over there and a lot of fun to be around so many hard-core motorcycle people," Angie said. "When you go someplace where half a million people all have something in common, it's just a blast.
"Just like we do at the drag races, Sturgis gave us a great chance to show people what Victory has to offer. Victory Motorcycles are a lot like drag racing: Once you try them, you are immediately sold.
"The last thing we want to do is make sure our bikes are ready to race because nothing compares to doing well in front of your sponsors. We'll be as prepared as possible."
Pro Stock qualifying sessions are scheduled for 3 and 5:30 p.m., Friday, and 1 and 3:30 p.m., Saturday. Eliminations start at noon, Sunday. FOX Sports 1 will air qualifying action from 9 to 11 p.m., Saturday, and eliminations live from 1 to 4 p.m., Sunday. (All times listed in CT).