For three years in a row, David Vantine and his screaming yellow Vantine Nitrosports bike have laid down three 5-second passes in the heat at Maryland International Raceway during IDBL's WPGC Bike Fest. "Apparently, the yellow bike likes MDIR," said Vantine.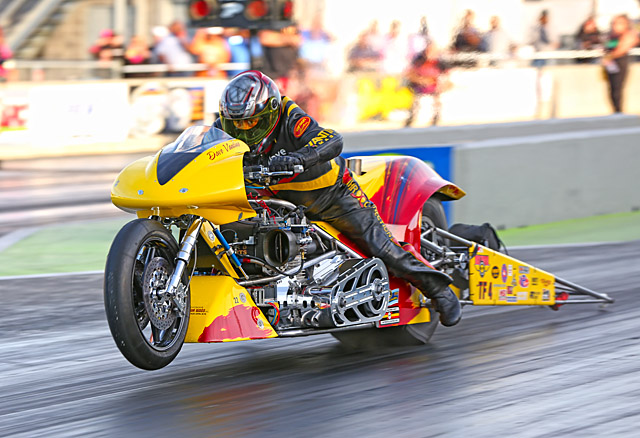 This year's edition of the long-running Bike Fest featured a Top Fuel Shootout dedicated to the late legend Elmer Trett—the acknowledged father of today's supercharged, nitro-burning, inline 4-cylinder motorcycles.
If Trett is the father, than Larry "Spiderman" McBride is the metaphorical son—claiming motorcycle drag racing's first 5-second pass in 1999, running uncountable 5s since, and winning multiple national championships.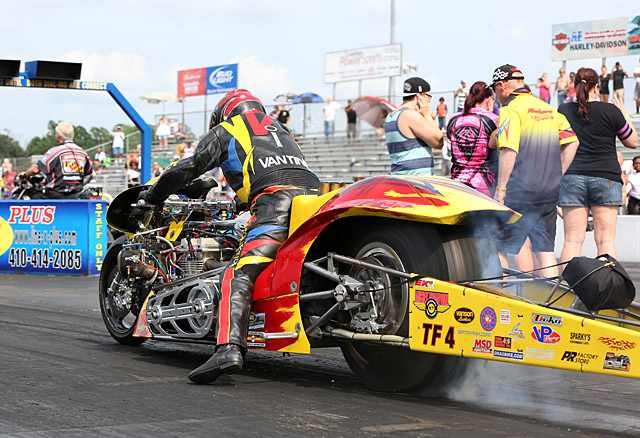 But lately—and with McBride's help—Vantine's had McBride's number, especially this year with Larry and his brother Steve breaking in a brand new motorcycle. While McBride struggled with trick electronics on his Trim-Tex/Pingel bike, Vantine swept the wins and set a new track speed record 241.41 mph.
"Hats off to the McBride bothers," said Vantine. "Steve and Larry worked from 7:00 a.m. to 11:00 p. m. on my two motors that we hurt in Memphis so that we could be here this weekend. They never even took their bike off the truck."
"Special thanks to Larry and Steve McBride of Cycle Specialist," said Vantine. "And the team—Greg Pollard, Joe Taranto, Joe Hahn, Jim Althaus, Peter Vantine, Genie Muldoon, Steve Crouse—and the awesome employees of Vantine Imaging (http://www.vantineimaging.com/home.html), whose hard work allows me to come here and do this."
Vantine Nitrosports races next September 17-18 with the Manufacturers Cup at Rockingham Dragway.