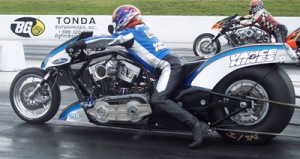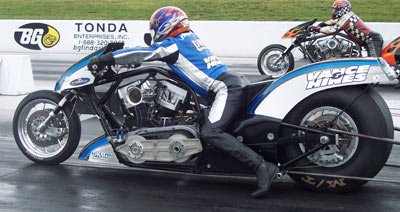 Rider of the Vance and Hines/Drag Specialties Nitro Harley Doug Vancil came one step closer to earning a career first AHDRA championship in three years with a win at round No. 2 of the series, The Arizona Bikeweek Nationals the first weekend of April.
Doug Vancil is undoubtedly one of the most highly decorated dragbike racers today.  The steadfast Nitro Harley pilot has held numerous performance records and earned a pair of championships in the defunct-IHRA Top Fuel Harley class.
Now there's just one thing on his mind – winning another AHDRA championship.
Vancil came exceptionally close to accomplishing the coveted feat in 2005, when he finished second, just 38 points behind season champion Mike Romine.  In 2006 Vancil again flirted with the thought of garnering the title by winning two races and assembling a strong late-season charge.  However mid-season mechanical woes that caused the former champ a rare DNQ in Seattle brought about a No. 3 finish in the points behind No. 2 Jay Turner and repeat champion Romine.
Vancil recognizes the ultra-competitive climate in the category and candidly expressed what it will take to get over the hump.
"We only won two races last year and it's going to take a lot more than that to get the job done out here," Vancil said.  "It all comes down to consistency."
For 2007, with the help of Vance and Hines, Vancil developed a new beefier 196 cubic inch motor.  The power plant is 37 cubes larger than the 159 cubic inch motor he started 2006 with.
"Byron Hines helped me iron out a few of the problems we were having with the extra displacement." Vancil said. "I'm excited about its potential."
After being defeated in the second round of the 2007 AHDRA season opener in early March, Vancil climbed back into championship contention with a victory at the Arizona Bikeweek Nationals April 1st. Surprisingly Vancil's new stronger engine wasn't a major factor in the win.
"We just had to detune the heck out of the motor because the track was marginal and we were hazing the tire at the eighth mile," Vancil said.  "We won but it wasn't pretty. The track was terrible.  It was like ice. We didn't run really well, but we ran well enough to get the win."
Vancil qualified in the No. 3 spot with a 6.47 at 216 mph.  His first qualifying run proved costly for the former champ as he got out of shape, hit a timing block, and broke his faring.
"I smoked the tire and rolled through the clutch," Vancil said.
Vancil's closest race of the day came in round No. 2 when he got by Joe Timmons with an on-and-off the throttle run of 6.93 to Timmons' 7.01.
"It hazed the tire at the eighth mile and I had to get out of it," Vancil said.  "Then I saw Joe pass me so I snapped it again and barely got by.  It was a good race."
Vancil found traction and was finally able to put his beefier engine to use in the semis as he scored a win over Turner with a 6.55 to Turner's 6.67.
"He put a good light me on like he usually does," Vancil said of Turner's .062  "We were pretty close at the eighth mile mark and then the big motor just pulled away."
In the final both Vancil and Larry "Drums" Brancaccio fishtailed through what seemed to be a slick launch pad.  Vancil fell behind but was granted the win when Drums crossed the centerline.
"Right before the final they drug the track and then they sprayed it," Vancil said.  "It seemed like it was ok for some of the other classes, but it just wasn't setup to handle Top Fuel. Both Drums and I got out of shaped big time.  I shut mine off.  He stayed in it and ended up taking out the cones."
Vancil says his quick decision to let out of the throttle early was a blessing in disguise and helped him avoid a dangerous situation.
"I figured I wasn't going anywhere so I lifted and it was a good thing because he came over into my lane and my bike kind of pulls to the left a little," Vancil said.
Vancil is hoping Phoenix will represent just one of his many victories in 2007.  But for now the aspiring two-time AHDRA champion is taking things the proverbial "one race at a time."
"I'm excited for St. Louis.  We always seem to run well there," Vancil said.  "We are going to go through the engine, tranny, rear wheel, pretty much the entire bike before the race. We'll be ready."