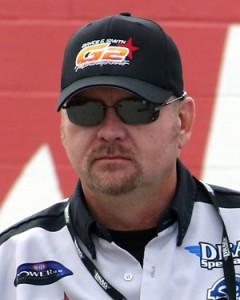 The NHRA Pro Stock Motorcycle class has never been more competitive and the off-seasons have never been this laden with news.
Since the end of the 2007 NHRA Pro Stock Motorcycle season a great deal has occurred. Teams have released riders, hired new ones,  and along the way past champions have been reunited.  In this article, for answers, we turn to a man who has been involved in nearly every major off-season announcement, a man who always seems to be in the know when it comes to NHRA dragbike racing, George Bryce.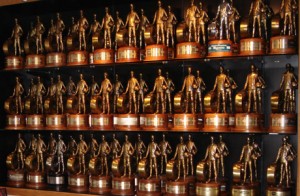 As co-owner of Star Racing and G-Squared Motorsports Bryce has been involved in Pro Stock motorcycle racing since the inception of the class and has amassed six-national championships and a staggering 73 NHRA national event victories.
After a look at the 2007 NHRA final point standings it's fair to conclude Bryce and his teams had a stellar year, with G2's primary team rider Chip Ellis finishing No. 3 on the Drag Specialties/S&S Buell and first-year rider Peggy Llewellyn, who Bryce served as co-crew chief for, finishing No. 4.
However shortly after the season major changes would be made to both teams.
"Last year it seemed like I stood between two trailers all the time. From my perspective it was very rewarding for me to see our riders and my friends accomplish so much, and I enjoyed seeing Matt Smith win the championship on a G2 bike," Bryce said. "However George Smith (Drag Specialties/S&S Buell crew-chief) has helped train me to look at the big picture from a business standpoint."
In mid-November Chip Ellis, who was a mere final round Pomona victory over Matt Smith away from winning his first championship, was notified he would no longer be the rider of the Drag Specialties/S&S Buell.  It was a move that seemed puzzling to many, but ultimately speaks to the competitive nature of the category.
"It's easy to argue that letting go of Chip was a  dumb decision because of everything he can do and all that he has accomplished. It's a heck of a loss but sometimes you just need a change of scenery. As a team we expect to do even better," said Bryce, who's primary team went winless in 2007 for the first time in his career. "It's all business."
However Ellis leaves behind a list of lofty accomplishments.  Ellis won the Full Throttle Award, based on qualifying, two years in a row, and amassed five national event wins in a little over three seasons of racing.  He made it to the finals at arguably the most pressure-packed races of 2007, the final two.  Bryce says those accomplishments combined with Ellis' off-track abilities will make him difficult to replace.
"Chip is great. He can build them, he can ride them, and he can drive the 18-wheeler to the track. He's turn key," Bryce said.  "He's one of the most talented people that we have ever ran into. It was a tough decision but it's nothing more than a scenery change for all of us to do better. Sometimes you must change to move forward."
Drag Specialties is expected to return as the team's primary sponsor in 2008. Bryce refused to reveal who his new rider would be.
"They would hang me up by toenails if I let all the hopeful stuff out of the bag before it's signed off. As of now I can tell you that it will again be a George Smith and Ken Johnson run team," Bryce said.  "We have several potential riders in the works.  We are not too far away from making an announcement."
However there is one individual that can firmly be ruled out of the job.  Cycledrag.com asked Bryce, a U.S. Nationals winner in his own right, if he'd ever consider racing again.
"I might ride one of the tow bikes," scoffed Bryce. "I'm too big."
As for Ellis, he landed a gig working with Schumacher Racing, where Bryce expects his role to be pretty similar to that of his function at G2.  Ellis will ride and work on the machinery.
Ellis, who was one of the first riders to race the S&S powered Buell, could again find himself right at the forefront of technology as Schumacher Racing is rumored to have a contract to develop the Suzuki Hayabusa motor for the NHRA PSM series.
Then came the next big headline. In early December it was announced that Peggy Llewellyn had been released from her contract on the Karl Klement Rush Racing Buell.  Again, it was a move many considered shocking, given the rookie rider's successful late-season run for the championship.
"That was a call made by Karl Klement," Bryce said.  "As soon as the Army team announced that they had changed their plans and were going in a different marketing direction (pulling its sponsorship from the Angelle Sampey and Antron Brown team) Klement and his sponsors became very interested. They decided it was time to go in a new direction."
Sampey, a three-time class champion and arguably the most marketable rider in the sport, will take over for Llewellyn on Klement's team in 2008.  Bryce said Sampey never campaigned for Llewellyn's job.
"It wasn't like Angelle tried to come over and get that job," Bryce said. "Angelle and I always talk because we have remained close personal friends. Peggy's 2008 contract hadn't been completed and The Rush Racing guys and Karl couldn't resist putting Angelle on the bike."
Bryce enjoyed his experience with Llewellyn and believes she has the talent to again race in the class.
"It was an absolute pleasure racing with Peggy. She's a sweetheart and the fans love her.  I'm not sure what's going to happen, I'm not privy any news on her but I wish her the best," Bryce said.  "I think that we started off pretty slow and it was a big change for her at first.  Then by the end of the season she was qualifying up front and was in the Countdown. I'd say she's ready to race at this level."
Bryce is in negotiations with Karl Klement and is expected to again help run the Rush Racing team. It appears the category is on the brink of an Angelle-Bryce reunion in 2008.
"The idea is for me to act as a crew chief and her coach," Bryce said.  "I'm very excited about having the opportunity to work with her again.  We've been having a big time on the phone."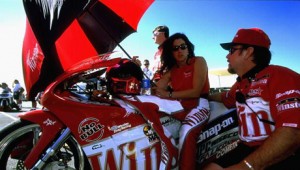 Bryce launched Sampey's career by putting her on the No. 2 Star bike at the Denver event in July of 1996 where she served as a teammate to the late-great, three-time class champion John Myers.
Myers departed from the team shortly thereafter, just prior to his untimely death.  Bryce and Sampey went on to win three national championships and missed an unprecedented four-peat, when Sampey lost the 1998 title by just 8 points. Many, including Bryce, believe that this run of success by a female, changed the face of dragbike racing.
Bryce and Sampey also established one of the most lucrative corporate deals in the history of the sport when the duo acquired the backing of Winston in the late-90s.
"In reality Angelle did the same thing for the bikes that Shirley Muldowney did for car racing. She's little, she's dainty, she's pretty and she made it look easy.  That alone changed our class.  Look at how many women are involved now," Bryce said. "Our Pro Stock school used to have zero women in it and now almost every class has a few girls."
However the good times for Bryce and Sampey wouldn't last forever. Before the start of the 2003 season, years after Winston pulled out of the NHRA entirely, Bryce and Sampey split-up, after Bryce determined that running a team without a major sponsor made little sense from a business standpoint.
"What do we have left to prove?" Bryce said soon after the breakup.
Based on internet posts by Sampey on her website in 2003 it was clear she deeply resented Bryce's decision, especially with Bryce turning Sampey's former operation over to Fred Collis, who secured what turned-out to be flimsy funding by a group of investors in Texas.
Despite the rough period in his relationship with Sampey, Bryce says if he could go back he wouldn't change a thing.
"We both needed a change after seven years," Bryce said. "I felt like we split on good terms. What made it tough is that we went from a lot of money to no money."
Sampey wasn't without a ride for very long.  Shortly after the Star breakup, Sampey joined her cousin Antron Brown's team. Meanwhile Bryce was hired as a crew chief by double-amputee dragbike racer Reggie Showers.
Both found tremendous success.  Sampey and Brown were able to attract the most notable sponsor in the history of the class, The U.S. Army, while Bryce and Showers went on to win the 2003 U.S. Nationals, a feat that even captured the attention of USA Today.
"If I could go back I wouldn't change a thing and I don't think she would either," Bryce said. "Reggie ended up being a great asset for us and he was able to complete his dreams and goals.  Had Angelle not went to race with Antron I don't think there would have been an Army-sponsored Pro Stock Bike team.  The past went just the way it should have."
Bryce and Sampey's relationship has no doubt evolved over the years.
"We both grew up and we appreciate each others ability way more than we did then," Bryce said. "We have had a competitive relationship from the outset but we also have a lot of mutual respect for one another."
Bryce says this next run with Sampey will be a lot different from the first one.
"When she was with us back in the day she never wanted anything to be about the fact that she was a woman.  She would try to shy away from all of that if she was asked a question about being a female in a male sport," Bryce said.  "Now Angelle finally gets the chance to be a girl. She wants loud blingy leathers.  She wants to do some modeling. She says she's in really great shape and has never been better physically. She says she would like to take advantage of that. Another reason she hasn't been able to do that is because of the sponsors she has had. For instance, when you race for the U.S. Army it can't be about you, it has to be about the Armed Forces and all that they do for this country."
Bryce is also excited about continuing the S&S V-Twin engine program, an initiative that has revolutionized the once Suzuki-dominated class. George's wife Jackie provides trackside support for all of the G2 customers. With the increased popularity of the configuration, Bryce admits keeping up can be a challenge.
"We are building chassis numbers 18, 19 and 20, and have engine numbers 49 and 50 on order from S&S," Bryce said. "Our goal is to win some rounds and continue to develop this product for our customers. So many people now rely on us we have to do a good job making sure everybody gets a fair shake."
That doesn't mean Bryce has lost his love for the inline-four cylinder Suzuki GS motor that won him six championships.
"We have some pieces and parts we kept. We've stayed up with the technology.  We haven't ran it as hard as we would have liked but we are on top of it just in case the rules change," Bryce said. "That's what's neat about Karl's team. He has both."
Although Klement has both a Suzuki and a Buell, the team determined with Llewellyn in 2007 the S&S V-Twin gave them a better chance for success.  Bryce expects Sampey, who has exclusively raced Suzukis since her debut, to have no problem making the transition to the Buell.
"I think in a couple laps she'll be ready to go," Bryce said.  "It would really surprise me if she had trouble."
Another big announcement came in early January when defending class champion Matt Smith, a rider for the G2 team in 2006, announced that he had lost his sponsorship with Torco and was in need of support to make all the races in 2008.
"Matt called us up and told us about his situation," Bryce said. "We are pretty much set with our program now and hope Matt finds something for his team."
So with so many major announcements made over the off season who has the edge in 2008?
"I think the Vance and Hines Racing/Screaming Eagle/Motor Company team has plenty of power in the bank. I think they were really careful not to flex their muscles too much in the beginning of last year so they would not be penalized over the off season.  Sometimes it just seems they have the power to step up in the worst conditions," Bryce said. "I think at least one rule change will come at the middle of the season as the NHRA tries to maintain parity. It really depends on how fast everyone goes. In a perfect world it would be neat to have everyone stay at 620-pounds."
Bryce's major gripe in the category is that he believes not enough people are working on developing engines – something Bryce see's as a critical part of the class moving forward.
"I don't see anyone putting an effort into an engine program besides, G2, Vance and  Hines, Steve Tartaglia, and Rob Muzzy," Bryce said.  "That needs to change."
Other than the lack of engine builders, Bryce couldn't be happier with how far the class has come over the years.  Along with Steve Johnson and Byron Hines,  Bryce is one of the few individuals left in the class that has been there since the beginning.
In 2008 the PSM category will compete at an unprecedented total of 17 events, up from 16 in 2007.
"In my perspective the PSM class becomes more exciting and more corporate each year."
What's the biggest difference from when the class started to where it is today?
"The biggest change for sure is that in 1985 I sat in the lanes under the hot sun on my bike all day and never made one run. The staging director would walk toward us and we would suit up. He would radio up to the tower and then go pull out the Stockers instead.  Then hours later he would come over and look at us again.  Everyone in the class would suit up and he would radio up to the tower and then pull out the Super Stockers," Bryce said.  "The people that are in our class now have no reason to complain about anything. They have no clue on how far we have come as a class.  Think about it, whenever a star like John Force, Gary Scelzi, or Warren Johnson makes a run we are right there with them. They get no more runs than we do. That tells me we've come a long way."
Bryce also plans to take part in some of the all-motorcycle drag racing series, including SEMDRA.
"We have four SEMDRA races at Valdosta and everyone we have talked to is really excited about racing there for the 2008 season. That's our home track and that's where we want our new drivers to make their test runs" Bryce said. "We will make at least three AHDRA races, probably Gainesville, Atlanta, and Rockingham.  We are going to stay involved in the AMA Series as well because our company has two divisions, metric and V-Twin, and we want to grow them both."