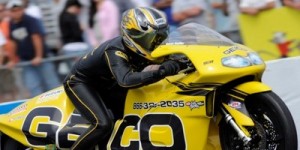 For GEICO Suzuki rider Karen Stoffer, the rain-delayed 28th annual Uni-Select Auto Plus NHRA Nationals at Maple Grove Raceway was a case of good news, bad news.
Stoffer won her first-round Pro Stock Motorcycle matchup against Michael Ray on Monday, but suffered a broken transmission. Then, she posted a stellar .004-second reaction time in the second round, but lost to the powerful Harley-Davison of Eddie Krawiec.
"I'm bummed about the finish because second round seem to be the best we can do unless we get really lucky," Stoffer said, "but on the same note, we went out with a broken bike and came back and the motor was still together. That was good news."
Stoffer got a measure of revenge on Ray, who had beaten her in the final round in Dallas. Ray left .003 seconds too soon and drew a red light, which gave Stoffer the win. That was fortunate for her, since she slowed to a pass of 21.988 seconds at 99.31 mph with the transmission issues.
That put her up against points leader Krawiec, and Stoffer had a huge .062-second lead off the starting line. But Krawiec sped down the quarter-mile with a 6.777-second pass at 198.15 mph to pass Stoffer's run of 6.934 seconds at 192.99 mph.
"We had our own challenges going into that round," Stoffer said. "We actually broke the transmission in the first round. We were the first pair out, the track was cool and we didn't do a long enough burnout to get the tire as hot as it should be. We did a longer one, but not long enough.
"The transmission would go forward but not backward. We were going on a wing and a prayer against Eddie, and you can't do that against anybody. We put up a good light, but as soon as we started plugging the gears it just spun the tires."
Stoffer said her GEICO crew, led by crew chief Gary Stoffer, would have preferred to change engines – which also would've included the transmission – before the second round, but time wouldn't allow it. NHRA was running tighter time constraints between rounds because of looming weather in the area.
"In a normal condition, we could have swapped motors, but we were running under such time constraints," Stoffer said. "It was a hurry-up day today. There's wasn't even 45 minutes to in between rounds. If we had been able to swap, we still wouldn't have known what that motor would have wanted.
"But if you look around, it was a crazy day out there with national records falling on one side and good teams spinning the tires on the other. We had races won in 23 seconds today. It was crazy and that's what those conditions do."
Stoffer and her GEICO crew faced chilly conditions Monday, as temperatures barely reached 50 degrees. Still, Stoffer was able to reach the second round for the 12th time in 14 races this season, and she maintained fifth place in the points standings with two races remaining in the Countdown to the Championship.
"We have never been in these kinds of conditions before," Stoffer said. "There were a lot of variables to have to contend with. We were still able to sustain the position. With the way things played out, we were able to sustain that fifth place position. We'll have to keep doing that the next two races.
Stoffer went on to extend special thanks to all   of the 2012 sponsors and supporters.
Geico Powersports 1-800-442-9253, Suzuki Extended Protetion, Bates Leathers, KYMCOUSA, NGK, Airtech, Red Line Oil, American Racing Products, Mechanix Wear Gloves, and TKO Graphics.