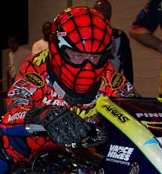 Top Fuel dragbike legend Larry "Spiderman" McBride has yet to taste his first defeat of the 2010 season. The 10-time national champion collected his fourth victory of the year at the sweltering hot AMA Dragbike Portable Shade Nationals from Montgomery, Ala., June 12-13.
The victory proved to be bittersweet for McBride after he was awarded a bye run in the final due to his friendly-rival, Chris Hand's absence from the track on Sunday. Hand was at the hospital caring for his wife, Sharon, who broke her hip earlier that morning at a nearby grocery store.
"She broke the ball off of her femur. The good news is the surgery went well and they had her up and walking in a couple of days," McBride said. "I really wish Chris and Sharon could have been with us at the track on Sunday and not at the hospital."
Prior to the event, the decision was made to contest Top Fuel on the eighth-mile, due to a bumpy racing surface and outdated, steel Armco guardrails in the shutdown area. Track conditions were made worse by temperatures soaring over 100 degrees.
"The starting line wasn't bad, but after that there just wasn't any traction," said McBride, who spun the tire hard on his pole-sitting 4.31, 182 mph qualifying run. "It was very hot and humid. There were 132 grains of water in the air."
McBride won the event with a final round elapsed-time of 4.34 at 182 mph.
"It wasn't the greatest weekend, but a win is a win," McBride said. "I'll take it."
The team had tuning data on Montgomery Motorsports Park from McBride's last outing there in 2003, but it was of little help to crew chief Steve McBride due to this year's extreme heat."At one point the track temperature was 160 degrees," Steve McBride said. "I was having trouble getting the clutch set right. We couldn't get enough load. A nitro motor needs a lot of load to get moving."
Even before battling incredibly challenging track conditions, McBride's struggle began before he was able to exit his home state of Virginia. At 35 miles into McBride's 738 mile trip the alternator went bad on his T-600 Kenworth tractor.
"Yeah it wasn't the best way to start out the weekend, that's for sure," laughed McBride. "We were able to change it in a Hardee's parking lot and get back on the road."
Nonetheless the veteran racer remains optimistic and is looking forward to the rest of the 2010 campaign.
"Sometimes in racing you have tough weekends like this that really test you as a team. Fortunately for me I have the greatest crew in the world," McBride said. "It's been a very challenging time with the rough economy. I can't express how much I appreciate all of my sponsors staying with me. They are the best."
Next up for McBride is the Virginia Mid Summer Bike Bash at Virginia Motorsports Park in Petersburg, Va. on July 10th, followed by the AMA Dragbike Pingel Thunder Nationals from Indianapolis Raceway Park, July 31-August1.
The team thanked; Pingel Enterprise, Drag Specialties-Parts Unlimited, Red Line Synthetic Oil Corporation, K&N Air Filters and Web-Cam as well as his other sponsors.
Trim-Tex Drywall Products, Vance & Hines Motorsports, PR Factory Store, Muzzys Performance, Ferrea Valves, Kibblewhite, Precision Machine, World Wide Bearings, Vanson Leathers, Performance Machine, Belt Drives Ltd, Street & Competition, Simpson Race Products, Nitrous Express, APE, EK Chain, Arias Pistons, R/D Spring Corp, Autolite, MSD, Protect ALL, Whipple Industries, Cometic Gaskets, B&J Transmission, Carolina Cycle, L.A. Sleeve, PJ1, Mickey Thompson Tires, Valco, Goodridge, Carlisle Belts and Gates Belts.