Following the huge disappointment of the rained out Memphis TN event the Gulf Oil Drag Racing team made the
long trip to the inaugural Galot Motorsports Park event in North Carolina with hopes for better luck than the season
had provided to date.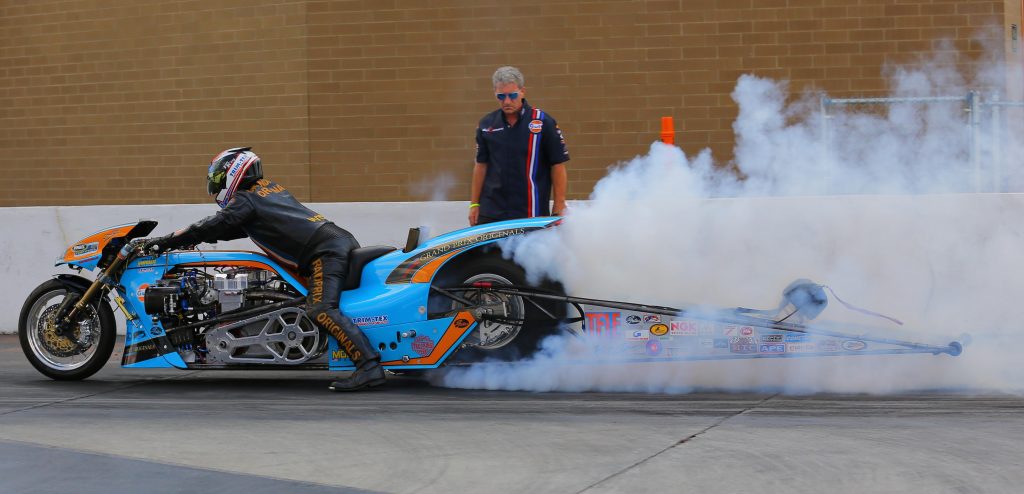 The venue was not only new to the US Championship calendar, but was unique in that it was
an 1/8th mile track rather than the typical 1/4 mile the team (and their class peers) were used to.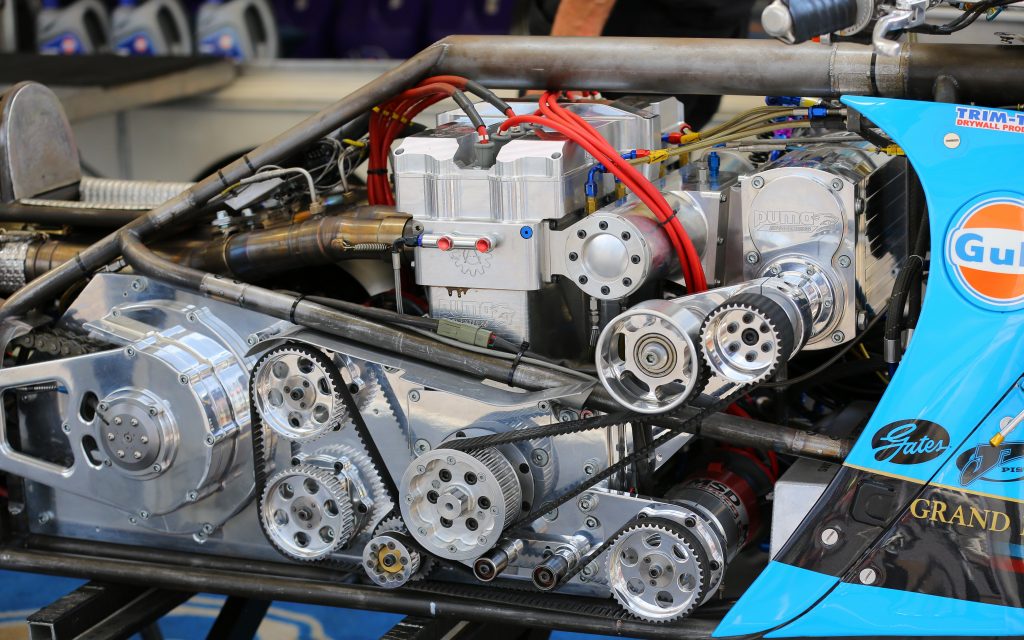 However, despite the impressive new facility and accommodating track staff the hot and steamy weather conditions
affected the ability of the track surface to cope with the 1500HP monsters in the class, and as a new venue the
teams struggled to find a base setting to exploit their full potential.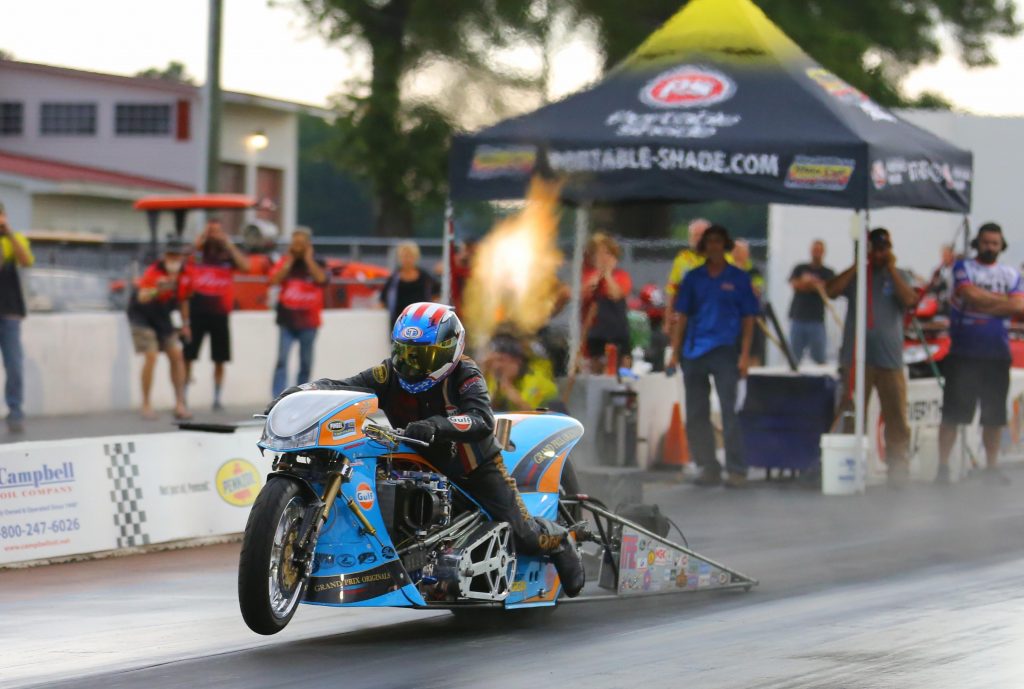 The first pair saw Ian King against Mitch Brown piloting the Denis Bradley Top Fuel motorcycle. King was first away
with a .146 reaction time to the tree and Mitch responded with a .223 to put him behind the curve out of the gate.
At the finish line King had extended his advantage over Brown with a 4.15secs to 4.50 for Brown to take the win.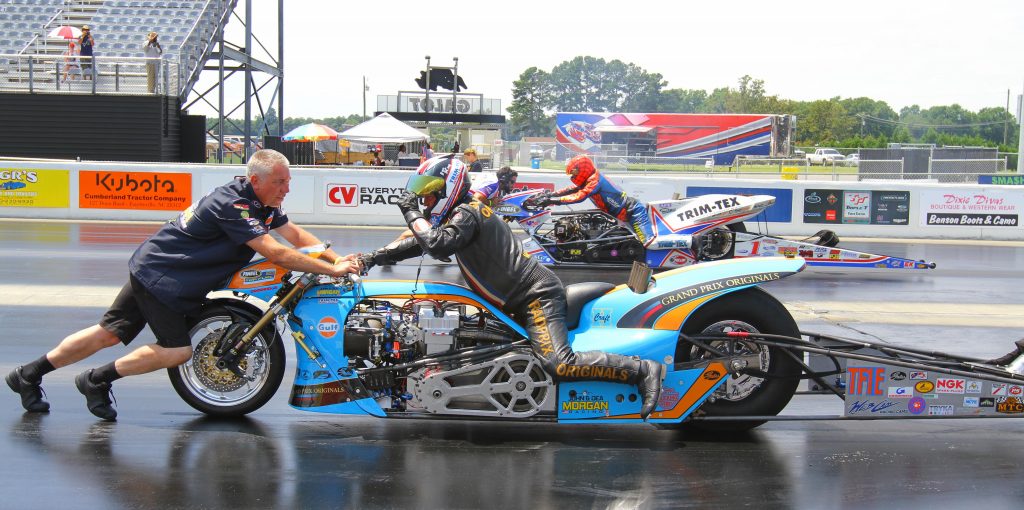 On the other side of the ladder US Champion Larry McBride had earned a bye-run and it was fortunate as he lit the
tyre on the launch and had to get out of the throttle right away.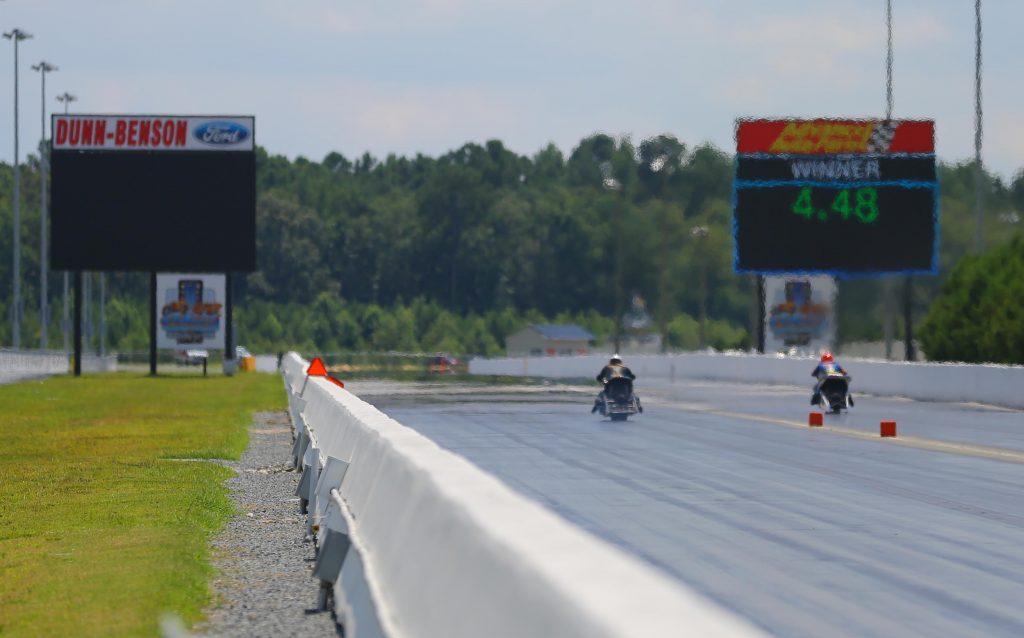 King had lane choice for the semi finals against McBride and a great drag race ensued with King losing traction
immediately at the hit, and then chasing down McBride who also suffered loss of traction further down track.
McBride's momentum at the later traction loss prevailed and he just pipped King at the stripe first with a thrilling
and "oh so close" 4.48 to King's 4.50.
The team move on to the next round at Rockingham Dragway, again in North Carolina with hope again for better
weather conditions and a track on which they can exploit their full potential.
Pictures courtesy of Kenneth Charlton.
MANUFACTURERS CUP 2017
1. Spring Cup – Valdosta, Georgia, April 7th-9 th
2. Memphis Internationals – Memphis, Tennessee – June 3rd-4th
3. MTC Nationals – Galot Motorsports Park, North Carolina – July 15th-16th
4. Rock – Rockingham Dragway, North Carolina – September 23rd-24th
5. World Finals – Valdosta, Georgia, November 17th-19 th
For more information on the team:
Website: https://www.gulfoildragracing.com
Facebook: https://www.facebook.com/ian.king.73113
YouTube: https://www.youtube.com/kingracingpuma
Email: admin@kingracing.com
Twitter: @kingracing
For more information on Gulf Oil International go to www.gulfoilltd.com
The Gulf Oil Dragracing team uses and endorses exclusively Gulf Oil greases and lubricants in their history making machine.
The team is extremely proud to be supported by many leaders in their chosen markets in their participation in the 2017 USA
National Championship: –
APE – The world's most innovative manufacturer of aftermarket parts for race bikes
BARNSDALE LEISURE – The UK's Premier Knaus Caravan dealer
BELL HELMETS (UK) – The most iconic name in helmets – since 1954
COMETIC GASKETS – The Premier Manufacturer of racing gaskets
GATES – The world's most trusted name in drive belts, hoses and hydraulics
GOODRIDGE – The most innovative and the best in fluid transfer systems
GRAND PRIX ORIGINALS – The brand for drive and lifestyle, past and present
GULF OIL INTERNATIONAL – The world's most iconic brand in automotive fuels and lubricants
GRAPHITE ADDITIVE MANUFACTURING – A leader in 3D printed technologies and rapid prototyping
H CRAFT CUSTOMS –- Race car preparation, roll cages, fabrication and custom projects
HOTROD HANGAR – Home of the world renowned custom artist Knud Tiroch
HYPERPRO – The leading producer of progressive suspension products for motor bikes
JE PISTONS – The world's premier manufacturer of high performance forged pistons
JOHN AND DEA MORGAN RACING – The creators of the world's most advanced New Age Funnybike
KIBBLEWHITE PRECISION MACHINING – The highest quality valve train components available
MICKEY THOMPSON – Simply the best drag race tyres in the world
MRE – Leaders in trackside support for drag race components and air shifting systems
MTC ENGINEERING – Manufacturer of clutches for the fastest motorcycles in the world
NITROSHUTTER – Europe's leading dragracing photojournalists
NCTENGINEERING – Manufacturer of the world's leading non-contact motorsport torque sensors
NGK SPARKPLUGS UK – The world's number one spark plug manufacturer
PAR WILLEN – Master webmeister and proprietor of HarleyDrags.com
PORTABLE SHADE – The best custom branded collapsible canopies available
PRO ALLOY MOTORSPORT – The UK's leading fabricator of alloy tanks, intercoolers and radiators
SCHNITZ RACING – Offering the latest in Motorcycle Performance Products for today's sports bikes
SCOTT PERRI TRUCKING – Logistics solutions par excellence
TRIM TEX – The premier manufacturer of vinyl drywall beads & accessories
TRYKA LED – the UK's cutting-edge LED lighting manufacturer.
VAN ES MOBILITY – The leading manufacturer of telematic products for management of moving objects
VANSON LEATHERS – The most iconic brand in motorsport leather goods
WEB CAMSHAFTS INC – Simply THE company for Top Fuel Bike camshafts
WORLDWIDE BEARINGS – The world's leading supplier of ceramic bearings for racing
ZODIAC – Europe's largest supplier of performance and aftermarket HD parts