Nitro-fuelled Top Fuel Bikes are the headline attraction as Santa Pod Raceway launches 2023's FIM European Drag Racing Championship over the Spring Bank Holiday weekend.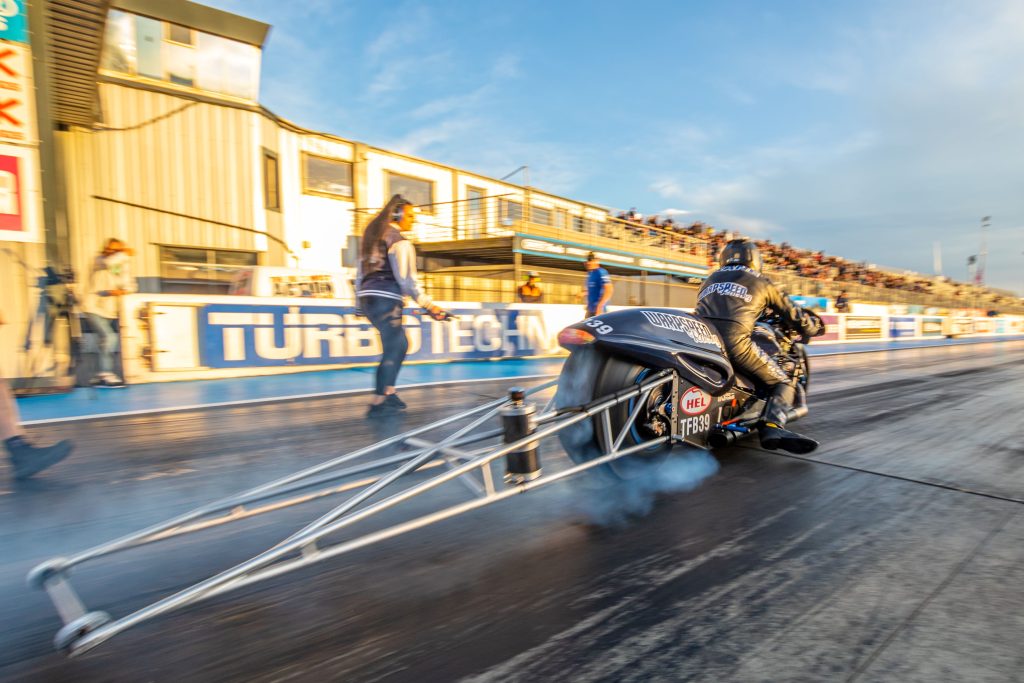 The two-wheeled rivalry which has sustained the European scene for so many seasons is renewed as Sweden's Rikard Gustafsson and his Puma Suzuki bike take on the Puma machine that carried Ian King to a record 10 championships, and then Fil Papafilippou to two more, and is now ridden by Neil Midgley. Gustafsson gained the upper hand last year, setting a new European speed mark of 252.25mph on the way to securing his third championship with veteran rider Midgley still getting the measure of the ex-King/Papafilippou projectile now handled by Cannon Engineering.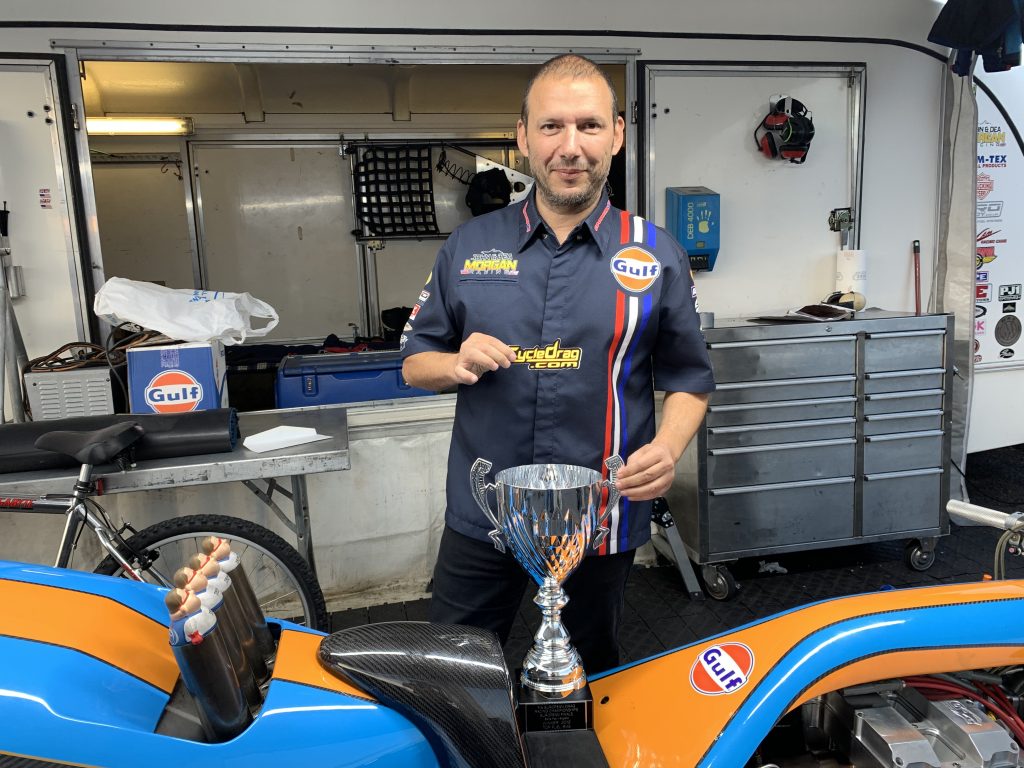 Midgley opened his ACU British championship account earlier this month with a hair's-breadth win over Steve Woollatt, 6.311sec/222.22mph to Woollatt's losing 6.314/220.38. Both riders join Gustafsson on a nine-bike, international Top Fuel entry list with race victory and an early European points lead in their sights.
The Top Fuelers are not the only nitromethane-burners in the programme. Four ground-pounding Nitro Super Twins make the trip over from Europe, while four petrol-powered Pro Stock Bikes launch their own championship chase.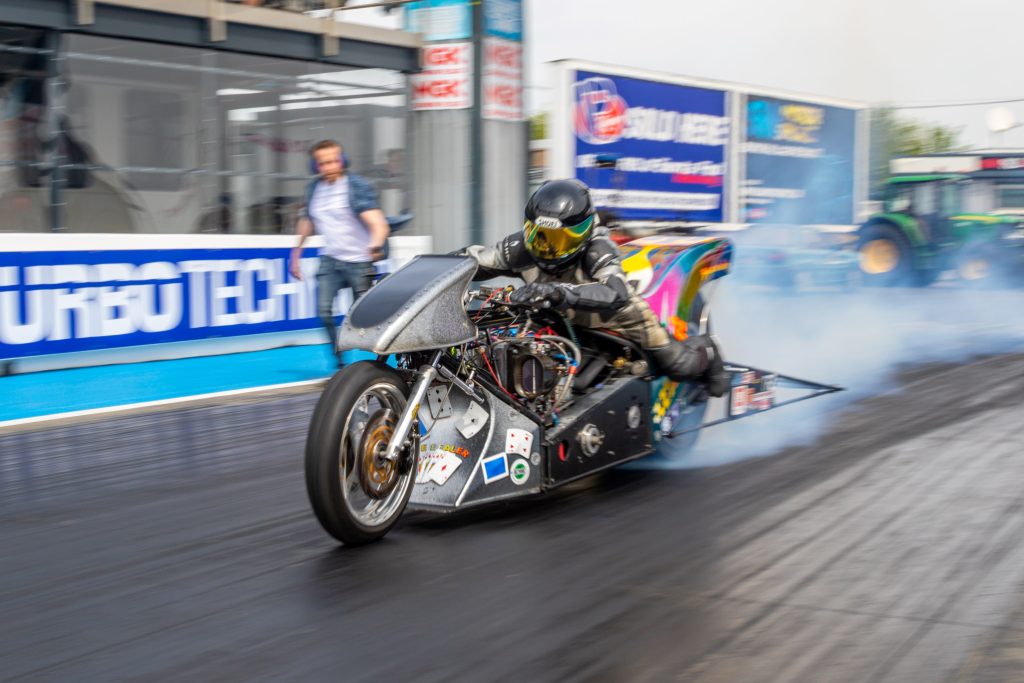 No less astounding are the Super Street Bikes, turbocharged methanol-burners which resemble road-going bikes and use street tyres without the benefit of wheelie bars, yet still clock over 220mph in less than 7 seconds. Last year Hungary's Dániel Donát Lencsés set the scene alight with European-record clockings of 6.649sec/226.72mph at Tierp in Sweden before securing the crown at Santa Pod's European Finals. Steve Venables, Jake Mechaell and Alan Morrison Jr. lead the British charge against riders from Denmark, Germany, Hungary, Sweden and the Netherlands.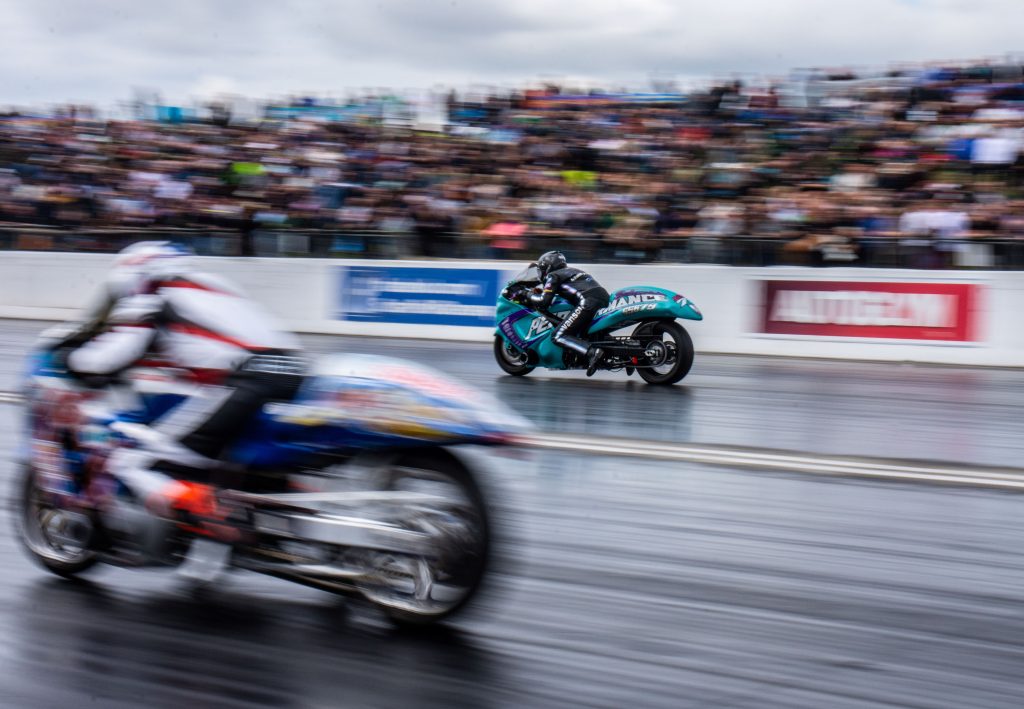 Alongside the bikes, numerous four-wheeled classes pursue their own FIA European and British championship chases, with six 300mph Top Fuel Dragsters topping the list.
There are not many major motor races at which you will see children competing on the same programme as their adult peers, but Junior Dragster drivers and Junior Dragbikers are all part of the show. Across the two Junior classes, more than 40% of the drivers and riders are female.
And where 'the show' is concerned, Santa Pod's array of off-track family entertainments includes the award-winning John Lawson Circus alongside Live Action Arena stunt displays, a wall-of-death motorcycle show, helicopter and funfair rides, night-time music performances and the RAF Battle of Britain Memorial Flight, among other attractions.
The Main Event takes place at Santa Pod Raceway, near Wellingborough NN29 7XA, from Friday 26th to Monday 29th May 2023.
There are more videos on the Cycledrag Youtube channel (please subscribe here) and the Cycledrag Facebook page (Please like here) and more will be coming soon. Check back daily.
To take advantage of some amazing discounts at Brock's Performance, click – http://brocksperformance.com?aff=12
USE cycledrag5 coupon code.