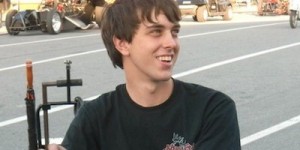 Holding down 10th place in NHRA Pro Stock Motorcycle competition isn't where LE Tonglet really wants to be. But times have changed since he captured the 2010 Full Throttle Series title.
The competition, meanwhile, has been twisted tighter than the bolts holding the front wheel on his Nitro Fish Suzuki GSXR.
"We are looking forward to getting back on the track," Tonglet said of the upcoming Toyota NHRA SuperNationals, Friday through Sunday, at Old Bridge Township Raceway Park in Englishtown, N.J.
"We go in there in 10th place and we want to make sure we get into the Countdown to the Championship in a few months. We have been working on a few things . . . trying to squeeze out every one-thousandth of a second we can on each run."
Gary Tonglet – his father, team owner and tuner – also is searching for ways to pick up the pace.
"We will have a new body for this race," LE revealed. "It's going to be orange. We hope we can have the same success we had with our last orange bike. It would be nice if the horsepower came with the paint.
"We have been running better at the last couple of races. It's going to be fun racing in Englishtown. That's one of Nitro Fish owner Kenny Koretsky's favorite tracks. It's a fast track and the fans are really great."
Tonglet has 121 points – 20 behind eighth place – after three of 10 races that determine the 10 riders that will contend for the championship.